Introduction to Beyoglu
Welcome to Beyoğlu, one of Istanbul's most iconic neighborhoods. Known by many names – Taksim, Pera – this district is a fascinating blend of Istanbul's rich history and vibrant modern culture.
From the bustling Istiklal Street with its endless array of shops, cafes, and galleries, to the historical Galata Tower that offers a panoramic view of the city, Beyoğlu is a microcosm of the city's diversity and dynamism. As you delve into the narrow side streets, you'll find the glorious late 19th century (or early 20th century) western-inspired buildings (usually built by minority communities such Greek, Armenian and Jewish) standing proudly next to modern structures.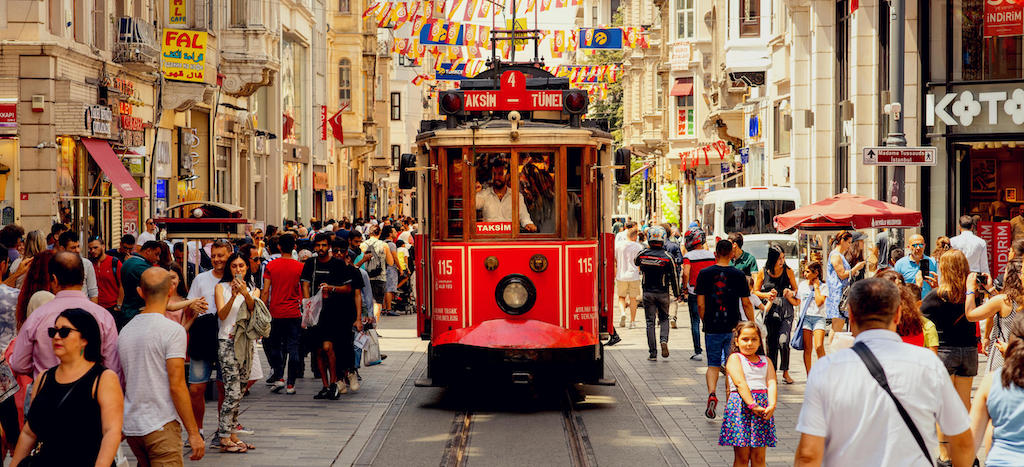 The neighborhood is also the city's cultural heart, hosting a variety of art festivals, music concerts, and film screenings throughout the year. Whether you're a history enthusiast, a foodie, an art lover, or just a curious traveler, Beyoğlu has something to offer you. So come and immerse yourself in the vibrant tapestry that is Beyoğlu.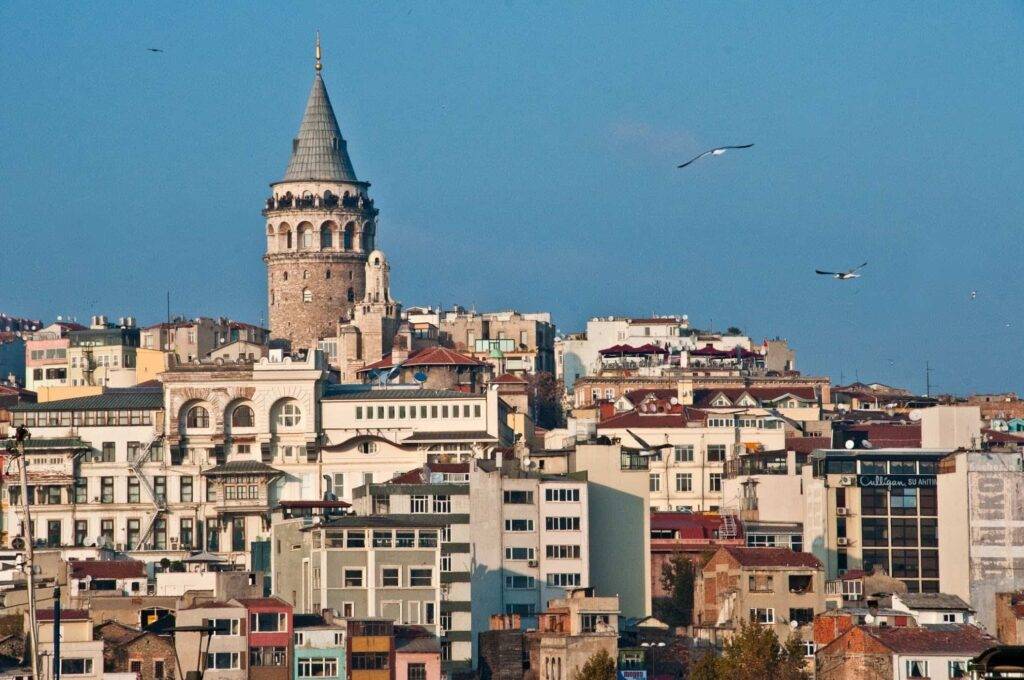 Historical Significance of Beyoglu
Pera, which is now known as Beyoglu, is a district in Istanbul, Turkey, that holds immense historical importance. Its history dates back to ancient times, but it notably rose to prominence during the Byzantine period.
During the Ottoman era, particularly from the 19th century onward, Pera/Beyoğlu became the diplomatic center of Istanbul. European powers established their embassies there, leading to a significant European community settling in the district. Therefore, Beyoglu has long been a melting pot of cultures and has undoubtedly been shaped by various European influences over the centuries.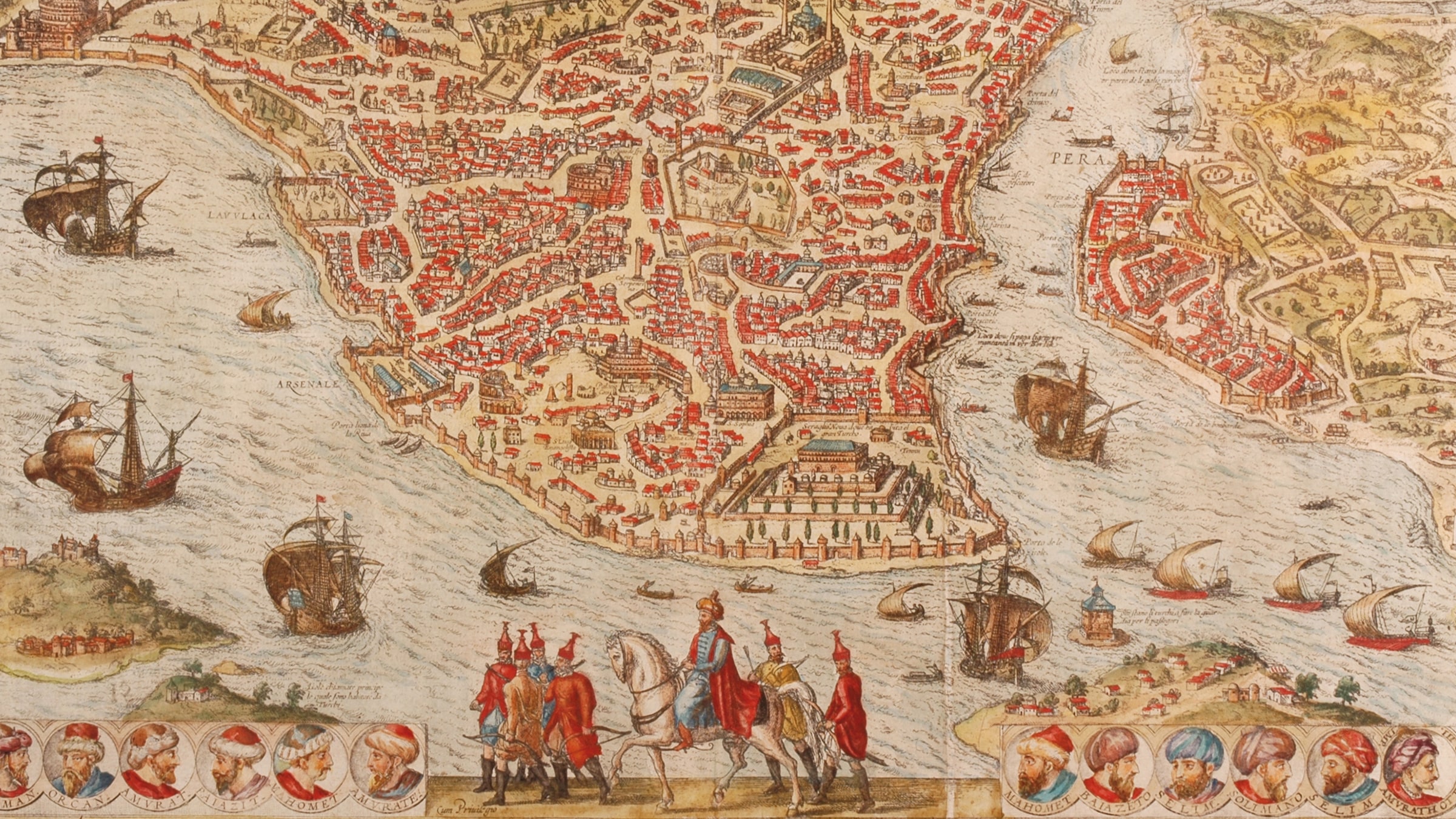 Byzantine Era
In the early Byzantine period, Pera was outside the city walls of Constantinople (modern-day Istanbul), and it was essentially a suburban area, home to gardens, monasteries, and cemeteries. The name "Pera" comes from the Greek word "Peran en Sykais," which means "the place beyond the fig fields," referring to the fig orchards that once dominated the area.
The Genoese, as part of a deal with the Byzantine Emperor Michael VIII Palaiologos in the 13th century, helped the Byzantines recapture Constantinople from the Latin Empire, established during the Fourth Crusade. In return, the Genoese were granted the suburb of Pera to build a trading colony. This would become Galata, an autonomous city-state where the Genoese could live according to their laws and customs.
They fortified the area with walls (the famous Galata Tower was a part of these fortifications), which would provide security and foster the growth of a prosperous Genoese trading outpost. The area became home to a mixed population, with Venetians, Genoese, and other foreigners living alongside local Greeks, Armenians and Jews.
As Constantinople's main harbor, Pera was of significant economic and strategic importance, becoming a hub for international trade and diplomacy. It was one of the key points where East met West, where goods and people from all over the Mediterranean and beyond would converge.
Over time, Pera gained a reputation as a place of diplomatic intrigue, cultural exchange, and vibrant cosmopolitanism. Despite occasional conflicts, including sieges and fires, the district remained a crucial part of the city throughout the Byzantine period, contributing to the richness and complexity of Constantinople's cultural life.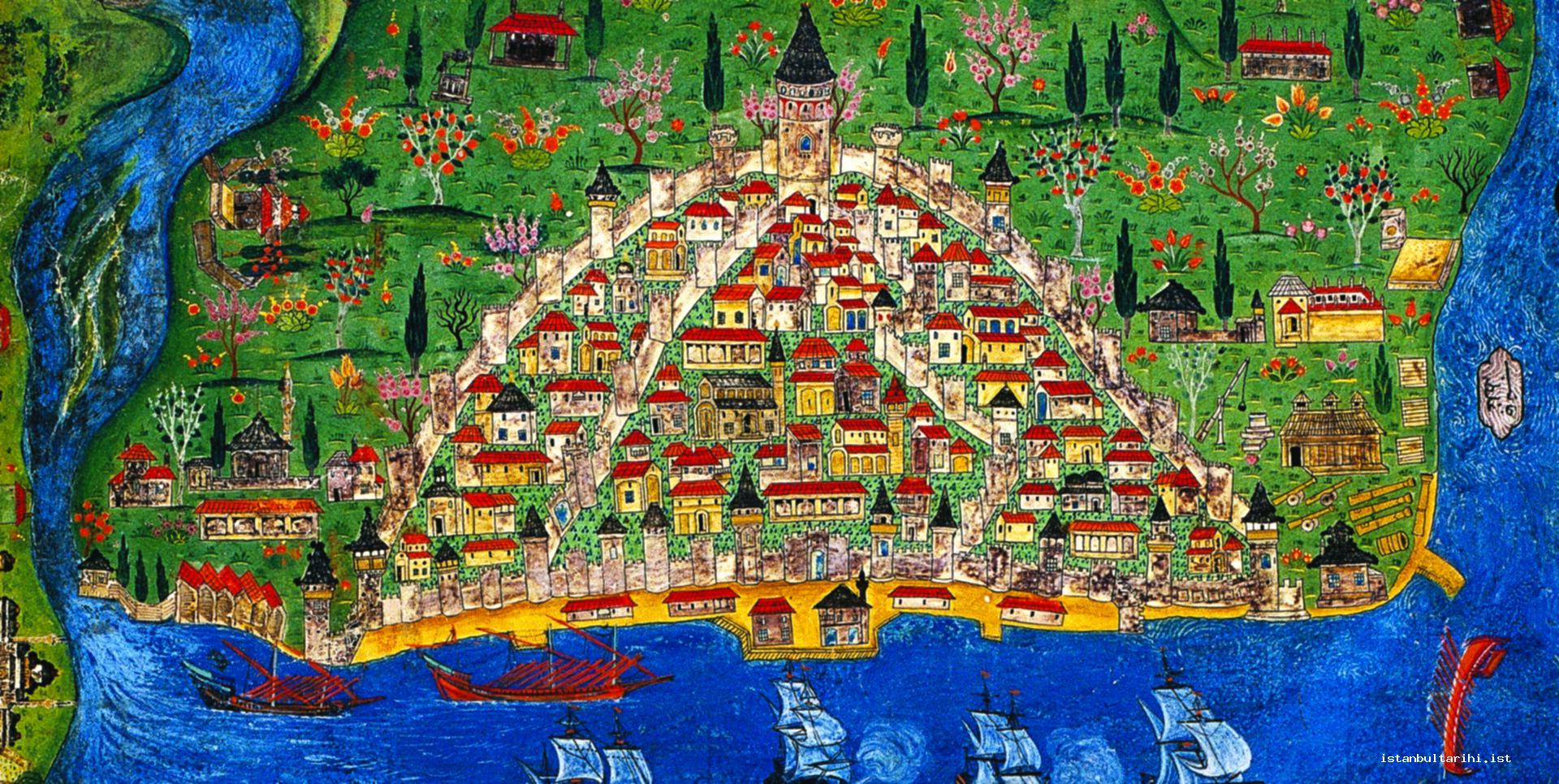 The Latin presence significantly influenced the area's cultural and architectural landscape, making it a distinctly cosmopolitan part of the city. However, the Genoese gradually lost their grip on Pera after the fall of Constantinople to the Ottoman Turks in 1453, yet the district's cosmopolitan character survived well into the Ottoman period and beyond.
The Ottoman Era
In the Ottoman era, Beyoglu (Pera) served as a place of residence for many European traders, diplomats, and minorities. It was known for its cosmopolitan nature, with a mix of Greek, Armenian, and Italian communities, among others. Its multicultural ambiance led to the area being known as the "European Quarter".
During the late Ottoman period, Beyoglu became a centre of modern Western culture in the empire. It was here that the first theaters, cinemas, and modern schools were opened.
The iconic Istiklal Street, known as Grande Rue de Pera during the Ottoman era, was a popular promenade lined with embassies, businesses, and elegant residences. It was a showcase of modern urban development in the 19th century.
Beyoglu during the Ottoman era was a symbol of modernization, European influence, and multiculturalism. Its rich history continues to resonate in the buildings, streets, and culture of Beyoglu today.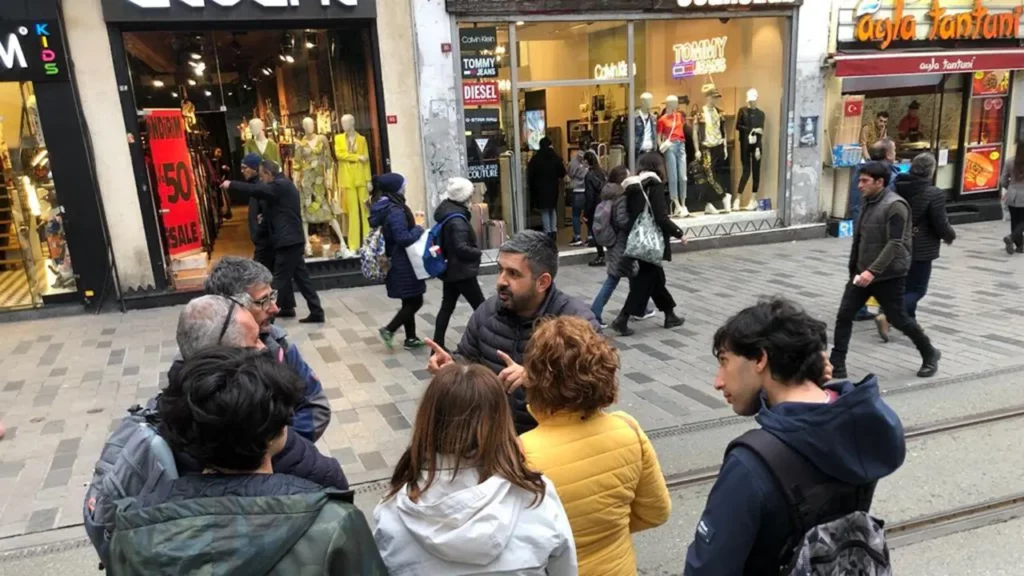 Beyoglu's Architectural Wonders
Beyoglu is a treasure trove of architectural wonders that reflect the rich history and diversity of Istanbul. Let's dive into some of the most iconic structures in this vibrant district.
Galata Tower: Arguably the most iconic landmark in Beyoglu, the Galata Tower, built by the Genoese in 1348, is a stunning example of medieval architecture. This cylindrical tower made of stone stands at an impressive height of 66.9 meters (including its ornamental top), offering a panoramic view of the city. Its history as a watchtower, prison, and observatory adds to its appeal.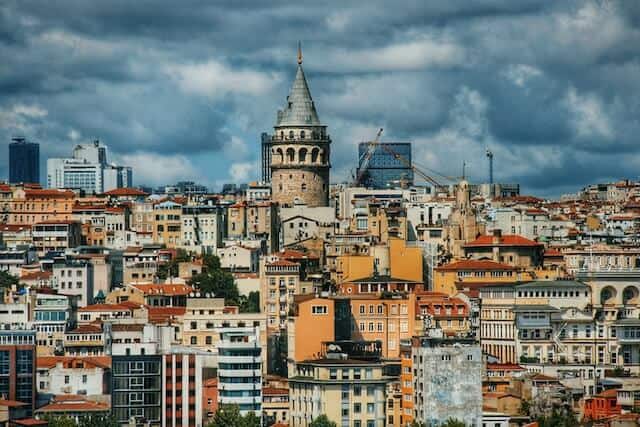 Saint Antoine Church: Nestled amidst the bustling streets of Beyoglu, the Saint Antoine Church, or St. Anthony of Padua Church, is an architectural gem. This largest Roman Catholic Church in Istanbul stands out with its Neo-Gothic architecture and tranquil ambiance. Its facade, adorned with intricate details, and the serene interiors provide a contrasting peaceful retreat.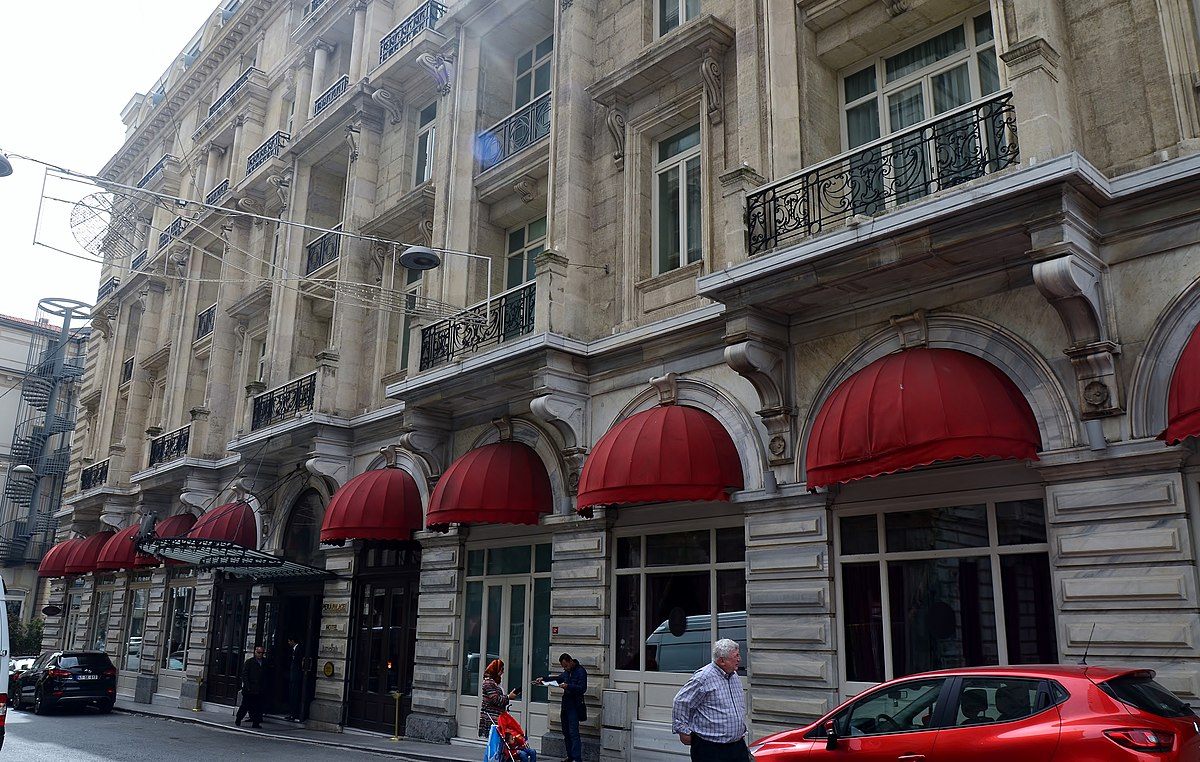 Pera Palace Hotel: A symbol of westernization during the Ottoman Empire, the Pera Palace Hotel is a masterpiece of 19th-century architecture. This hotel, designed by the French architect Alexander Vallaury, beautifully blends Oriental, Neoclassical, and Art Nouveau styles. It's famously known as the place where Agatha Christie wrote her novel "Murder on the Orient Express."

Istanbul Modern: A prime example of modern architecture in Beyoglu is the Istanbul Modern, Turkey's first museum of modern and contemporary art. The building itself, with its minimalist design and large glass windows, reflects the creative spirit within.
Cité de Péra: Known today as the Çiçek Pasajı (Flower Passage), this historic galleria is a beautiful example of 19th-century architecture. With its glass-roofed arcade filled with flower shops, patisseries, and elegant restaurants, it's a stunning architectural sight in the heart of Beyoglu.
These architectural wonders not only highlight the distinct historical periods of Beyoglu but also add to the district's unique charm and character. Each building tells a story, making a stroll through Beyoglu akin to walking through a living history museum.
Unveiling Beyoglu's Culture
Arts & Entertainment
From art galleries to music venues, Beyoglu is Istanbul's cultural heart. Feeling artsy? You know where to head!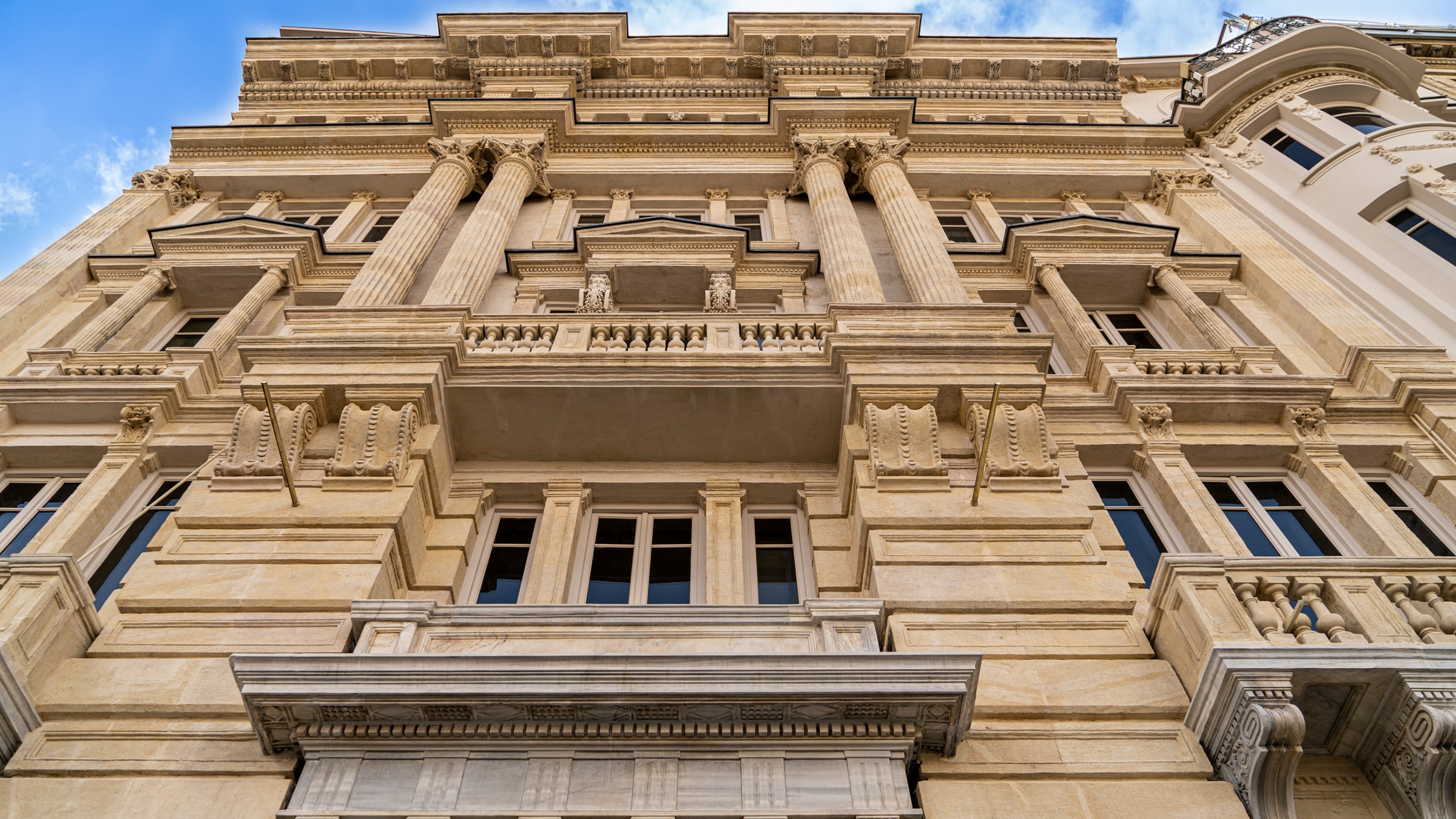 Pera Museum
A fusion of traditional and modern, this museum showcases a mix of Orientalist paintings, Anatolian weights and measures, and Kütahya tiles and ceramics. Their temporary exhibitions are often a talk of the town, introducing both global and local artworks.
Visit their website for more information.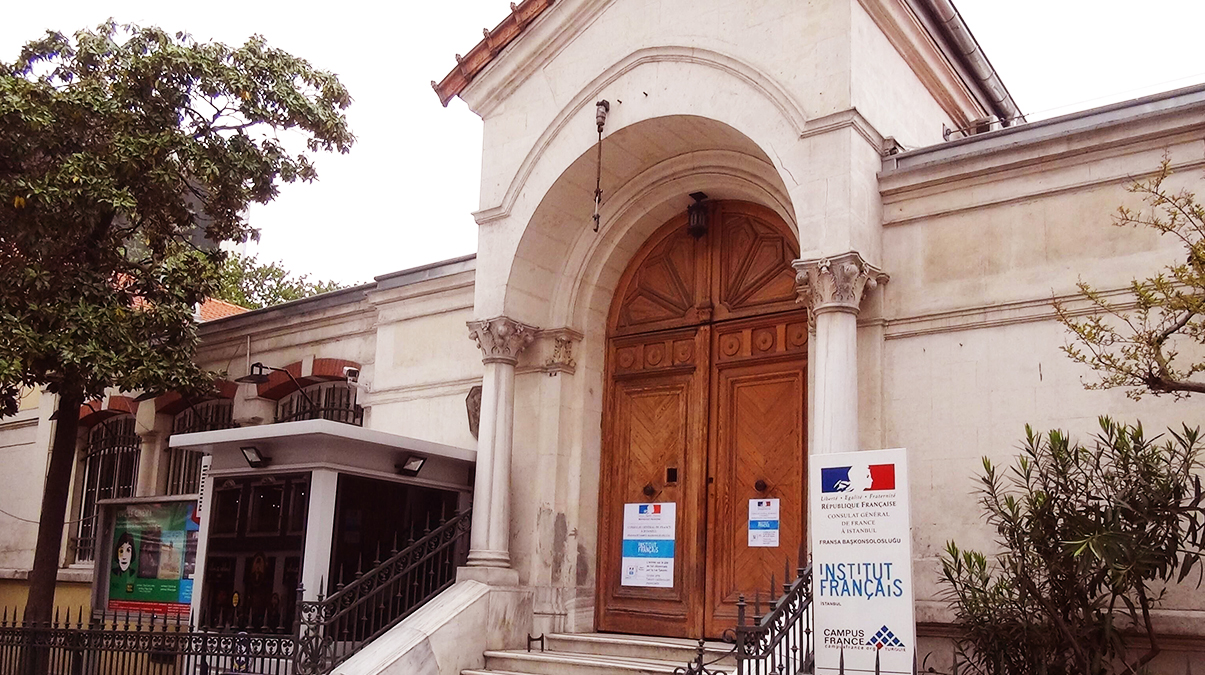 French Cultural Center
A hub for art exhibitions, film screenings, and theatrical performances. It's a slice of French culture in the heart of Istanbul, offering a mix of Turkish and French artistic endeavors.
Cezayir Street
Known informally as "French Street," this colorful alleyway is brimming with art shops, cafes, and live music, making it a vibrant spot to spend an evening.
Cuisine
From traditional kebabs to the famous Turkish delight, Beyoglu is a foodie's paradise. Get ready to tickle your taste buds!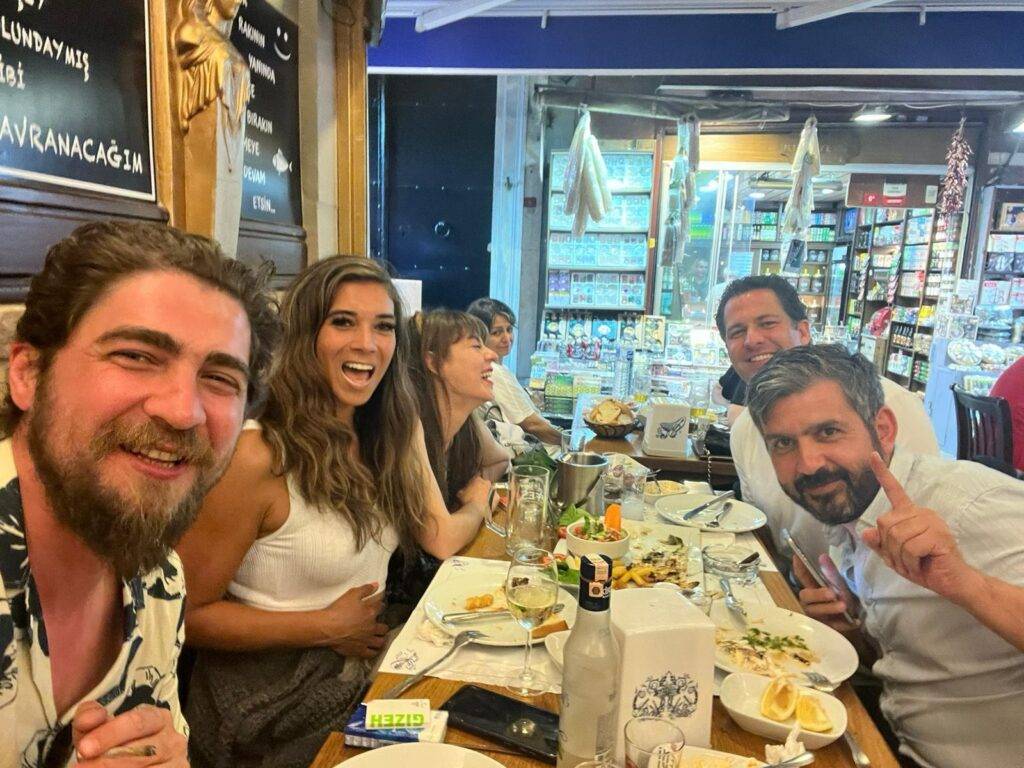 1. Özgün Restaurant: Located in Balikpazari, this meyhane-like traditional Turkish restaurant has been serving classic delicious mezes and wonderful Greek-inspired dishes since the 1980s. The atmosphere here will transport you back in time.
Address: Hüseyinağa, Sahne Sk. No:9, 34400 Beyoğlu/İstanbul
2. Fıccın: Famous for its Circassian cuisine, you can enjoy dishes like kısır (a type of Turkish tabbouleh) and Circassian chicken. It's a great place to try something different from the usual kebabs and mezes.
Here's their TripAdvisor link.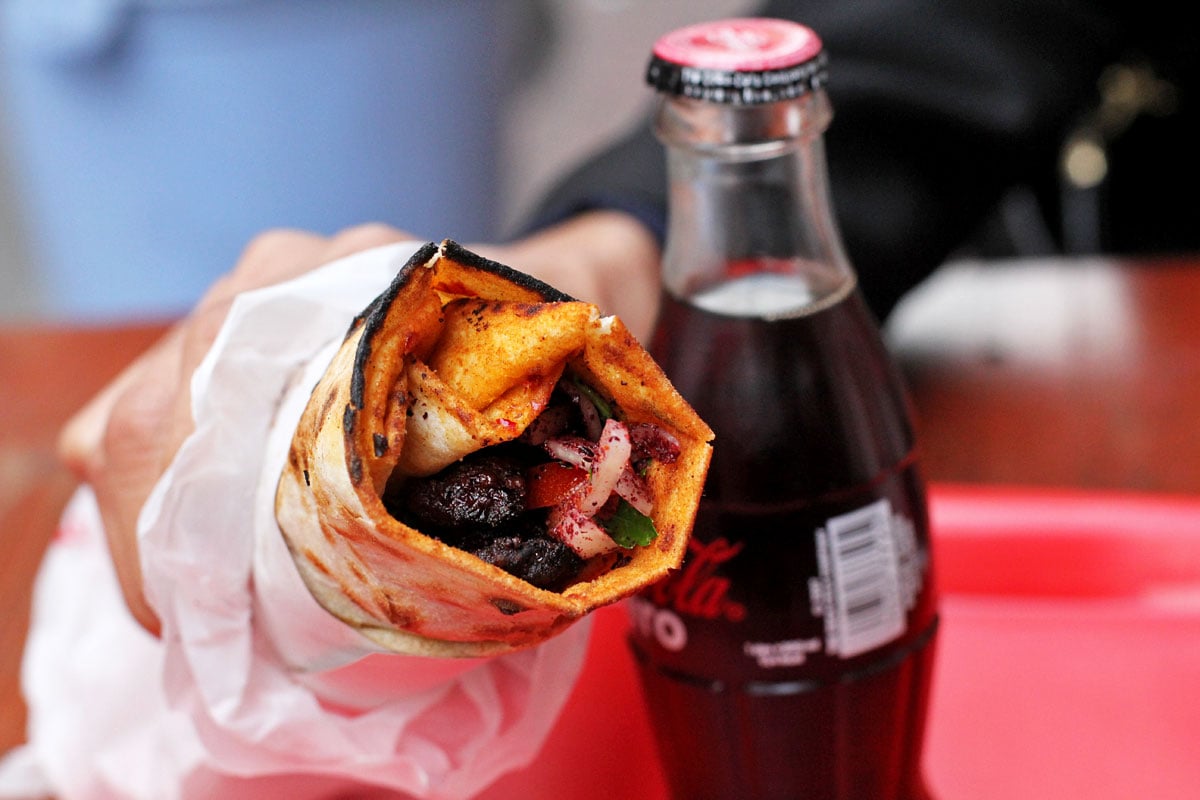 3. Dürümzade: A popular spot endorsed by many including the late Anthony Bourdain, they serve mouthwatering dürüms (wraps) filled with deliciously seasoned meats grilled over charcoal.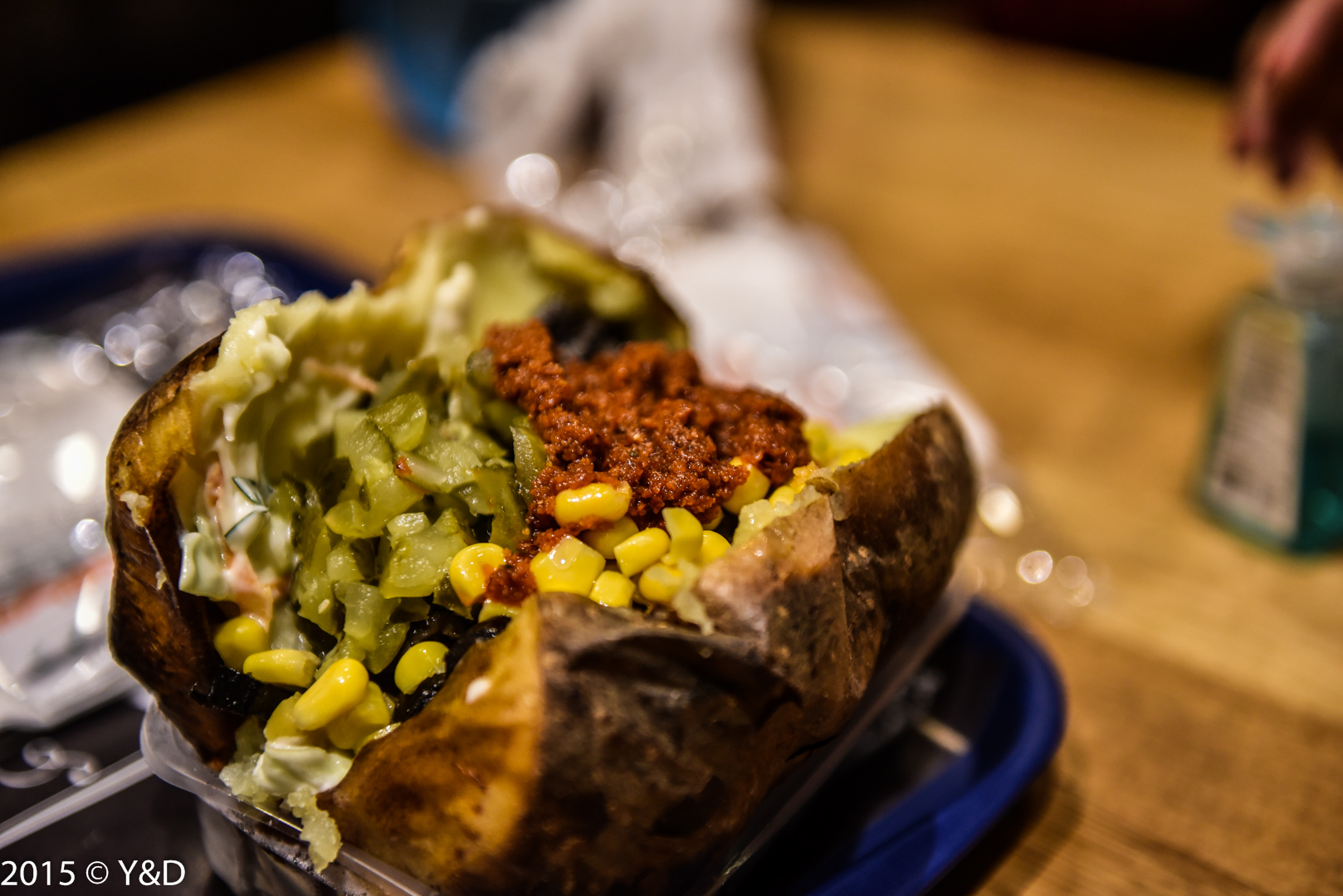 Street Food Vendors:
4. Kumpir in Taksim Square: Beyoğlu is known for its kumpir stalls, which serve baked potatoes stuffed with a variety of fillings ranging from pickles to sausages.
5. Istiklal Street Wet Burger Stalls: Sounds odd, but the "wet burger" is a must-try—a spicy beef patty is enclosed in a soft bun, which is then drenched in a tomato-garlic sauce and kept in a steamy glass box to marinate.
6. Bambi Café: Although it's a fast-food chain, it's an institution in Beyoğlu. Don't leave without trying their famous döner and ayran.
Beyoğlu offers a mix of timeless classics and contemporary tastes. While the district pulses with history, its culinary scene is a testament to Istanbul's evolving and vibrant food culture. Whether you're in the mood for a sit-down meal or a quick bite on the go, Beyoğlu promises a gastronomic journey like no other.
Fashion & Shopping
With its stylish boutiques and vintage shops, Beyoglu is the fashion capital of Istanbul. Ready to shop till you drop?
Beymen
A high-end department store offering a curated selection of luxury brands from all over the world. (beymen.com)
GALATA LEATHER
A stone's throw from Galata Tower, this establishment offers exquisite leather creations ranging from jackets and bags to belts and wallets. The assortment is vast in terms of styles and hues. If you seek something truly unique, they also craft custom items. The staff is both welcoming and knowledgeable, all at prices that won't break the bank.
Arter Art Space
A haven for art enthusiasts, Arter is a modern gallery spotlighting pieces from both Turkish and global artists. While the exhibits rotate, you can always pick up intriguing art books, catalogs, or posters. There's also a café and library for visitors to unwind.
Sweet Traditions at UC Yildiz Sekerleme
Located on Cukurcuma Street, near the bustling fish market, this time-honored confectionery tempts with Turkish delights, halva, baklava, and more. Treat your taste buds with samples or curate a dessert box as the perfect gift.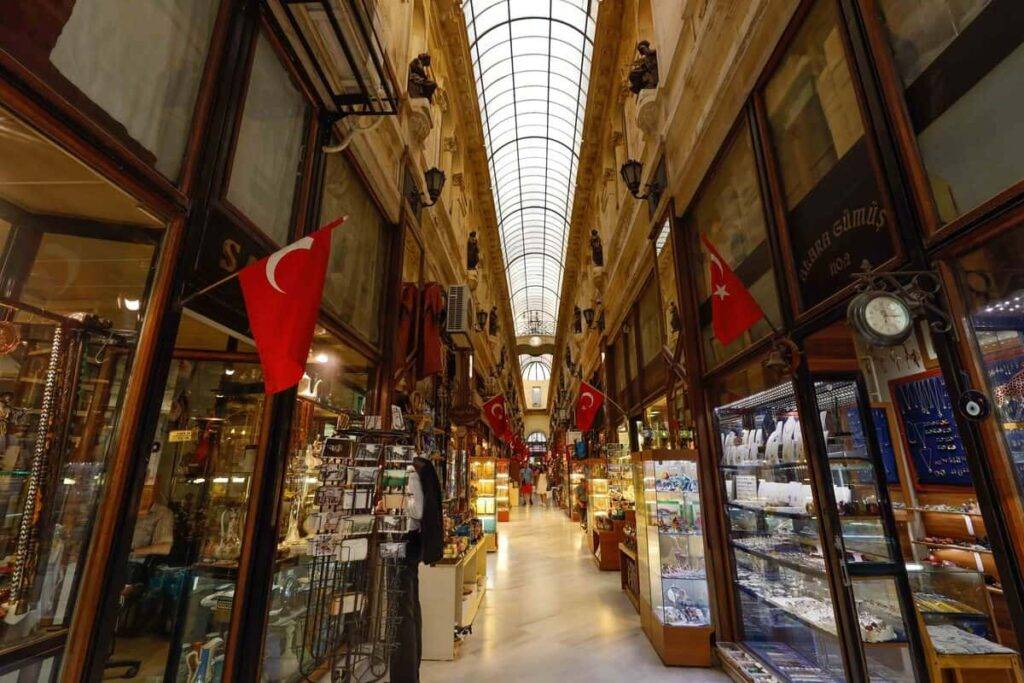 Avrupa Pasaji
An architectural marvel from the 19th century, this arcade brims with shops offering antiques, apparel, books, and more. The intricate statues and designs that grace its ceiling are a sight to behold. Find it on the iconic Istiklal Street.
Street Markets
Don't forget to wander through the bustling street markets of Beyoglu. Here, you'll find an array of clothes, jewelry, and trinkets that are perfect for souvenirs or personal treats.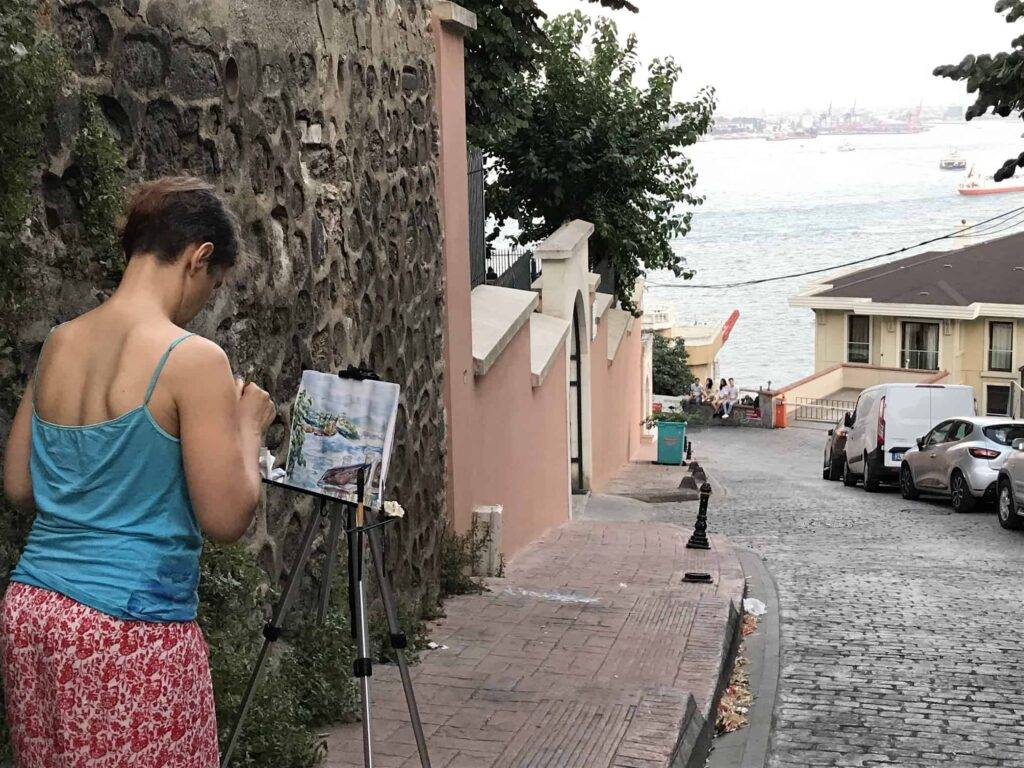 And make sure you visit Cihangir, the coolest neighborhood in Beyoglu!
Travel Tips for Beyoglu
Language
While Turkish is the official language, English is widely spoken in the tourist areas.
Safety
Beyoglu is a safe neighborhood, but like any major city, it's important to be aware of your surroundings.
Local Customs
Respecting the local customs and traditions will make your experience in Beyoglu even more enriching.
Why Beyoglu is a Must-Visit for Travelers
If you're planning a trip to Istanbul, make sure Beyoglu is at the top of your list. Its historic charm combined with modern vibrancy makes it a unique destination that promises a memorable experience.
Conclusion
Beyoglu, with its blend of history, culture, and modernity, truly represents the spirit of Istanbul. Every corner of this neighborhood tells a story. So, are you ready to be part of it?
What's the best time to visit Beyoglu? Beyoglu is a year-round destination. However, spring (April to June) and fall (September to November) are considered the best times to visit when the weather is most pleasant.

What are some must-try dishes in Beyoglu? Don't leave Beyoglu without trying the traditional Baklava, Turkish Tea, and Doner Kebab.

Is Beyoglu safe for tourists? Yes, Beyoglu is generally safe for tourists. However, like any major city, it's advised to stay aware of your surroundings, especially at night.

Are there any special events or festivals in Beyoglu? Beyoglu is known for its vibrant festival scene, including the Istanbul Jazz Festival in July and the Istanbul Film Festival in April.

Can I get around Beyoglu speaking only English? While Turkish is the official language, most locals in Beyoglu involved in tourism can communicate effectively in English.