An archeological site in Turkey, known as Göbeklitepe, is currently the oldest known archeological site with evidence of significant and prolonged construction activity by humans. Evidence suggests that it was some sort of religious/gathering place for people.
If you're interested in history and archaeology, you may have heard of Göbeklitepe – an ancient site located in southeastern Turkey that is believed to be the world's oldest temple. Göbeklitepe was first discovered in the 1960s, but it wasn't until the 1990s that its true significance began to be understood.
Dating back to the Neolithic period (roughly 10,000-8,000 BCE), Göbeklitepe consists of a series of stone circles and T-shaped pillars that were likely used for religious or ceremonial purposes. The pillars are adorned with intricate carvings of animals, including foxes, snakes, and birds, as well as more abstract symbols and shapes.
Theories Upside Down
What makes Gobeklitepe so remarkable is not just its age, but the fact that it challenges our understanding of early human societies. Prior to the discovery of Gobeklitepe, it was believed that complex religious practices only emerged after the development of agriculture and settled communities. However, Gobeklitepe suggests that religion may have been a driving force in the development of civilization, and that early humans were capable of organizing and constructing large-scale communal structures long before the rise of cities and states.
Göbeklitepe is now a UNESCO World Heritage Site and a popular tourist destination, drawing visitors from around the world who are fascinated by its ancient mysteries. If you're planning a trip to Turkey, be sure to add Göbeklitepe to your itinerary – it's a truly awe-inspiring place that will leave you with a new appreciation for the history of humanity.
The real kicker- The site was built about 12,000 years ago, was active for over 3,000 years and then methodically covered up in the 8th millennia BC.

Its excavation contradicted the then popular view that an established agricultural system was necessary for large-scale mobilization and co-operation amongst human beings.

Archeological evidence from that site suggests that it was built at the very beginning of the transition from hunter-gatherer to agriculture based societies, as the remains of wild versions of cereals such as wheat have been found at that site.
The Pandora's Box of Göbeklitepe: Unearthing the Ancient Stone Hills
Göbeklitepe, an archaeological marvel and UNESCO World Heritage Site, has long held a certain mystique due to its ancient origins and impressive stone obelisks. However, recent discoveries reveal that it is just the beginning of a much larger story. Gobeklitepe has effectively opened a Pandora's box for archaeology in the region, hinting at the existence of dozens of similar sites waiting to be discovered.
These locations, collectively known as the Taş Tepeler or "Stone Hills", are found in the Southeastern Anatolia Region of Turkey, near Şanlıurfa. So far, twelve sites have been identified that display the characteristic "T"-shaped obelisks familiar from Göbeklitepe. These include Karahan Tepe, Sefer Tepe, Hamzan Tepe, and Sayburç, among others. The obelisks are a signature of the Pre-Pottery Neolithic period in the region, and their presence suggests a network of advanced civilizations that existed and then seemingly disappeared by the end of the Pre-Pottery Neolithic B period.
Yet, these are not simply isolated places of worship where hunter-gatherers visited for occasional rituals. New findings suggest that these sites were inhabited year-round. The builders of these impressive structures lived, ate, and slept among them. They crafted pottery, held elaborate rituals, and possibly indulged in grand feasts. They were sophisticated hunter-gatherers, living complex lives absent of contemporary agriculture.
However, the Taş Tepeler hold more mysteries that have yet to be fully understood. Carvings depict people with six fingers, hinting at possible symbolic representations or the marks of a unique tribe. At Göbekli Tepe, defleshed and pierced skulls suggest the existence of a skull cult, providing a tantalizing glimpse into the religious practices of these prehistoric people.
One of the most astonishing aspects of these sites is the deliberate effort made to bury them. This theory, first proposed by Klaus Schmidt for Göbekli Tepe, has found resonance in other sites like Karahan Tepe, where structures were buried purposefully, preserving the monuments for millennia.
Perhaps the most exciting part of this discovery is the vast potential for what remains to be found. At Karahan Tepe alone, only 1% of the site has been excavated, suggesting thousands more pillars and structures yet to be discovered. The possibility of dozens of additional Taş Tepeler spread across hundreds of kilometers fuels the anticipation of future discoveries.
In short, the uncovering of Göbeklitepe was just the first step in a larger archaeological journey. As we delve deeper into the rich history of the Taş Tepeler, we find ourselves on the cusp of unearthing an ancient, artistic, and religious civilization, deliberately buried and preserved for over ten thousand years. The Pandora's box opened by Göbeklitepe promises a wealth of discoveries that will continue to reshape our understanding of human history in this region.
Stay tuned to our blog for further updates and discoveries from this exciting frontier in archaeological exploration.
Private Göbeklitepe Tours
Embark on a captivating journey through time with The Other Tour's private day trips to Göbeklitepe from Istanbul. Our experienced guides will accompany you through every step of this fascinating voyage into the ancient world, revealing the mysteries and marvels that have lain buried for millennia.
Your adventure begins when our private transportation service collects you from your hotel and takes you to Istanbul Airport for your flight to Şanlıurfa. A representative from The Other Tour, bearing a sign with your name, will be waiting to greet you upon arrival.
After a comfortable ride in our private vehicle, we will reach the fabled archaeological site of Göbeklitepe. As we journey, our knowledgeable guide will provide an engaging introduction to the history of this remarkable place. A city tour of Urfa will follow, offering a rich tapestry of sights, sounds, and experiences.
Göbeklitepe, dating back to the dawn of civilization (circa 12,000 BC – 9000 BC), pre-dates even Stonehenge by far. The discovery of its unique oval-shaped temples in 1996 by German archaeologists offered a fresh perspective on early human religious practices. Today, you'll have the opportunity to explore the world's oldest known temple and witness the site's ongoing archaeological excavations.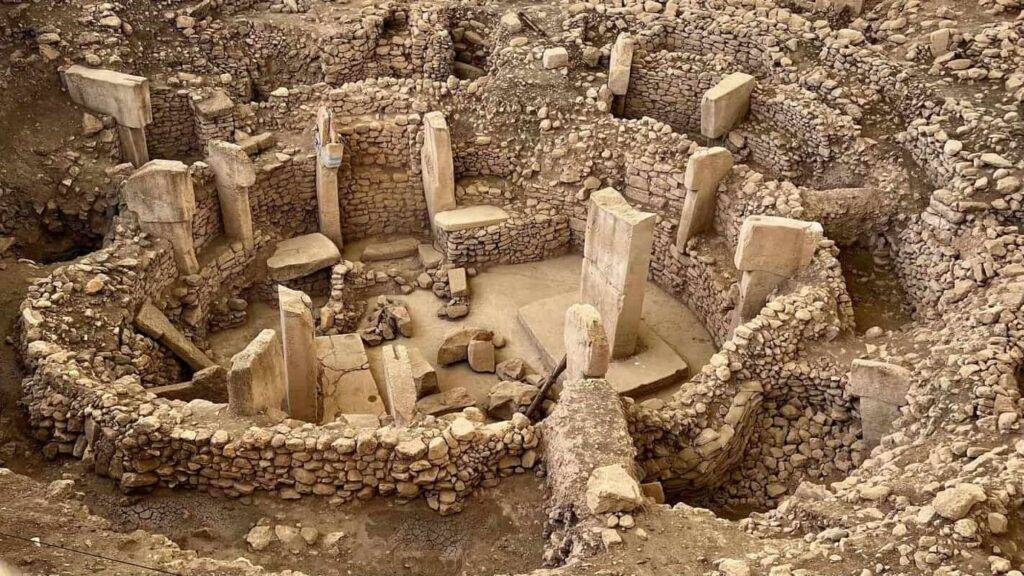 Our journey continues with a visit to the renowned Mosaic Museum of Şanlıurfa, where you can marvel at the array of artifacts unearthed in the area. The Mosaic Museum, in particular, is a must-see, offering a stunning collection of mosaics that provide a glimpse into the rich cultural and artistic history of the region.
Places of Interest: Göbeklitepe Archaeological Site, Abraham Pools and the Cave of Abraham (Ibrahim), Mosaic Museum of Şanlıurfa, and the bustling Local Bazaar of Edessa.
As the day draws to a close, we will transport you to Şanlıurfa Airport for your return flight to Istanbul. Upon arrival, you'll be met by another of our representatives, who will escort you back to your hotel for a well-deserved rest.
Frequently Asked Questions:
How is the weather in Şanlıurfa?
Şanlıurfa is known for its hot summers and winters that can dip below freezing. We recommend dressing appropriately for the season.
What time will I be picked up from my hotel in Istanbul?
Pick up time depends on the flight schedule, but we typically recommend an early morning flight to make the most of your day.
Can I add another site to the itinerary?
Absolutely, we can adjust the itinerary to include additional sites in Şanlıurfa. Please let us know in advance so we can accommodate your request.
Is Şanlıurfa close to the Syrian border?
Yes, Şanlıurfa is near the Syrian border, but the region is currently stable. We will keep you updated with any developments.
What type of vehicle will be used for transportation?
The type of vehicle depends on the size of your group. Typically, we use air-conditioned, non-smoking vehicles like the Mercedes Vito or Mercedes Sprinter for larger parties.
Get in touch
Here's a nice video about Göbeklitepe