This blog post is inspired by a captivating piece of art found on Behance.net titled "SEVEN PEOPLE, SEVEN ISTANBUL". Through seven stages, we journey through the transformative eras of a city that bridged continents and civilizations.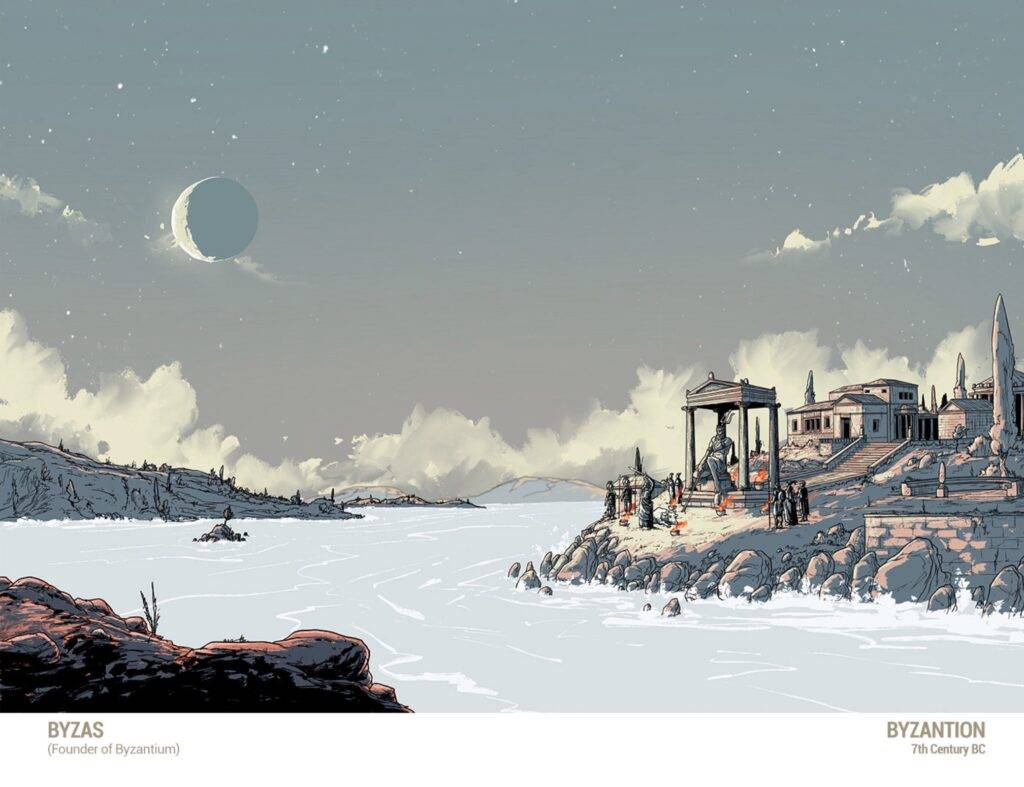 Byzas, Founder of Byzantium – 7th Century BC
BYZANTION: Before it was Constantinople, the city was Byzantion, founded by the ancient Greek leader Byzas. Situated on the European side of the Bosphorus strait, it became a vital trade center due to its strategic location. It's the genesis of a city that would go on to have numerous reincarnations and enduring significance.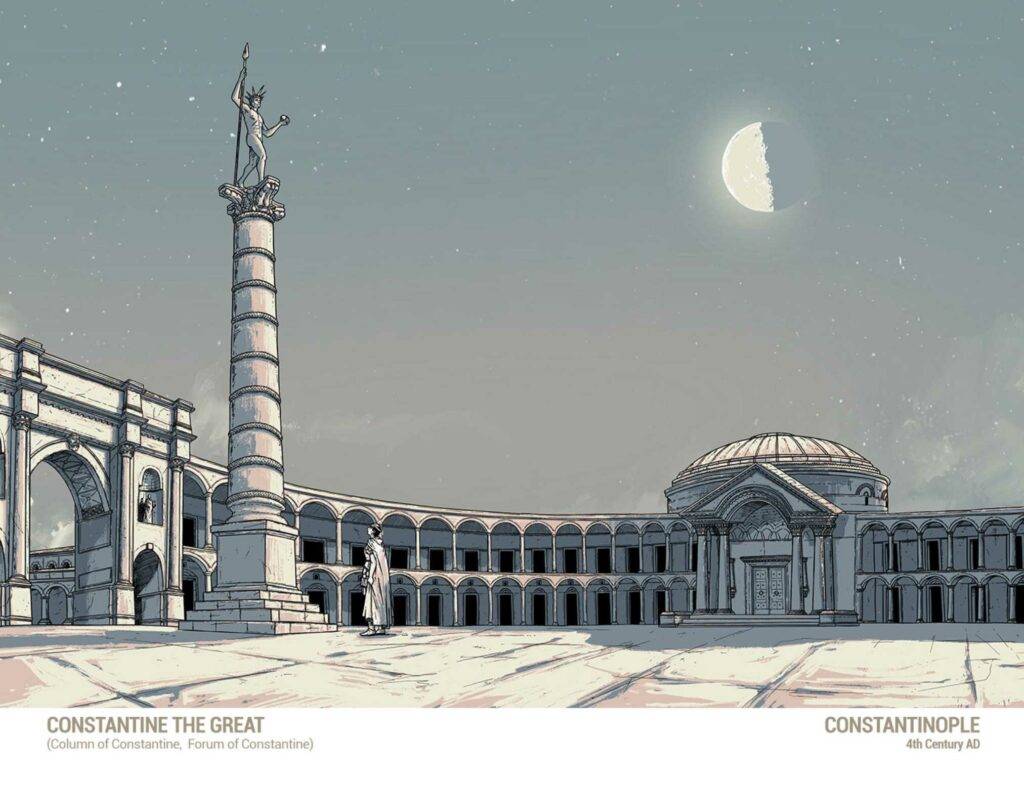 Constantine The Great – 4th Century AD
Column of Constantine and Forum of Constantine: In AD 330, the Roman Emperor Constantine the Great transformed Byzantion into "New Rome", which was eventually coined as Constantinople. The Forum of Constantine, marked by the monumental Column of Constantine, signified the city's newfound importance in the Roman Empire.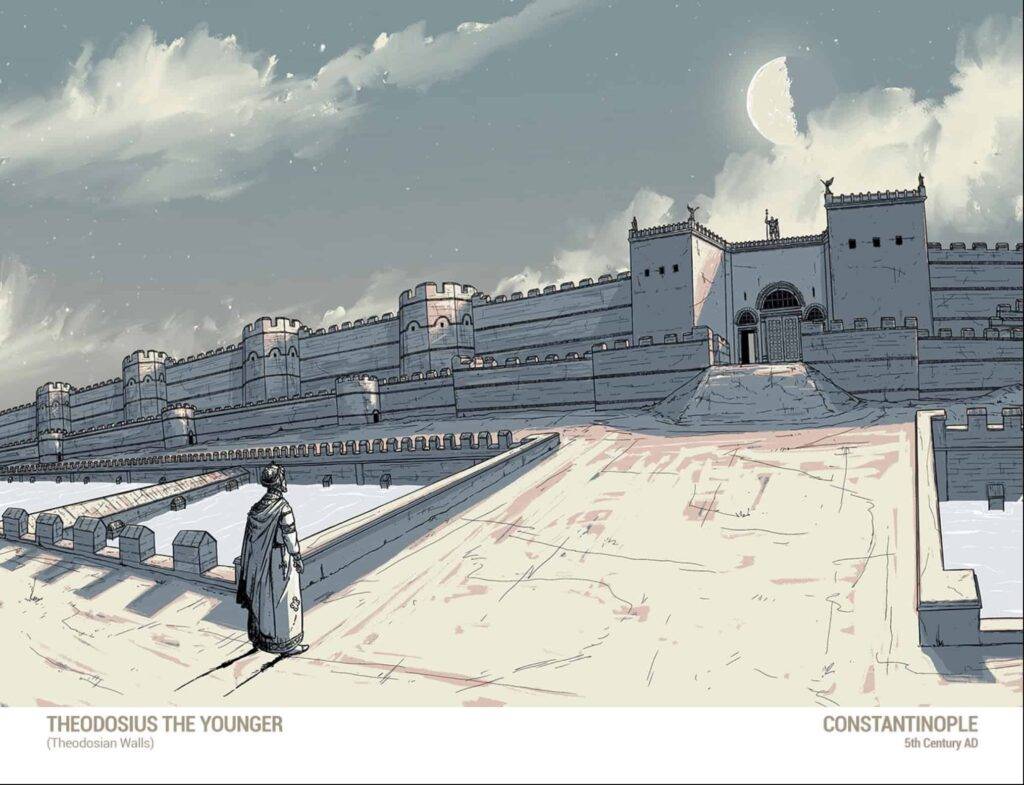 Theodosius the Younger – 5th Century AD
Theodosian Walls: These formidable walls, constructed under Emperor Theodosius II, acted as the city's guardians. They withstood countless sieges and are a testament to the engineering prowess and strategic vision of the Byzantines.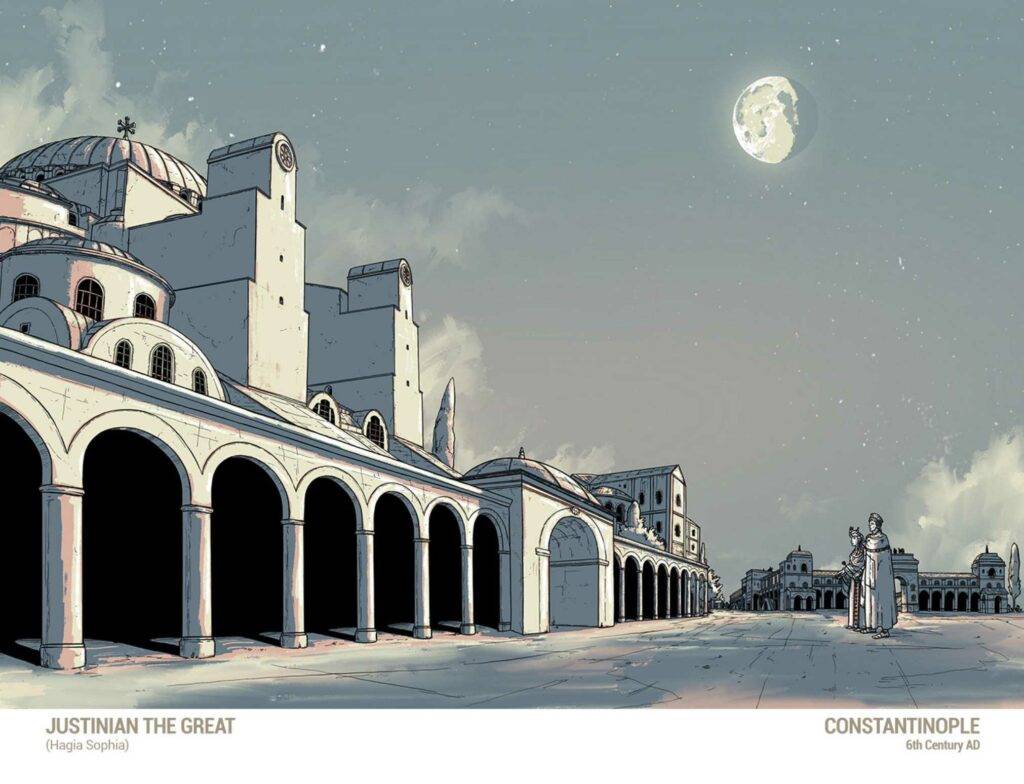 Justinian the Great – 6th Century AD
Hagia Sophia: Emperor Justinian I's ambition to create the world's grandest church resulted in the Hagia Sophia. An architectural marvel, this structure has served as an Orthodox cathedral, a mosque, a museum, and now a mosque again, symbolizing the city's diverse religious history.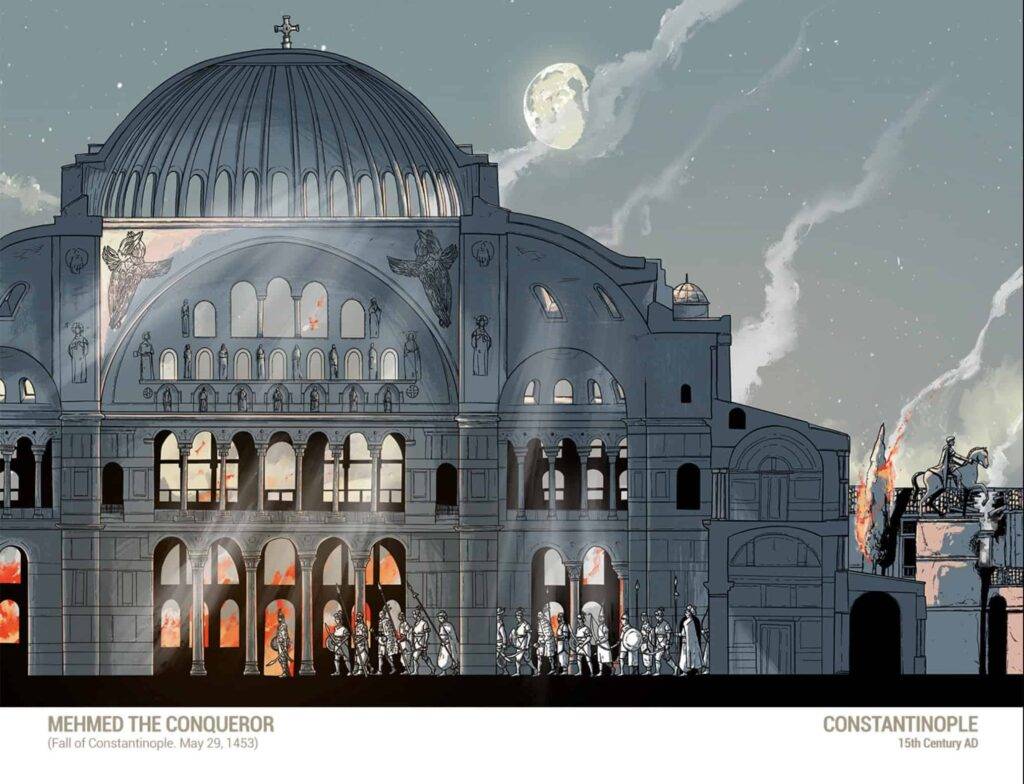 Mehmed the Conqueror – 15th Century AD
Fall of Constantinople: On May 29th, 1453, Mehmed II's troops breached the Theodosian Walls, ending the Byzantine Empire. This marked the start of the city's vibrant Ottoman chapter, bringing a fusion of cultures, art, and architecture.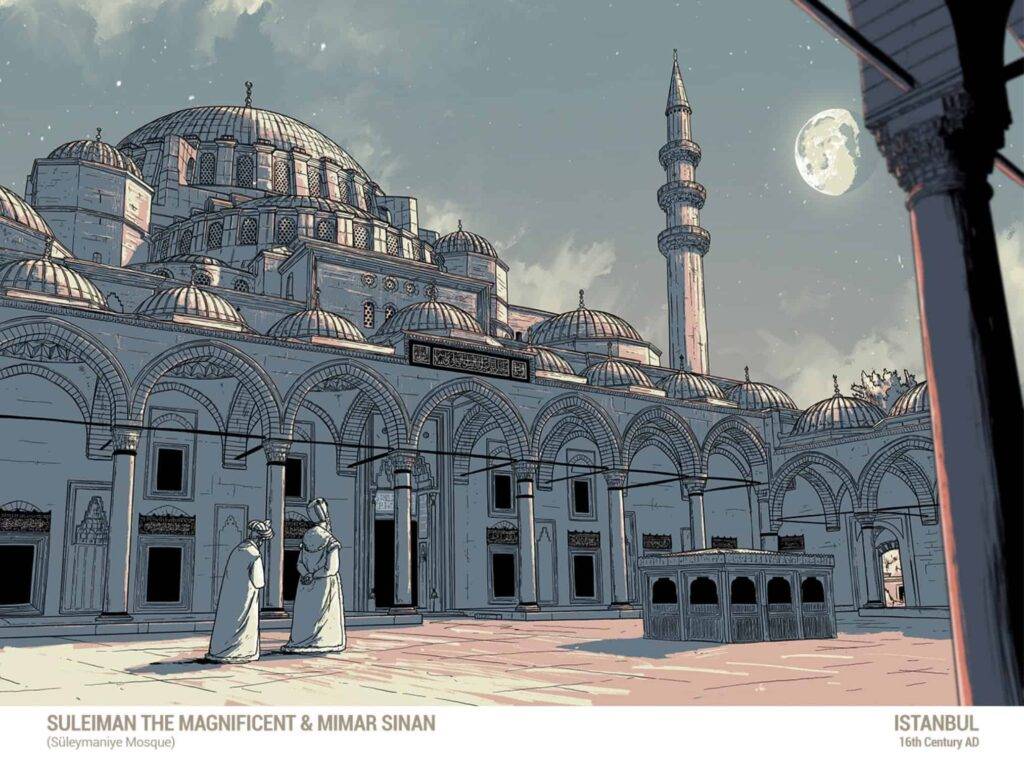 Suleiman the Magnificent & Mimar Sinan – 16th Century AD
Suleymaniye Mosque: Sultan Suleiman the Magnificent, during the pinnacle of the Ottoman Empire, commissioned Mimar Sinan, the era's most renowned architect, to design the Suleymaniye Mosque. This mosque, with its imposing domes and minarets, epitomizes the pinnacle of Ottoman architecture and stands as an emblem of Istanbul's skyline.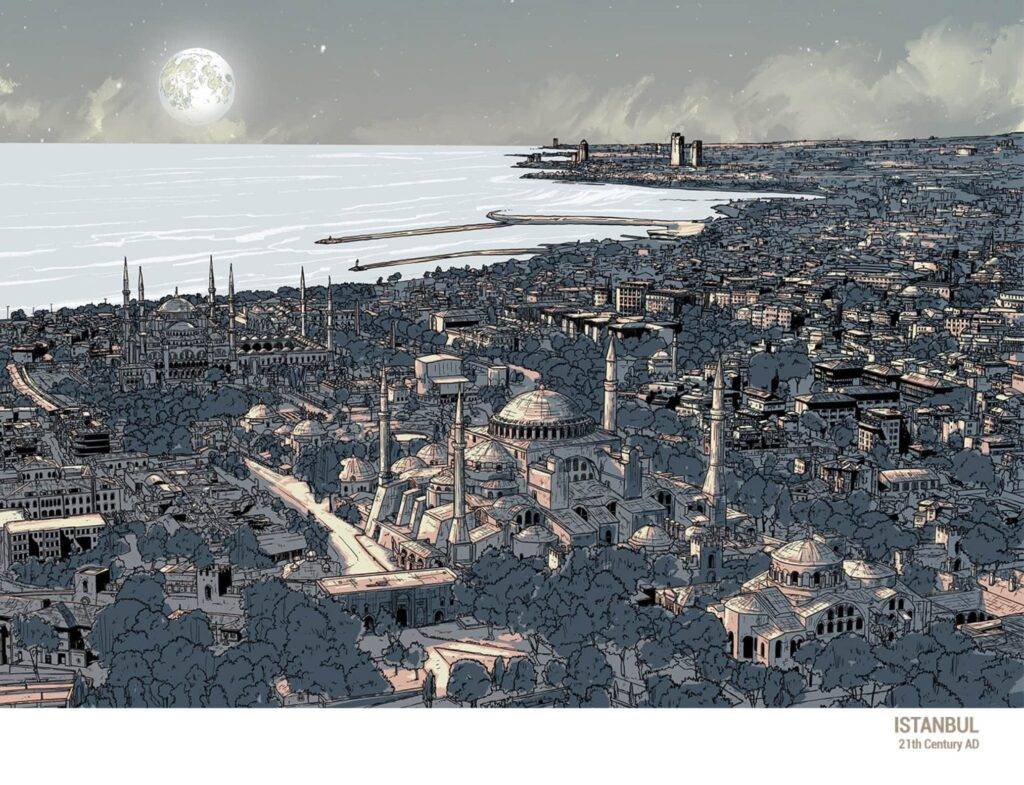 Istanbul – 21st Century AD
From Constantinople to Istanbul, the city continues its vibrant existence in the 21st century. With a blend of the ancient and modern, it attracts millions with its unique allure. Its streets echo tales of emperors and sultans, while its bustling bazaars and scenic views continue to enchant visitors.
---
Conclusion
Constantinople, now Istanbul, is a city of legends, tales, and monuments. Every brick and every street echo stories of its glorious past. From Byzantion to Istanbul, the city stands as a living testament to human achievement, resilience, and the ever-evolving story of civilization.
Join us on The Other Tour to delve deeper into the tales and mysteries of this captivating city.