If you're planning a trip to Istanbul, there's no shortage of tour options to help you make the most of your time in this fascinating city. Whether you're interested in history, food, art, or simply exploring Istanbul's vibrant neighborhoods, there are tours available to suit every taste and interest.
For history buffs, there are tours that take visitors to some of Istanbul's most iconic landmarks, such as the Hagia Sophia, Blue Mosque, and Topkapi Palace. These tours typically provide expert guides who can offer insights into the history and cultural significance of these sites, and help visitors to navigate the crowds and long lines.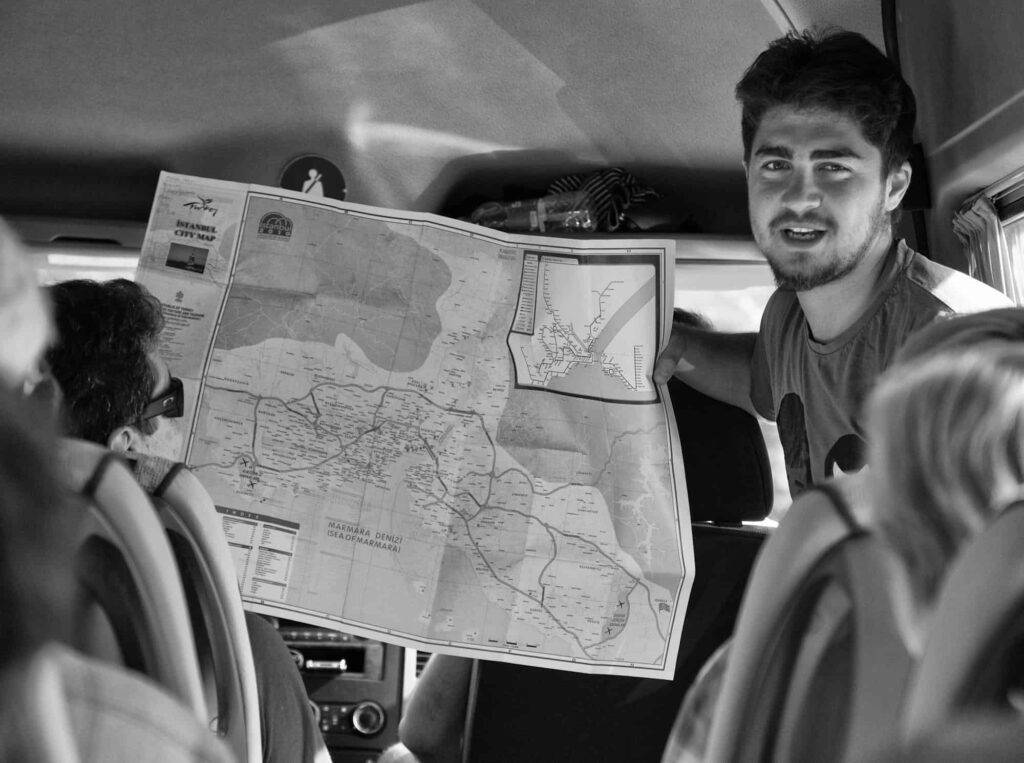 For foodies, Istanbul offers a wealth of culinary delights to explore. From traditional kebabs and meze to sweet treats like baklava, there are plenty of Istanbul food tours that offer visitors the chance to sample the city's famous cuisine. These tours might take visitors to local markets, food stalls, and restaurants, and typically offer a mix of tastings and cultural insights.
From Bosphorus cruises to culinary group events, professionally guided walking tours of historic neighborhoods to alternative tours diving deep into creative concepts and more, there's no shortage of ways to experience the best of Istanbul. We'll recommend a few companies first.
(Please note that this is pure advice –  we DON'T receive any commissions from any of the companies we recommend in any shape or form!)
First things first: Shameless Plug
The Other Tour: The OG of alternative tourism in Istanbul
Since its inception in 2011, "The Other Tour" has been providing an extraordinary exploration of Istanbul that transcends the conventional city tours. This journey is not about merely visiting the city's well-trodden tourist paths; instead, it offers a carefully curated one-day experience that delves into the heart of Istanbul's hidden neighborhoods, engaging participants in an array of enriching activities.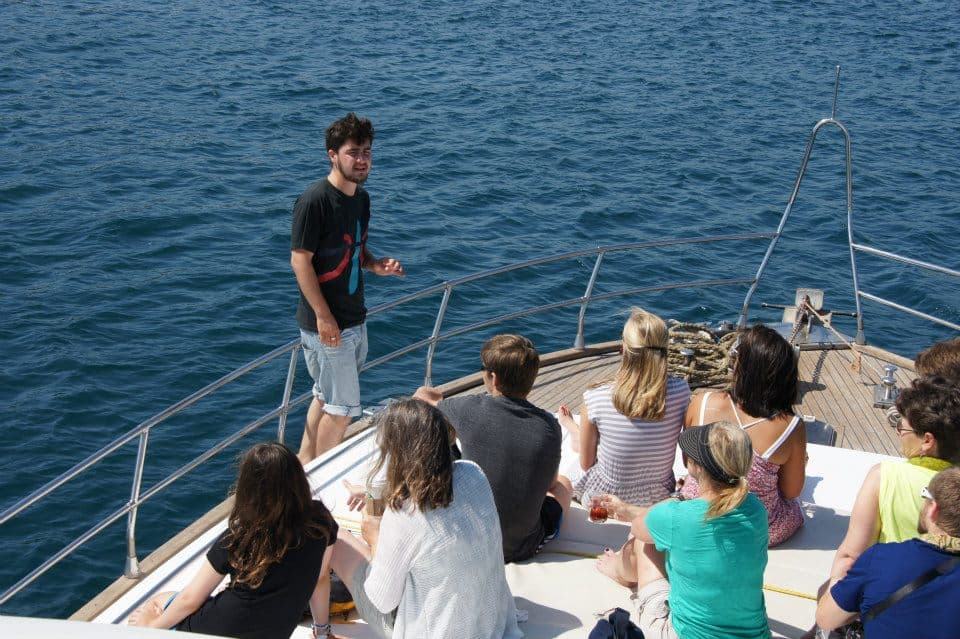 This avant-garde city tour is meticulously crafted for those inquisitive, adventurous souls who aspire to gain an authentic understanding of how Istanbul's residents live and flourish. The Other Tour is not just a sightseeing itinerary, but an invitation to immerse oneself in the vibrant culture and varied lifestyle of this storied metropolis. By stepping into the world of "The Other Tour," you are embarking on a unique voyage, plunging into the rich tapestry of Istanbul's cultural heritage and diverse everyday life.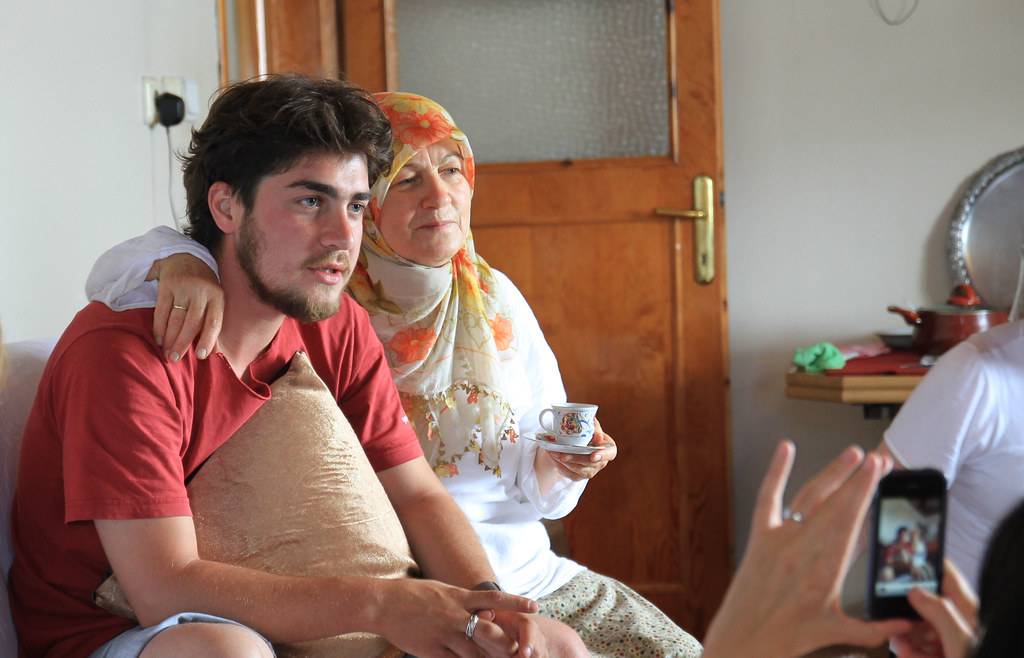 Check out our 2023 itinerary here.
Culinary Backstreets
For foodies looking to experience Istanbul's culinary scene, Culinary Backstreets is a must. Their tours take you off the beaten path to explore the city's best local eateries, from traditional kebab shops to hidden baklava cafes. You'll also get to meet the passionate food vendors and learn about their family recipes and the history behind each dish. Whether you're a meat lover or a vegetarian, Culinary Backstreets has a tour that suits everyone's taste buds.
Website: culinarybackstreets.com/cities-category/istanbul
Guided Istanbul Tours
Guided Istanbul Tours has established itself as the leading travel agency in Istanbul, boasting an impeccable track record on TripAdvisor. What sets them apart is their distinctive concept, focusing solely on providing exceptional tour guides while excluding meals, museum tickets, and transportation from their packages. This innovative approach ensures unparalleled flexibility, allowing customers to tailor their experiences according to their preferences.
By prioritizing the quality of their tour guides, Guided Istanbul Tours minimizes the risk of customer dissatisfaction. Each guide is carefully selected, ensuring their expertise, passion, and in-depth knowledge of the city. This commitment to excellence has made "G.I.T." a trusted choice for travelers seeking a personalized and unforgettable exploration of Istanbul's rich history, culture, and hidden gems.
Website: guidedistanbultours.com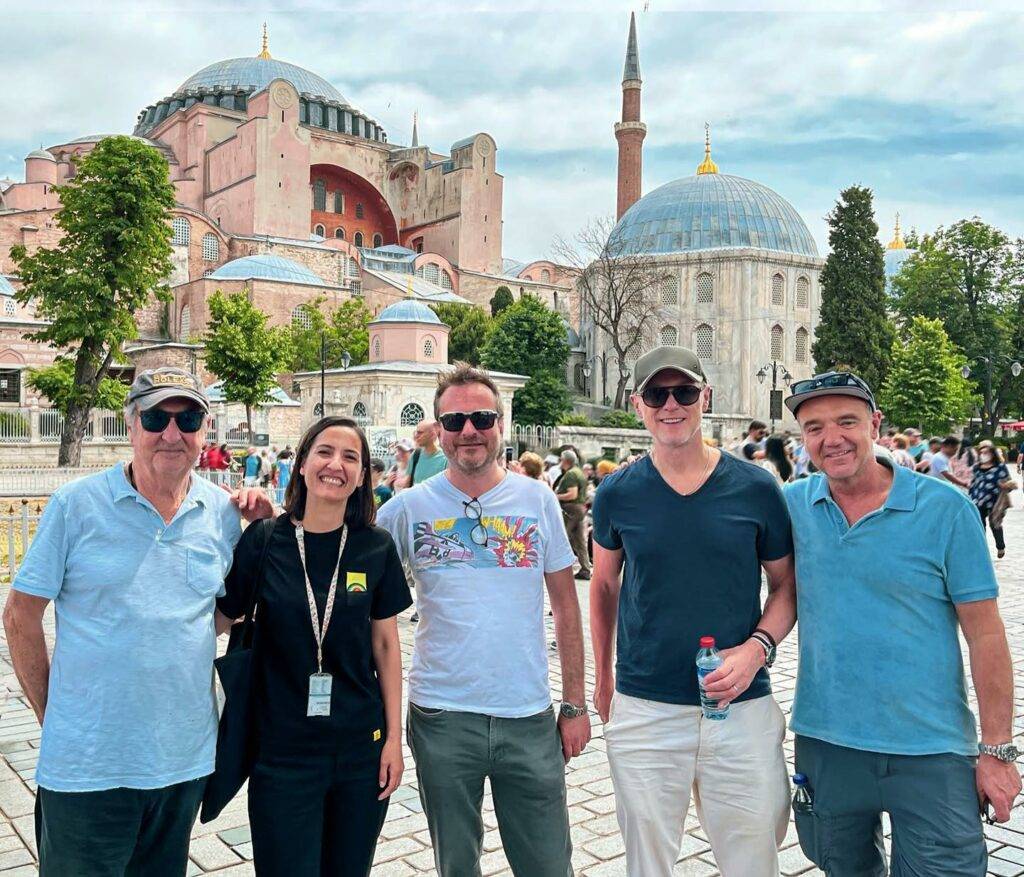 Istanbul Tours Studio
Guided Istanbul Tours is an agency that fills me with immense pride. They have elevated the travel agency game in Istanbul to unprecedented heights. Istanbul Tour Studio has assembled a remarkable team that not only delivers outstanding customer service but also crafts extraordinary and distinctive experiences for their esteemed clientele.
Their expertise and dedication are so remarkable that even celebrities find themselves drawn to their services, recognizing the unparalleled quality they offer. Guided Istanbul Tours has truly set a new standard in the industry, redefining what it means to provide exceptional travel experiences in this magnificent city.
Some of their popular tours include the Flavors of Two Continents, which is an excellent food tour, Bazaaring in Istanbul, which is a shopping tour and The Rise of Byzantium, which is a history tour.
Website: istanbultourstudio.com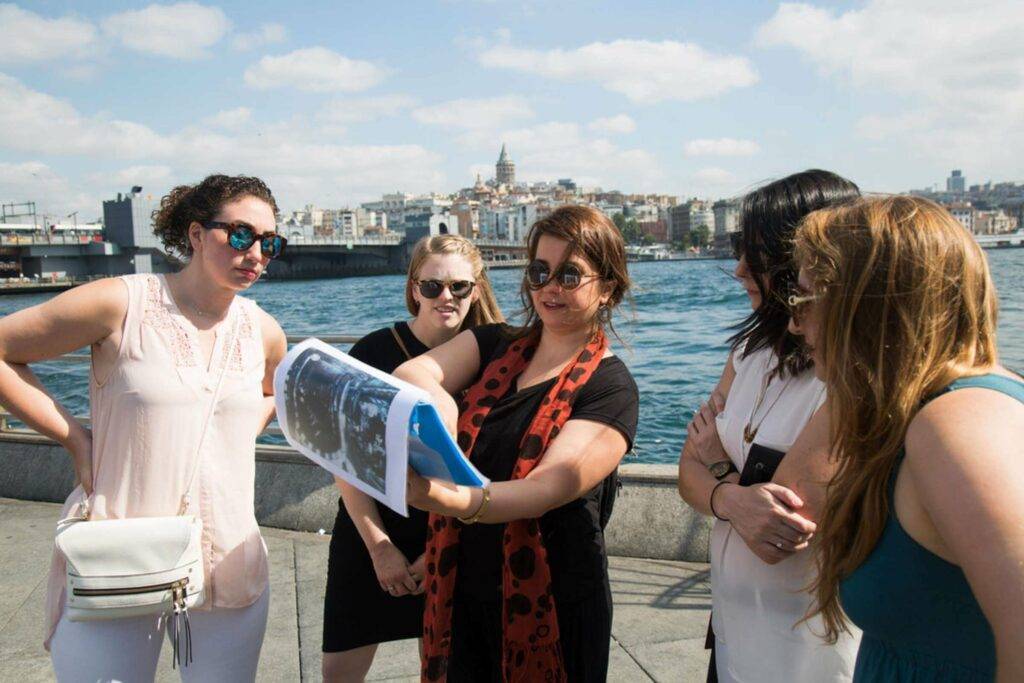 Context Travel
Established in 2003 by Paul Bennett and Lani Bevacqua, Context Travel is a collective of knowledgeable academics and experts with a mission to steer visitors away from typical tourist routes and towards an authentic experience of the cultures, histories, and people of the world's most remarkable cities. From its origins as a single-city operation, Context Travel has expanded its reach, now comprising a community of inquisitive travelers and scholars covering over 60 cities on six continents.
In the city of Istanbul, Context Travel creates unique experiences through a range of walking tours that are conducted in small groups or privately, under the guidance of local Istanbul experts. These tours plunge participants into the heart of contemporary Istanbul, giving them a taste of the city's rich and diverse architectural styles—from neoclassical to Art Nouveau Parisian-inspired passageways—along with its bustling souks and lively urban culture. Moreover, they offer a comprehensive exploration of the city's prime attractions.
Website: contexttravel.com/cities/istanbul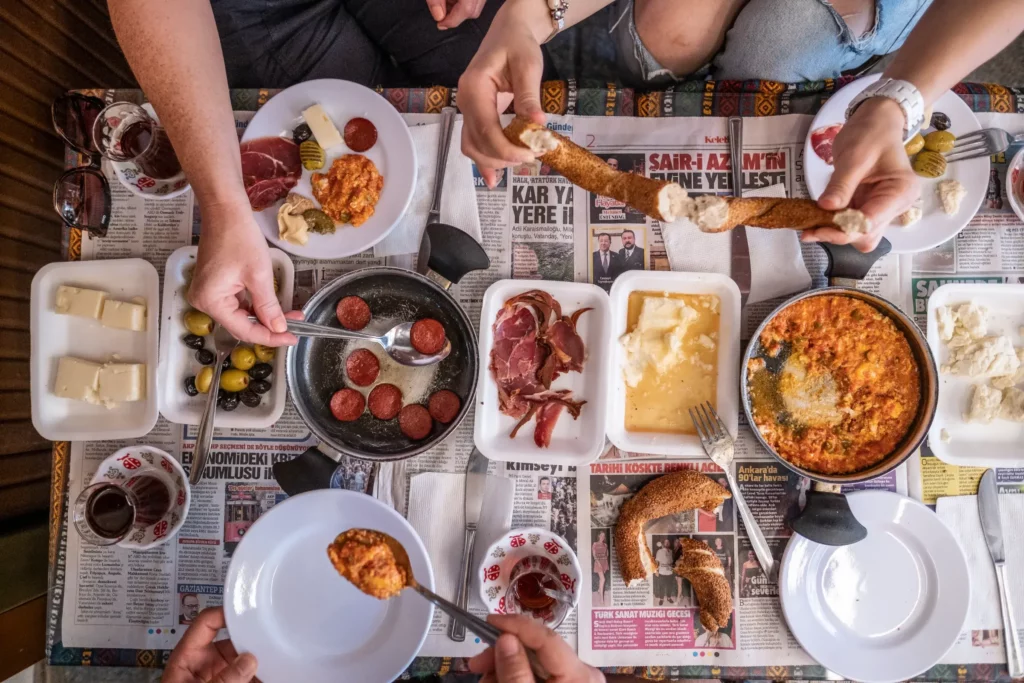 Yummy Istanbul
Yummy Istanbul is another culinary tour company that takes visitors on a journey through Istanbul's vibrant food scene. Their tours focus on the city's street food culture and take you to local markets, bakeries, and cafes to sample the best of Istanbul's culinary offerings. Their guides are passionate foodies who will share their knowledge of the city's culinary history and introduce you to the locals who make Istanbul's food scene so special.
Website: yummyistanbul.com
And if you have had enough of traditional tour companies, you can always check out our article about Istanbul AirBnb Experiences.
2023 ADDITIONS TO THE LIST
The ecosystem of the best tours in Istanbul grows and we update our posts with it. Here are some more recommendations.
Pub Crawl Istanbul
Looking to let loose and have a memorable night with new friends? Look no further than this highly recommended tour concept that has quickly become a must-do for anyone visiting Istanbul. Embark on a lively bar-hopping adventure, enjoying plenty of shots and creating unforgettable memories with your fellow travelers.
The Free Istanbul Tours
The Free Istanbul Tours are conducted by a team of official guides and friends, all natives of Turkey, who have a fervent desire to showcase the allure of their city and the Turkish culture to visitors. These tours are infused with a blend of passion, professional expertise, and a profound affection for the local culture.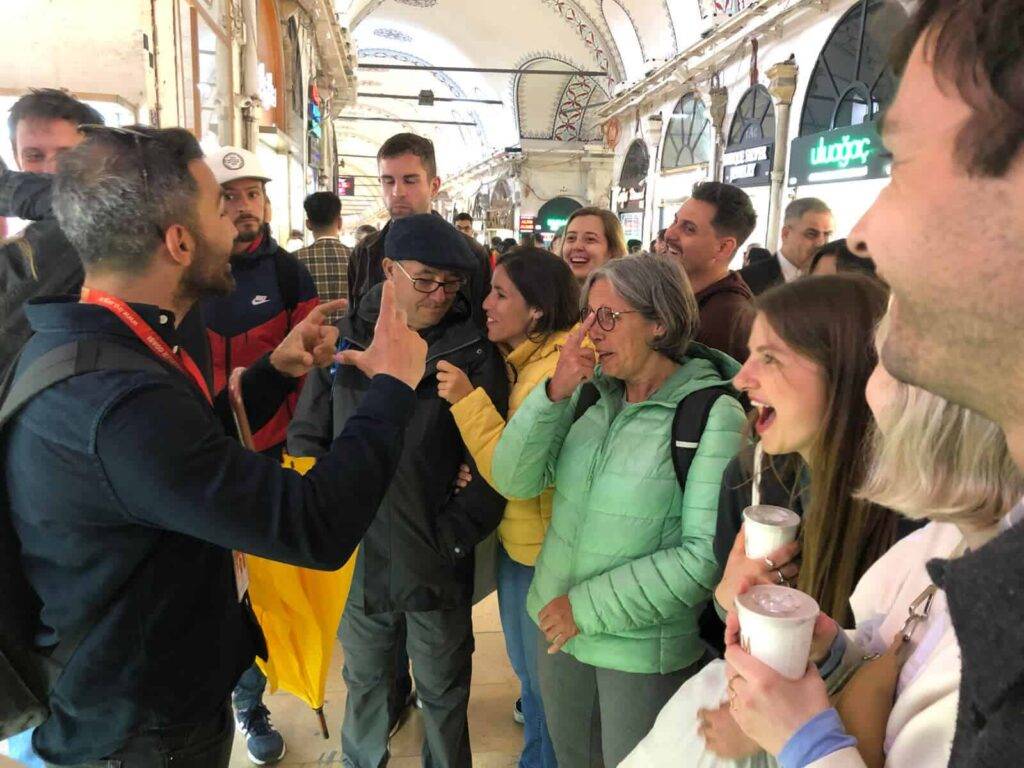 Their offerings comprise two unique tours:
The Authentic Istanbul Walking Tour, which highlights the city's cultural richness.
The Parts Unknown-Alternative Istanbul Tour, taking you to the Suleymaniye Mosque.
Having recently partaken in the Alternative Istanbul Tour myself, the guides not only provide insightful information about the city's history and recent developments, but they also adjust the tour itinerary as required, and suggest local dining options. While there is no compulsory fee for these tours, a minimum donation of €10 is suggested, an amount that many find to be excellent value for the experience.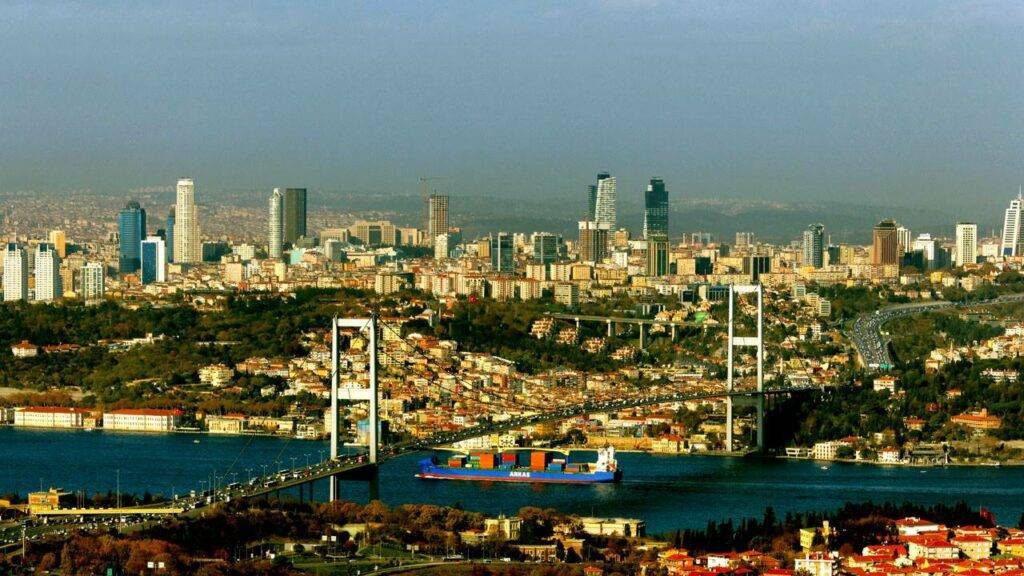 Istanbul Sunset Cruise
Board a luxury yacht that will allow you to see the best of the city while voyaging along the Bosphorus. Enjoy an unobstructed view of the area's iconic landmarks like the Dolmabahce Palace, Bosphorus Bridges, Maiden's Tower, and much more…
Circle Istanbul
Get ready to experience Istanbul like never before with Circle Istanbul – a unique 360° journey that takes you beyond the typical tourist hotspots. Leave the tour buses and crowds behind as you explore the city from a local's perspective, discovering hidden gems and cultural treasures that are often missed by visitors. From charming cafes to hilltop vistas, every stop on this immersive tour provides a fresh perspective on Istanbul's rich history and vibrant culture.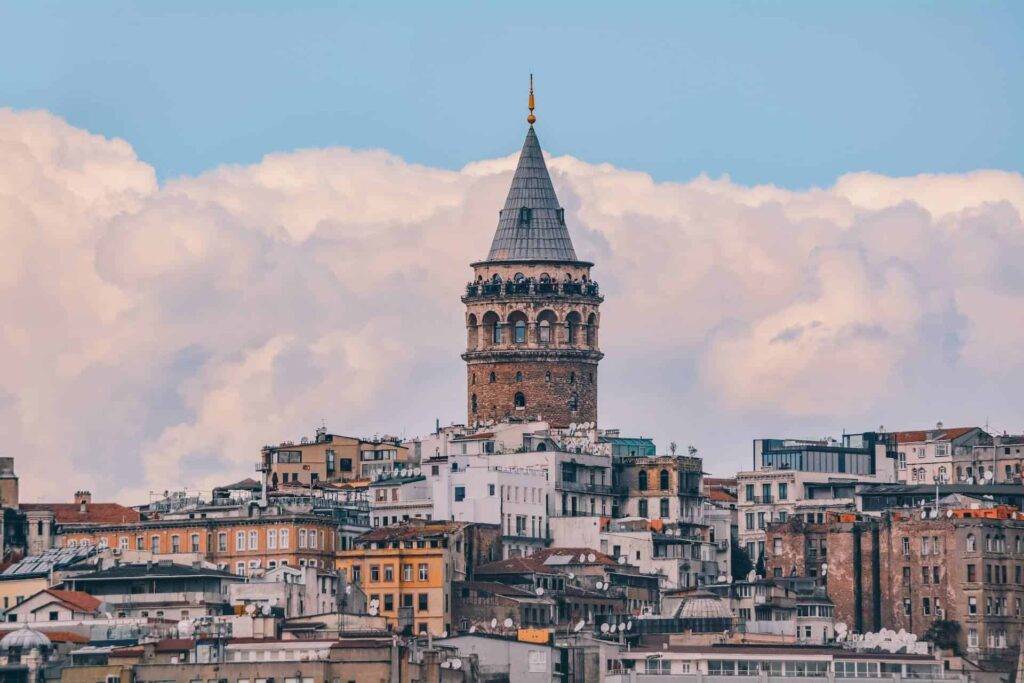 With so many tour options available in Istanbul, it's easy to feel overwhelmed. But by choosing a reputable tour company and focusing on your areas of interest, you can create a customized itinerary that allows you to see the city in the way that best suits you. Whether you're a first-time visitor or a seasoned traveler, there's always something new and exciting to discover in Istanbul, and a tour can be the perfect way to make the most of your time here.
No matter which tour company you choose, a guided tour is a great way to explore Istanbul and learn about its rich history and culture from a local perspective. We hope this list helps you find the perfect tour for your Istanbul adventure.
A QUICK GUIDE TO FINDING THE BEST ISTANBUL TOURS
Istanbul, the cultural capital of Turkey, is a city that offers visitors an array of historical, cultural, and natural attractions to explore. From the world-famous Hagia Sophia and the vibrant Arnavutköy to tranquil Princes' Islands, Istanbul has something for everyone. In this section, we will provide answers to some of the internet's burning questions for travelers planning to book a guided city tour in Istanbul.
What is the best way to tour Istanbul?
The best way to tour Istanbul is by taking a guided tour. Guided tours provide visitors with the opportunity to explore the city's most famous attractions with a knowledgeable guide who can offer insights into the city's rich history and culture. Tourists can choose from a variety of tours, including walking tours, bus tours, boat tours, and even private tours. We recommend finding top-notch guides or travel agencies using TripAdvisor, WithLocals or ToursbyLocals.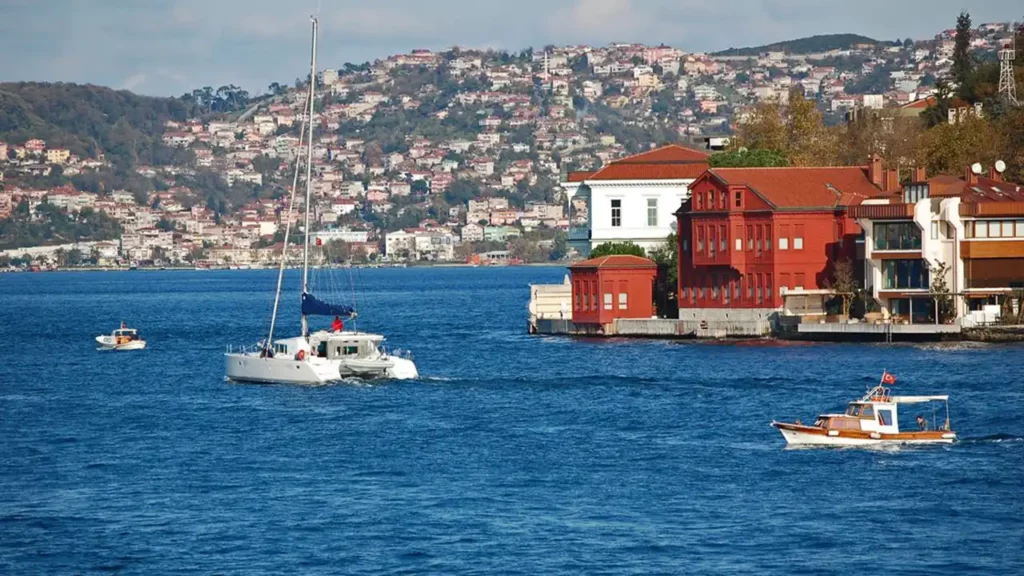 How many days required for Istanbul tour?
To fully experience Istanbul, it is recommended to spend at least 3 to 4 days in the city. This will allow you to visit the most popular tourist destinations such as the Galata Tower, Dolmabahce Palace, Spice Bazaar, and the Suleymaniye Mosque. You can also take time to explore some of the lesser-known areas of the city and indulge in the local cuisine.
What is the most beautiful area of Istanbul?
Istanbul is a city full of beautiful areas, but the most stunning area is the historic district of Sultanahmet. This area is home to some of Istanbul's most famous landmarks, including the Blue Mosque and Hagia Sophia. The narrow streets of Sultanahmet are lined with shops selling Turkish carpets, spices, and other traditional goods, and the area's architecture provides a glimpse into Istanbul's rich history.
But as pretty as Sultanahmet is, it is also pretty commercialized and touristy. So you might want to check out our post Istanbul "Off-the-Beaten-Path" for some alternative neighborhoods.
Do you need a tour guide for Istanbul?
While it is possible to explore Istanbul without a tour guide, having a guide can enhance your experience. A tour guide can provide you with a deeper understanding of the city's history and culture and take you to places that you may not have discovered on your own. Additionally, a tour guide can help you navigate the city and ensure that you get the most out of your time in Istanbul.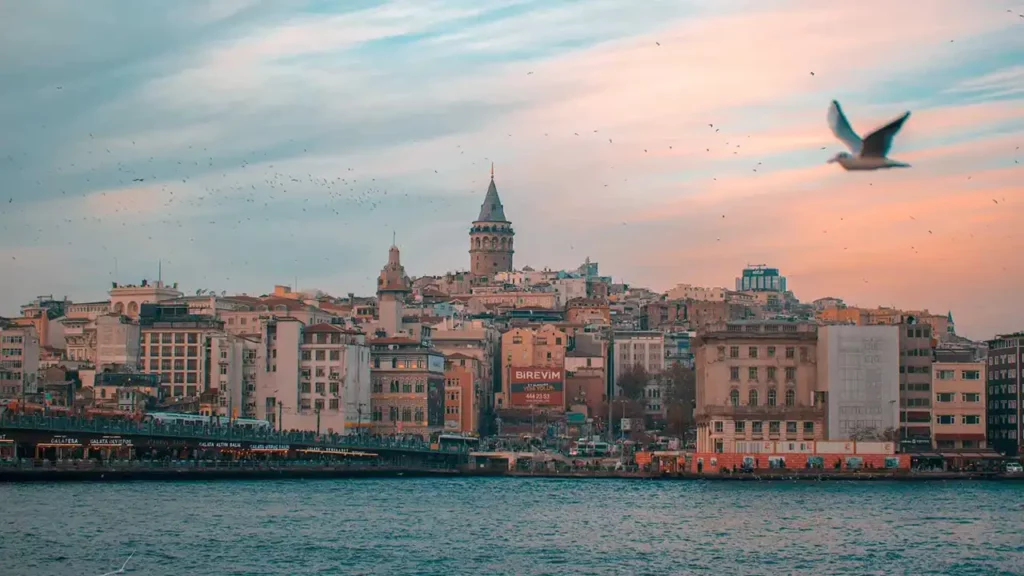 What must be seen in Istanbul?
There are many must-see attractions in Istanbul, the most prominent ones listed below.
(You may click on the title of each attraction to see the full details.)
Hagia Sophia is an architectural and cultural masterpiece located in Istanbul, Turkey, that has played a significant role in the history of the world. Originally constructed as an Eastern Orthodox church in the year 360 by the Byzantine Empire, it stood as a symbol of religious and cultural significance for centuries until the Ottoman Empire's conquest of Constantinople in 1453 transformed it into a mosque.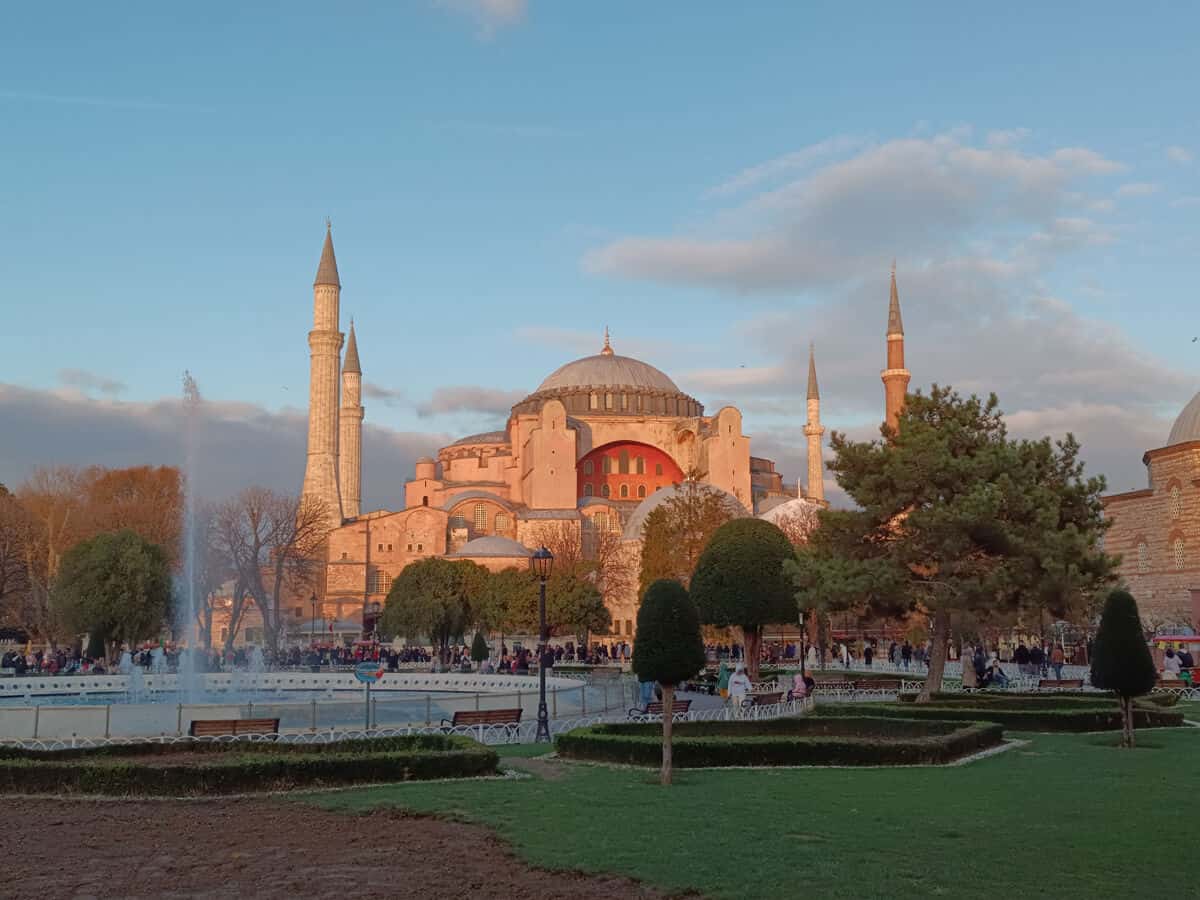 As a mosque, it has continued to be a place of great importance to Muslims all around the world. The beauty of its stunning domes, intricate mosaics, and grand architecture has captured the imagination of people from all walks of life, making it a must-visit destination for those interested in history, art, and religion.
The transformation of this magnificent structure from a church to a mosque once again in 2020 reflects the complex and fascinating history of Istanbul and its diverse cultural heritage while creating controversy and worry. Well, at least, now it's free of charge to visit Hagia Sophia.
The Blue Mosque, also known as the Sultan Ahmed Mosque, stands as a majestic symbol of the Ottoman Empire's architectural brilliance and its legacy in Istanbul, Turkey. This historical imperial mosque, built between 1609 and 1616 during the reign of Sultan Ahmed I, remains a functioning mosque and a popular destination for visitors from all around the world. According to Guided Istanbul Tours' Blog, the Blue Mosque has been closed since January 2023 due to maintenance and restoration work that has been ongoing since July 6, 2017. The mosque was expected to reopen on March 1st 2023, but it seems that it is still closed as of April 2023. Unfortunately, we couldn't find any information about when it will be open again for foreign visitors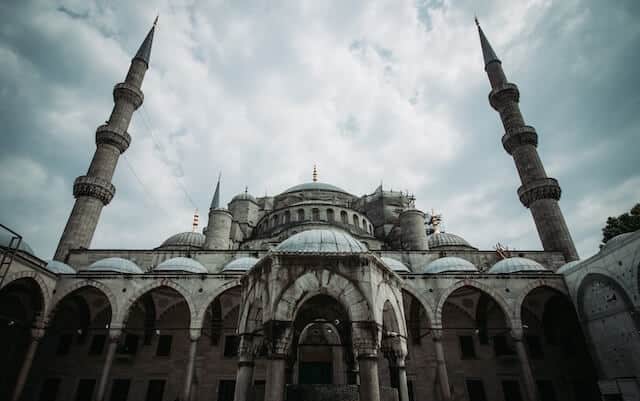 The awe-inspiring beauty of the Blue Mosque, with its intricate blue tiles and stunning domes, is a testament to the incredible craftsmanship of the Ottoman architects and artisans who built it. The mosque's grandeur and exquisite details create an atmosphere of peace and reverence, inviting visitors to contemplate the profound spiritual and cultural significance of this magnificent structure.
As a symbol of Istanbul's rich history and cultural heritage, the Blue Mosque continues to inspire and amaze visitors, providing a unique opportunity to experience the grandeur and beauty of Ottoman architecture and design. Whether one is seeking spiritual enlightenment, historical knowledge, or simply an appreciation of the wonders of human creativity, the Blue Mosque is an unforgettable destination that should not be missed.
The Topkapı Palace, also known as the Seraglio, stands as a testament to the grandeur and opulence of the Ottoman Empire, serving as its administrative center and the main residence of its sultans for over four centuries. Located in the heart of Istanbul's Fatih district, this magnificent museum is a treasure trove of history and culture, offering visitors a unique glimpse into the lives of the Ottomans.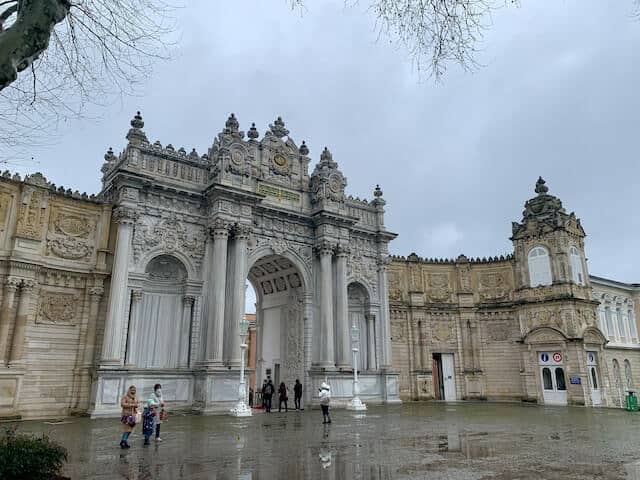 Built in the 15th century, the Topkapı Palace is a masterpiece of Ottoman architecture and design, boasting magnificent courtyards, grand halls, and exquisite gardens. It served as the epicenter of the empire's political, social, and cultural life, housing the sultan's vast collection of treasures and relics, as well as the offices of government officials and the imperial harem.
Today, the Topkapı Palace stands as a major cultural and historical site, offering visitors an unparalleled opportunity to explore the rich and fascinating history of the Ottoman Empire. Its vast collection of artifacts, including ceramics, manuscripts, weapons, and clothing, provides a vivid picture of life in the palace and the empire it represented.
The Grand Bazaar, a magnificent complex of bustling streets and alleys, stands as a testament to the vibrant culture and rich history of Istanbul. It is one of the world's largest and oldest covered markets, spanning an area of 30,700 m² and featuring 61 covered streets and over 4,000 shops.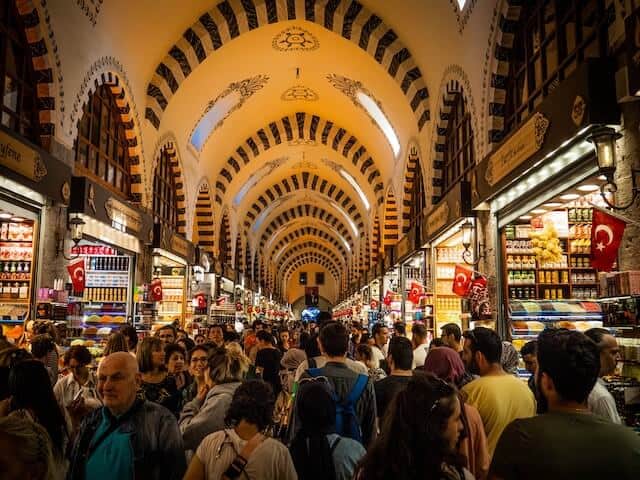 The Grand Bazaar is a destination that appeals to all the senses, from the colorful displays of spices and textiles to the tantalizing aromas of Turkish coffee and street food. Visitors from all around the world come to explore its labyrinthine streets, where they can find everything from traditional handicrafts to modern fashion and jewelry.
A visit to the Grand Bazaar is a truly unforgettable experience, offering visitors a unique window into the heart and soul of Istanbul. It is a must-see destination for anyone who wants to explore the rich cultural heritage of Turkey and the Middle East.
The Spice Bazaar, a jewel of Istanbul's bustling marketplace, stands as a shining example of the city's rich cultural heritage and vibrant energy. Located in the heart of the Eminönü quarter in the Fatih district, it is one of the largest and most famous covered shopping complexes in Istanbul, second only to the Grand Bazaar.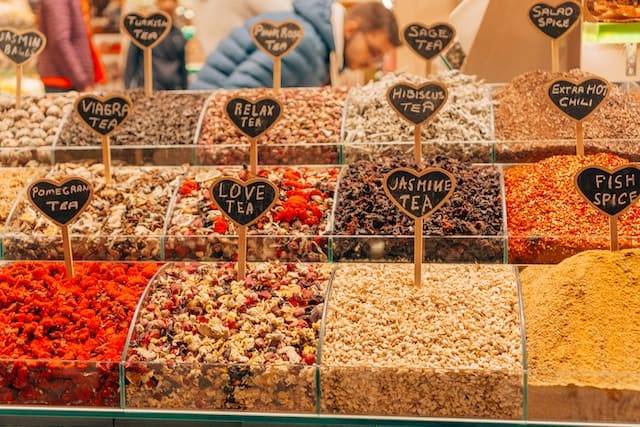 A visit to the Spice Bazaar is a journey through a world of exotic aromas, colors, and flavors, where the air is filled with the intoxicating scents of spices, teas, and sweets. The bazaar's vibrant stalls and shops offer visitors a wide range of traditional Turkish products, including spices, dried fruits, nuts, and other delicacies.
Visiting the whole area surrounding the 'Mısır Çarşısı' (how the locals call it) is an unforgettable experience, a journey through time and culture that will leave visitors with a deeper appreciation of Istanbul's unique and fascinating history. Whether seeking exotic spices, handmade crafts, or simply a glimpse into the soul of this vibrant city, the Spice Bazaar is a must-see destination for anyone traveling to Istanbul.
The Basilica Cistern, also known as the Cisterna Basilica, is an awe-inspiring underground wonder that stands as a testament to Istanbul's rich cultural and architectural heritage. It is the largest of several hundred ancient cisterns that lie beneath the city, providing a vital source of water for its inhabitants for centuries.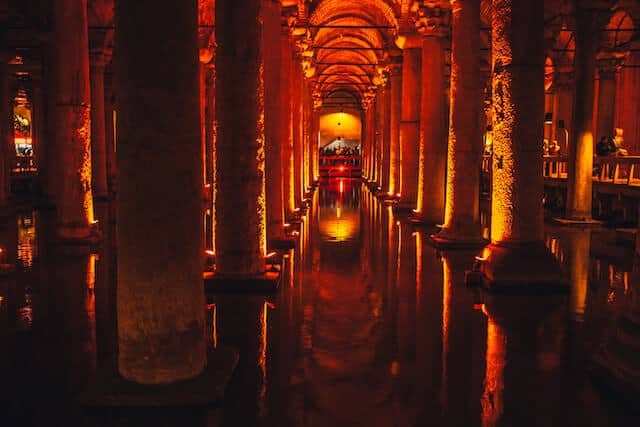 Built in the 6th century during the reign of Byzantine Emperor Justinian I, the Basilica Cistern is a remarkable feat of engineering and design.
It covers an area of 9,800 square meters and is capable of holding up to 80,000 cubic meters of water. Its massive columns, intricate carvings, and ethereal lighting create an otherworldly atmosphere that captivates visitors and transports them to a bygone era. Despite its historical significance, the Basilica Cistern remained hidden and forgotten for centuries until it was rediscovered in the mid-16th century.
Today, it is a major cultural attraction, drawing visitors from around the world who come to marvel at its stunning architecture and learn about its rich history.
The Galata Tower, an iconic symbol of Istanbul, stands as a testament to the city's rich history and cultural heritage. Originally built as a watchtower by the Genoese in the 14th century, the tower has since become an integral part of Istanbul's skyline and a must-visit destination for tourists and locals alike.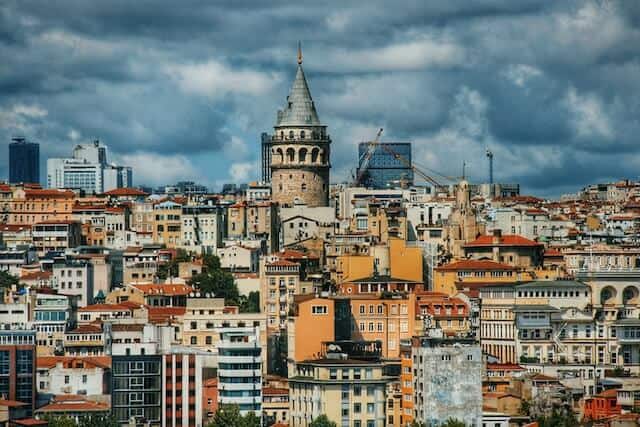 Perched atop the highest point of the Walls of Galata in the Beyoğlu district of Istanbul, the Galata Tower offers breathtaking panoramic views of the city and its surrounding landscapes. Its elegant architecture, intricate carvings, and historical significance make it a true masterpiece of medieval engineering and design.
Today, the Galata Tower serves as an exhibition space and museum, showcasing the rich history and culture of Istanbul and its people. Visitors can explore its winding staircase and climb to the top for an unforgettable view of the city, or delve into its history and learn about its significance as a watchtower and beacon of hope for Istanbul's inhabitants throughout the centuries.
A Bosphorus cruise is an unforgettable experience that allows visitors to explore Istanbul's breathtaking waterways and experience the city's rich culture and history from a unique perspective.
Stretching 32 km from the Black Sea to the Sea of Marmara, the Bosphorus Strait is one of the world's most important waterways, connecting Europe and Asia and serving as a vital trade route for centuries. A Bosphorus cruise takes visitors on a journey along this historic strait, offering stunning views of Istanbul's landmarks, architecture, and natural beauty.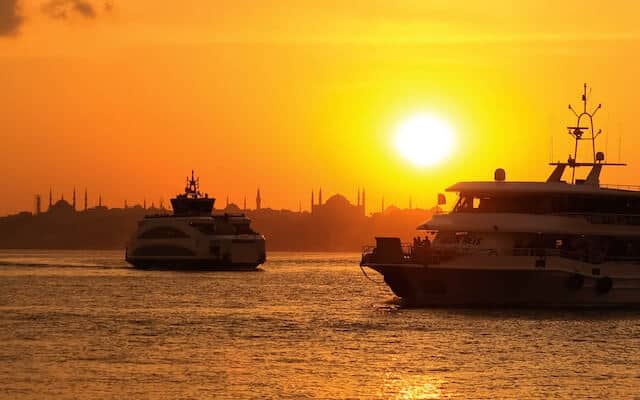 During the cruise, visitors can see the iconic landmarks of Istanbul, such as the Topkapi Palace, the Dolmabahce Palace, the Galata Tower, the Maiden's Tower, Bosphorus Bridge and literally dozens more. They can also take in the stunning scenery of the lush hills, picturesque villages, and sparkling waters that line the strait.
In addition to sightseeing, a Bosphorus cruise also offers visitors the opportunity to immerse themselves in Istanbul's rich cultural heritage. They can enjoy live music and dance performances, indulge in traditional Turkish cuisine and beverages, and interact with local vendors selling handmade crafts and souvenirs.
For those who want a more immersive experience, there are several options available for Bosphorus cruises, ranging from private yachts to larger public boats. Visitors can choose between daytime and nighttime cruises, each offering a unique perspective of the city and its landmarks.
Dolmabahçe Palace is a magnificent palace located in the Beşiktaş district of Istanbul, Turkey. It is a symbol of the city's rich cultural heritage and architectural brilliance. Built in the mid-19th century, it served as the main administrative center of the Ottoman Empire from 1856 to 1887 and from 1909 to 1922.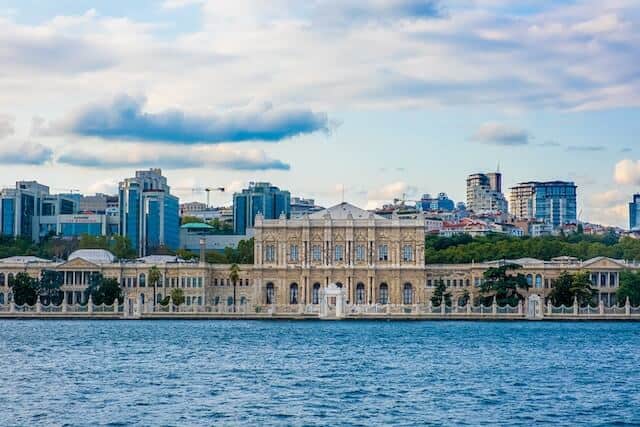 One of the most impressive features of the palace is its location on the European coast of the Bosporus strait, offering stunning views of the surrounding waters and landscapes. The palace's expansive gardens, fountains, and pavilions add to its grandeur and beauty.
Today, the palace is open to the public, offering visitors the opportunity to explore its grand halls, marvel at its ornate decorations, and learn about the history and culture of the Ottoman Empire.
The Süleymaniye Mosque is an architectural masterpiece located on the Third Hill of Constantinople. It is considered one of the most significant monuments of the Ottoman Empire, commissioned by the legendary Ottoman Sultan, Suleiman the Magnificent, and designed by the eminent architect, Mimar Sinan.
The mosque was completed in 1557, after seven years of construction, and was inaugurated with great pomp and ceremony. Its grandeur and beauty reflect the architectural brilliance of the Ottoman era, featuring a stunning domed roof, towering minarets, and intricate calligraphy.
Today, the Süleymaniye Mosque is open to the public and attracts visitors from all over the world, who come to marvel at its grandeur and beauty. It is not only a place of worship but also a cultural and historical landmark that provides a glimpse into the rich heritage of Istanbul and the Ottoman Empire.
Is Istanbul a walkable city?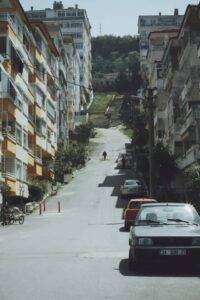 Istanbul, despite its undulating terrain and labyrinthine alleys, is a city that beckons exploration by foot, although traversing its hilly topology and navigating the narrow streets can prove to be a stimulating challenge.
It is recommended to wear comfortable shoes and be prepared for some uphill walking. However, many of the city's major attractions are within walking distance of each other, making it easy to explore the city on foot.
How to plan an itinerary in Istanbul?
To plan an itinerary in Istanbul, it is recommended to start by deciding which attractions you want to see. Based on your preferences and the amount of time you have, you can then create a schedule that includes the must-see attractions and allows time for exploring lesser-known areas and indulging in the local cuisine. It is also recommended to book a guided tour to get the most out of your time in Istanbul.
In conclusion, Istanbul is a city that offers visitors a unique blend of history, culture, and natural beauty. By taking a guided tour, visitors can experience all that the city has to offer while gaining a deeper understanding of its rich history and culture. With its stunning architecture, delicious cuisine, and friendly locals, Istanbul is a destination that should be on every traveler's bucket list.