On The Other Tour, we delight in the traditional Turkish game 'OKEY', a cherished part of our itinerary. Yet, when the day concludes or a spare moment arises, our collective passion turns to chess, a game that captivates our minds and unites us like a family. Long has it been since we've discussed this enthralling pastime, and the time is ripe to delve into the vibrant world of chess in Istanbul.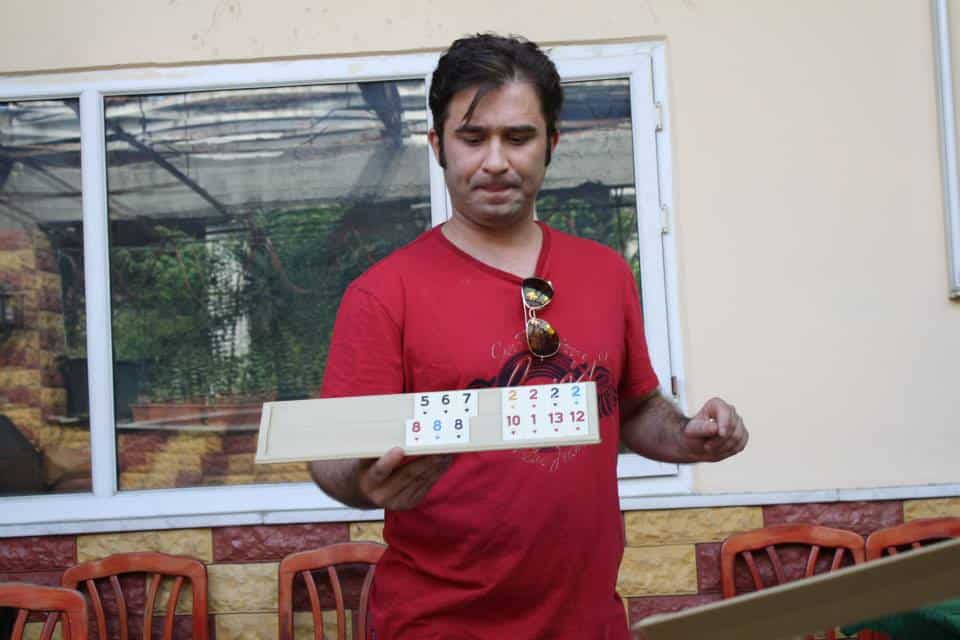 Amidst the jubilant atmosphere of celebrating the remarkable achievement of the esteemed Turkish International Master, Cem Kaan Gökerkan, who has recently attained his long-awaited final Grand Master norm. This achievement bestows upon Türkiye the esteemed title of her 13th Grand Master. Let us embark on an exploration of the captivating realm of chess within the vibrant city of Istanbul.
GM Cem Kaan Gökerkan.😎 pic.twitter.com/doFE7tl2Se

— Chess.com Türkçe (@chesscom_tr) May 11, 2023
Istanbul, the city where East meets West, is known for its rich history, mouth-watering cuisine, and vibrant culture. Yet, there's another intriguing aspect of Istanbul that often remains in the shadows, waiting to be discovered: its love for the game of chess. This blog post will take you on a journey through the history of chess in Istanbul (and Turkey), the chess clubs you can visit, and cafes where you can enjoy a game over a cup of Turkish tea.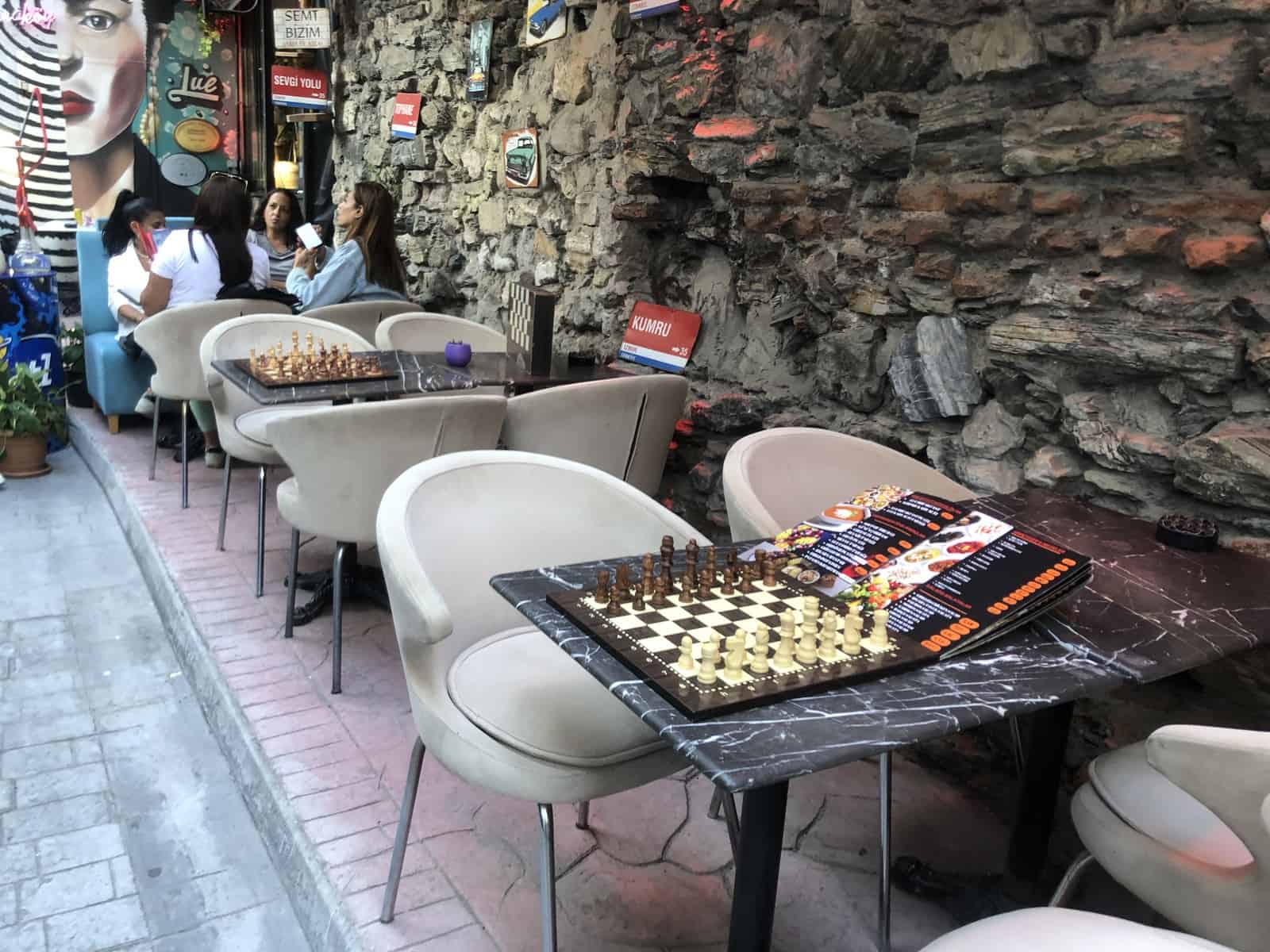 FIRST THINGS FIRST
While it's not accurate to say there is a universal prejudice against chess in the Middle East, there have been instances where religious authorities in some countries have questioned the game. For example, in 2016, Saudi Arabia's grand mufti issued a religious edict, or fatwa, declaring chess to be forbidden because it was considered a form of gambling. However, this view is not universally accepted among Muslims or in all Middle Eastern countries.
Turkey, as a secular republic with a predominantly Muslim population, presents a unique case. Chess is generally well-regarded in Turkey, and the country has produced several world-class players. The Turkish Chess Federation is an active body that promotes the game and organizes national and international tournaments. The popularity of chess in Turkey can be seen in its integration into the school system, with chess being part of the curriculum in primary schools since 2005. Thus, one could argue that Turkey is an exception in this context (besides Iran and Azerbaijan), demonstrating a strong support for chess that contrasts with any negative attitudes that may exist elsewhere in the region.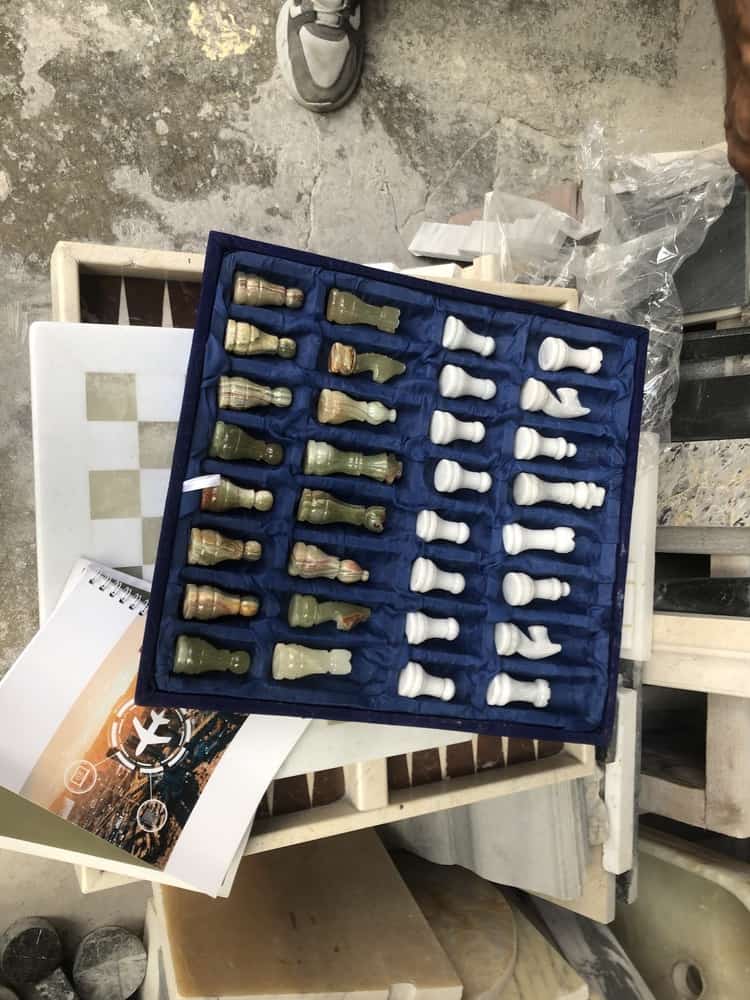 Chess in Turkey
Chess, or "Satranç" as it is known in Turkish, has a rich history in Turkey that dates back to the time of the Islamic expansion. As a country that straddles both Europe and Asia, Turkey has seen a number of cultural influences shape its chess traditions, leading to a vibrant chess culture that continues to thrive today.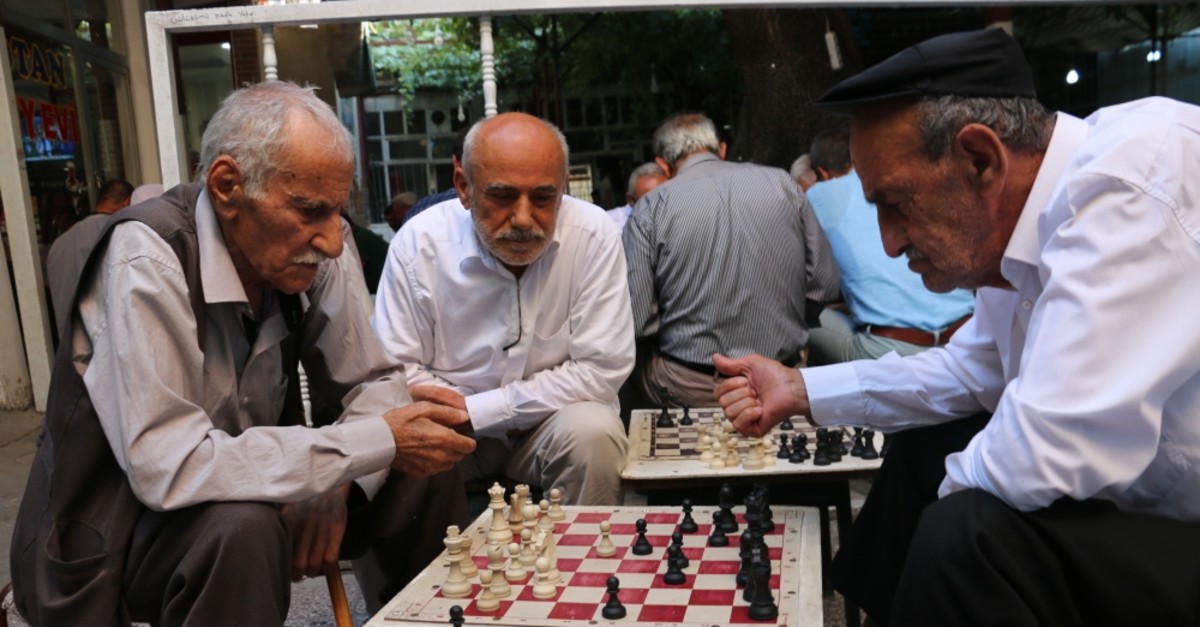 Historical Background
While the precise origins of chess in Turkey are hard to pin down, it is believed to have been introduced during the Islamic expansion in the 7th century. The game was popular among the Ottoman elites, where it was seen as a way to exercise the mind and develop strategic thinking. It was during the Ottoman Empire, especially in the 15th century, that chess became a popular pastime.
Modern Chess Scene
In the modern era, chess in Turkey has seen significant growth and development. The establishment of the Turkish Chess Federation in 1954 marked a turning point, helping to structure and popularize the game nationwide. The federation is affiliated with FIDE, the international chess federation, and organizes a variety of tournaments for different age groups and skill levels.
Turkish chess has seen several notable successes in recent years. Players such as Grandmaster Mustafa Yılmaz and Woman Grandmaster Ekaterina Atalik have achieved international recognition. Additionally, the country's younger generation has been making its mark in international competitions.
GM Vahap Sanal, for example, is frequently seen in the upper echelons of international chess community during online tournaments on chess.com, the most popular chess platform in the world.
Bu gönderiyi Instagram'da gör
Chess Education
Chess is also an important part of the educational system in Turkey. In 2005, the Turkish Ministry of National Education made chess a part of the school curriculum. The program, called "Satranç Destekli Eğitim" (Education Supported by Chess), aims to improve children's cognitive skills and teach them about decision-making, planning, and patience.
Chess Tournaments
Turkey hosts several important chess tournaments, including the annual Turkish Chess Championship and the Istanbul Open. The country has also hosted major international tournaments, such as the World Chess Olympiad in 2012 and the European Individual Chess Championship in 2019.
In conclusion, chess in Turkey is more than just a game. It's a cultural tradition, an educational tool, and a competitive sport, deeply ingrained in the country's history and contemporary society.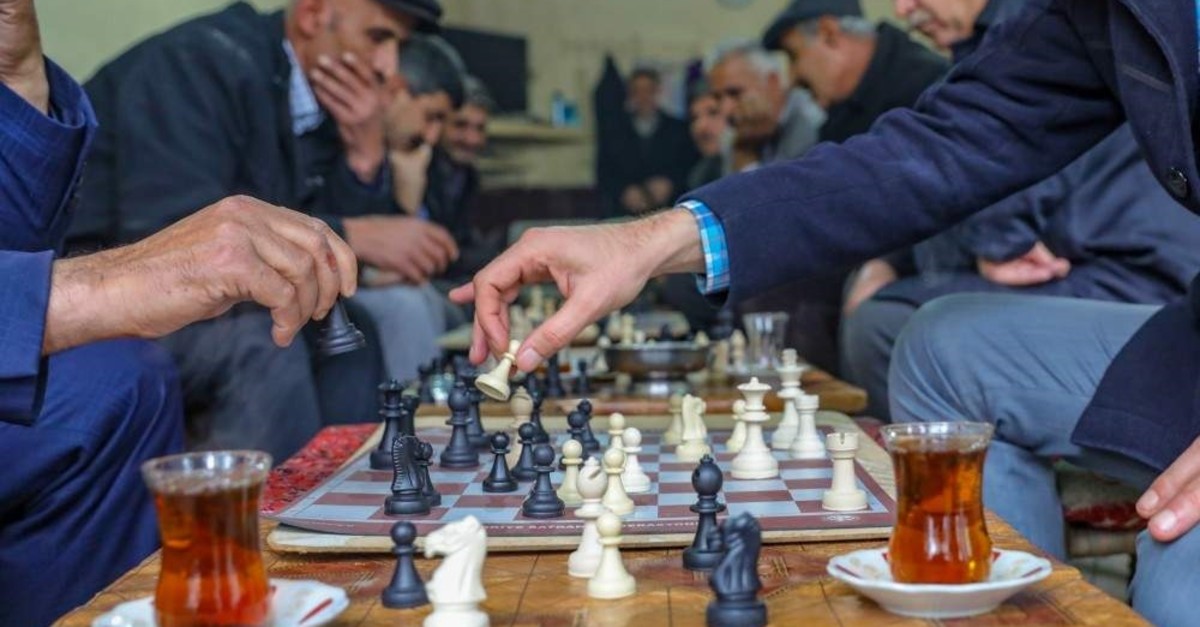 The History of Chess in Istanbul
Although the exact period when chess was first played in Istanbul is difficult to ascertain, historical records suggest that it became a popular pastime among the Ottomans in the 15th century.
Since then, chess has been a subtle but integral part of Istanbul's social fabric. The Ottoman elites would often engage in friendly chess games, which were considered a way to exercise the mind and cultivate strategic thinking.
The 20th century marked a turning point in the history of chess in Istanbul. The formation of the Turkish Chess Federation in 1954 helped popularize the game, giving it a more structured form. Today, Istanbul hosts several national and international chess tournaments, highlighting its deep-rooted connection with the game.
Chess Clubs in Istanbul
If you wish to witness the passion for chess in Istanbul, visiting local chess clubs is a must.
Istanbul Chess Club: Founded in 1959, this club is the oldest in Istanbul. It has been a nurturing ground for many chess enthusiasts and has produced several national champions. The club organizes regular tournaments, and visitors are always welcome to participate or watch.
Besiktas Chess Club: This club, affiliated with the famous Besiktas sports club, boasts a rich history and a friendly atmosphere. It offers chess lessons for all levels and is known for its active participation in various tournaments.
Kadıköy Chess Center: This is a relatively new chess club located in Kadikoy district of Istanbul on the asian side.
If you're a chess enthusiast, or even just curious about the game, you absolutely must visit Kadıköy Chess Center during your stay in this magical city.
Kadıköy Chess Center is a vibrant hub for chess lovers, truly serving as the beating heart of chess in Istanbul. It's an inviting space where enthusiasts of this ancient game can gather, play, and share their passion under one roof. This unique establishment was founded with the mission of filling a significant gap in the city — a quality home for chess.

But what makes Kadıköy Chess Center truly special is its atmosphere. It's more than just a chess club; it's a café too, creating a wonderfully relaxed, welcoming vibe. This blend of coffee and chess culture caters to everyone, from the young novices to the seasoned players, from ages 7 to 70.
Bugünün Anlam ve Önemine Uygun Bir Resim Daha Paylaşalım Öyleyse ☺️🧡 Ata'mız Çocuklarla Satranç Oynarken 😍 #mustafakemalatatürk #chess #children #saygıylaanıyoruz pic.twitter.com/UEdB2vRP17

— Kadıköy Satranç Merkezi (@KadikoySatranc) November 10, 2018
So, if you're in Istanbul and you're looking to match wits with local chess players, or perhaps just enjoy a good cup of coffee in a unique setting, make your move to the Kadıköy Chess Center. You'll not only experience the rich chess culture of Istanbul, but you'll also be a part of a community that's passionate about bringing chess lovers together. I can assure you, this is a checkmate move for your Istanbul itinerary!
Cafés with Chess Sets
In Istanbul, chess is not just confined to clubs and tournaments. It's woven into the fabric of daily life. Several cafés dotted around the city offer chess sets, inviting patrons to enjoy a strategic game amidst the aroma of freshly brewed coffee and the soft murmur of conversations.
Cuppa
Cuppa, nestled in the heart of Cihangir, Istanbul, is a charming and inviting café that opens its doors to chess enthusiasts. This quaint spot is known for its warm and welcoming ambiance, making it an ideal place to savor a cup of quality coffee while engaging in a strategic battle on the chessboard.
Address: Cihangir, Yeni Yuva Sk. No:22, 34433 Beyoğlu/İstanbul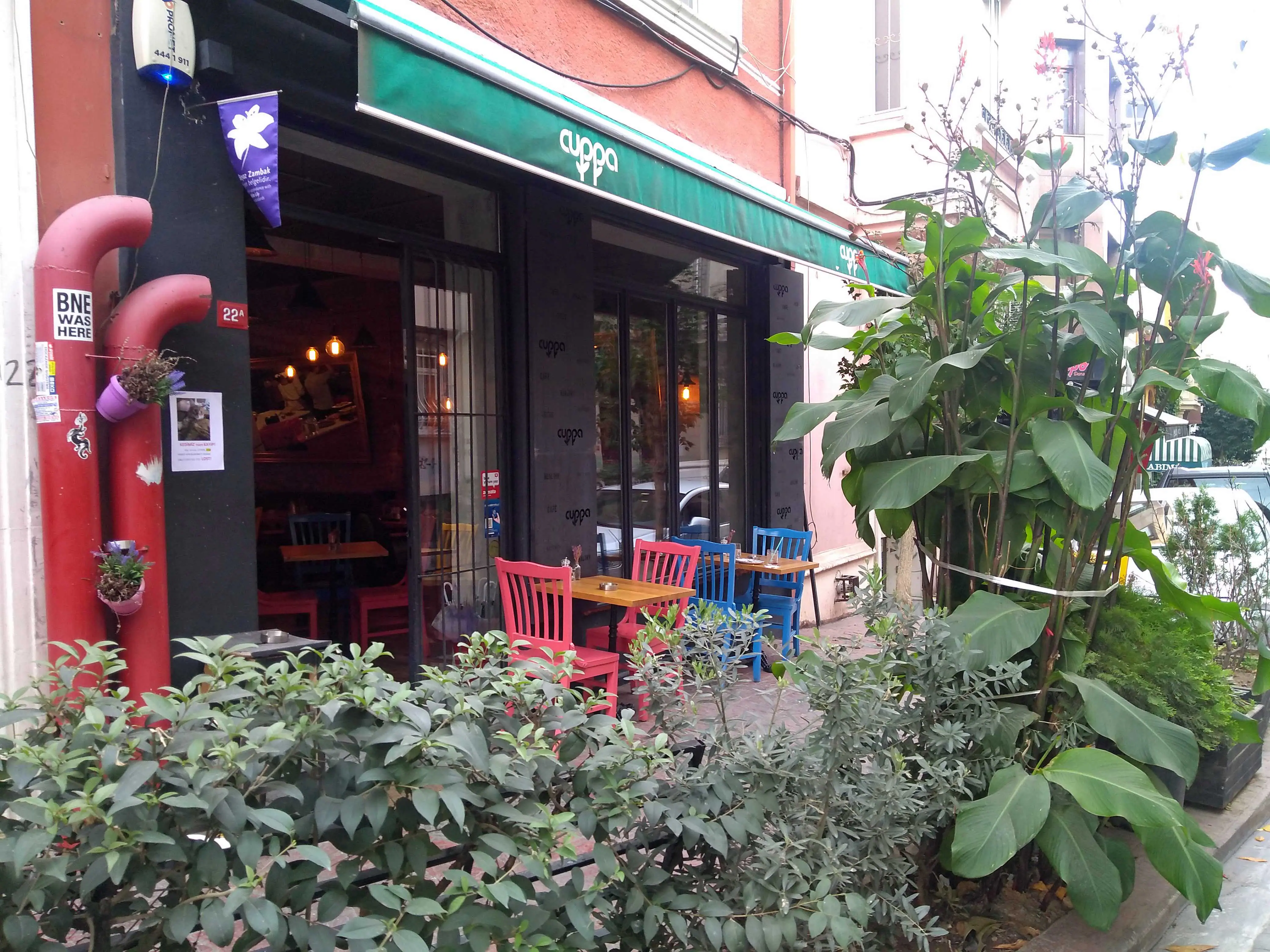 Ağa Bilardo Cafe
Known for its billiards, this welcoming spot in Cihangir also caters to chess enthusiasts. It offers an energetic atmosphere that combines the thrill of sports with the strategic beauty of chess.
Address: Kuloğlu, Taktaki Ykş. No:2/A, 34433 Beyoğlu/İstanbul
Küff Cafe
Located in the vibrant Yeldeğirmeni neighborhood of Kadıköy, Küff Cafe offers a unique blend of art, music, and chess, making it a must-visit for anyone seeking a stimulating environment.
Address: Rasimpaşa, Karakolhane Cd. No:54, 34716 Kadıköy/İstanbul
Papel Karaköy
Located in the vibrant district of Karaköy in Beyoğlu, Istanbul, Papel Karaköy is a charming cafe and restaurant tucked away in a cozy corner. As you stroll through the bustling streets, you'll be drawn to the inviting chessboards displayed on the tables, encouraging spontaneous games.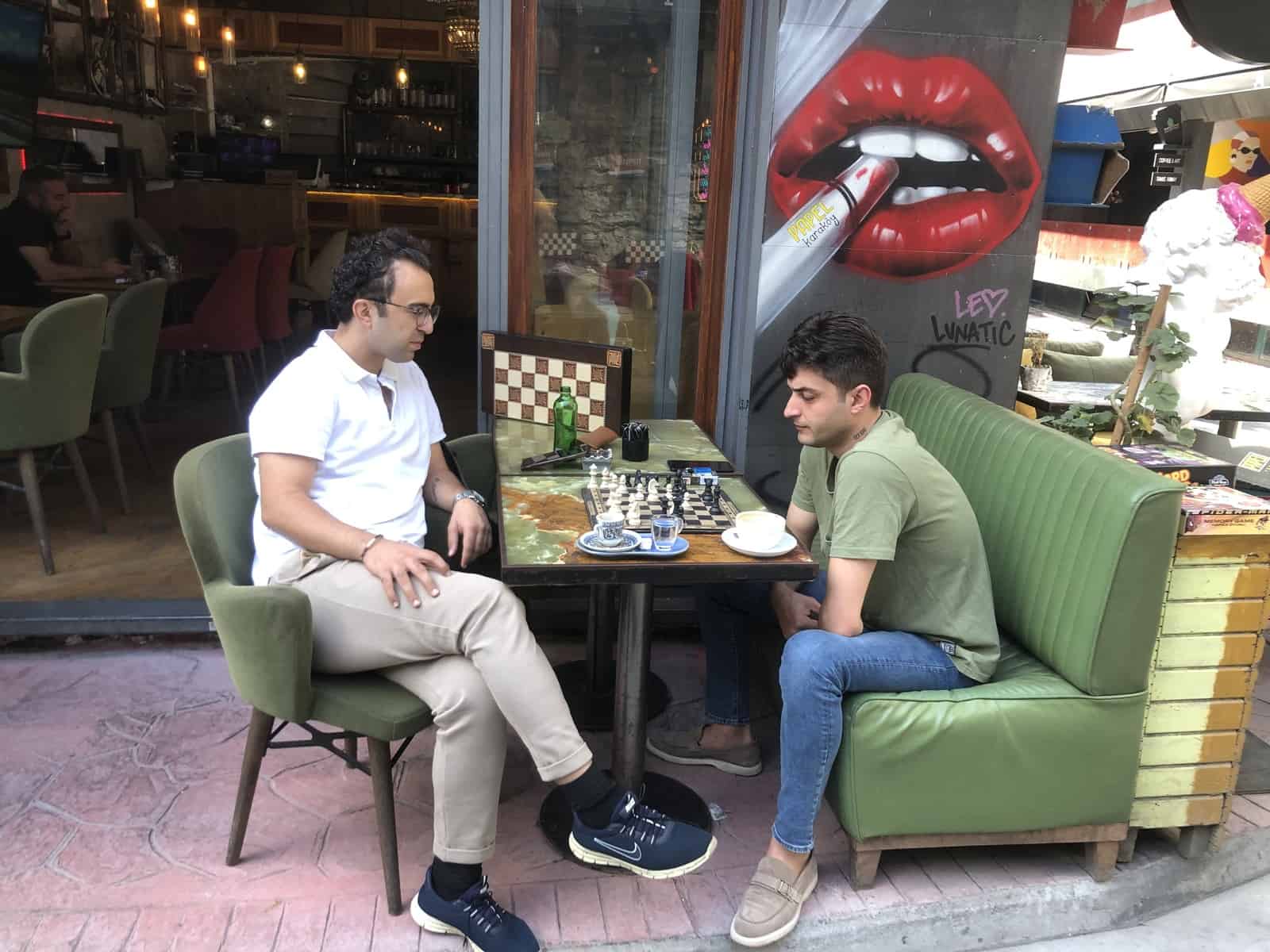 In addition to board games, particularly chess, the establishment offers a variety of snacks, breakfast options, and hookah, all of which can be enjoyed in either an open or enclosed setting.
Bu gönderiyi Instagram'da gör
All these spots offer the chance to immerse yourself in Istanbul's unique chess culture, providing the perfect backdrop for an engaging encounter with locals over a game of chess. Each offers its own unique atmosphere, but they all share a love of the game. So, make your move and experience chess like a true Istanbulite!
And even if you can't make it here physically, we can always a game online on Lichess. Here's my latest bookmarked game 🙂
LET'S GET A LITTLE PERSONAL
My name is Fethi, founder of this blog. I'm 35 years old now and my introduction to chess started 20 years ago in high school. Back then, we just played at school among friends and didn't think too much of it.
But about 10 years ago, my older brother Murat moved back to Istanbul from Amsterdam where he lived for more than a decade. And while he was there, he completely fell in love with chess and after his return, I was also hooked forever.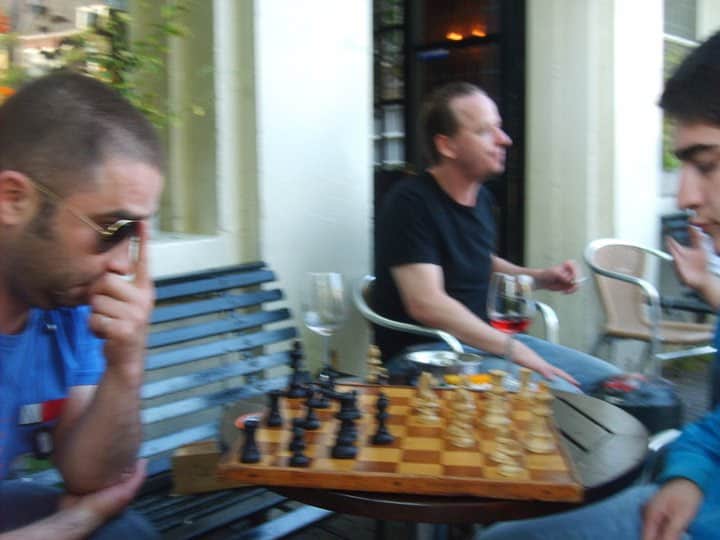 The last 5 years or so, chess has become my main hobby. I usually play for hours every single day! Usually online, over at LiChess.org.
So if you love chess as much as we do, both me and my brother would love to meet up and play – so just fill in the form below and let's get in touch.
Let's wrap up this post with once again celebrating Turkey's 13th GM Cem Kaan Gökerkan with a quote from Turkey Chess Federation:
Our athlete IM Cem Kaan Gökerkan, who won against the 2nd seed of the tournament, GM Alexandr Predke, in the 8th round of the 2023 Baku International Open Chess Tournament held in Baku, the capital of Azerbaijan, from 3-13 May 2023, secured the GM norm before entering the final round. With this result, our athlete Gökerkan has completed the final GM norm he needed to become a Grandmaster and has earned the right to receive the GM title.

We congratulate our athlete on this success and wish him continued success. – Turkish Chess Federation