Istanbul's fortune is truly a marvel that ceaselessly captivates my senses. Not only is it a city of unparalleled beauty, blessed with an inviting climate, but it also cradles the majestic Bosphorus in its heart, painting a picture of glory and grandeur. And as if this symphony of natural endowments were not enough, it boasts the company of nine extraordinary islands, nestled nearby in the embrace of the Sea of Marmara. These islands stand ready to offer a tranquil refuge, a serene interlude from the city's vibrancy, at a moment's notice. Such a wealth of treasures surely makes Istanbul a paragon of providence, the veritable 'Royal Flush' in the poker game of nature's blessings.

In the south-east of Istanbul, just about an hour away with a sweet ferry ride, lie the tranquil Princes' Islands – a chain of nine islands steeped in history, culture, and natural beauty. Whether you are a history enthusiast, nature lover, or seeking a peaceful retreat, the Princes' Islands offer an enticing escape from the bustling city life of Istanbul.
Why are they called the Princes' Islands?
The Princes' Islands, or "Kızıl Adalar" as they are known in Turkish, derive their name from the Byzantine era when they served as a place of exile for princes and other royalty. The islands were home to these exiled individuals, hence the name 'Princes' Islands.'
Geology and Topology of the Princes' Islands
Geologically, these islands are part of the small Silivri Zone, which formed during the closure of the Tethys Ocean. This ancient oceanic tectonic event has given the islands a varied and fascinating topography, with undulating hills and lush, verdant landscapes.
The topography ranges from densely wooded areas to sandy beaches and rocky outcrops. The islands have a Mediterranean microclimate, allowing for the growth of a variety of flora, including pine and oak trees, making them a green haven amidst the sea.
Goodbye beautiful horses
The Princes' Islands are amazingly car-free, contributing to their serene atmosphere and making them a unique destination within easy reach of bustling Istanbul. This prohibition applies to private vehicles, preserving the islands' tranquility and offering a rare glimpse of life unhurried by modern transportation.
Traditionally, horse-drawn carriages, known as fayton, were the primary means of transport on the islands. However, due to concerns about animal welfare, there has been a significant push towards finding more humane alternatives in recent years.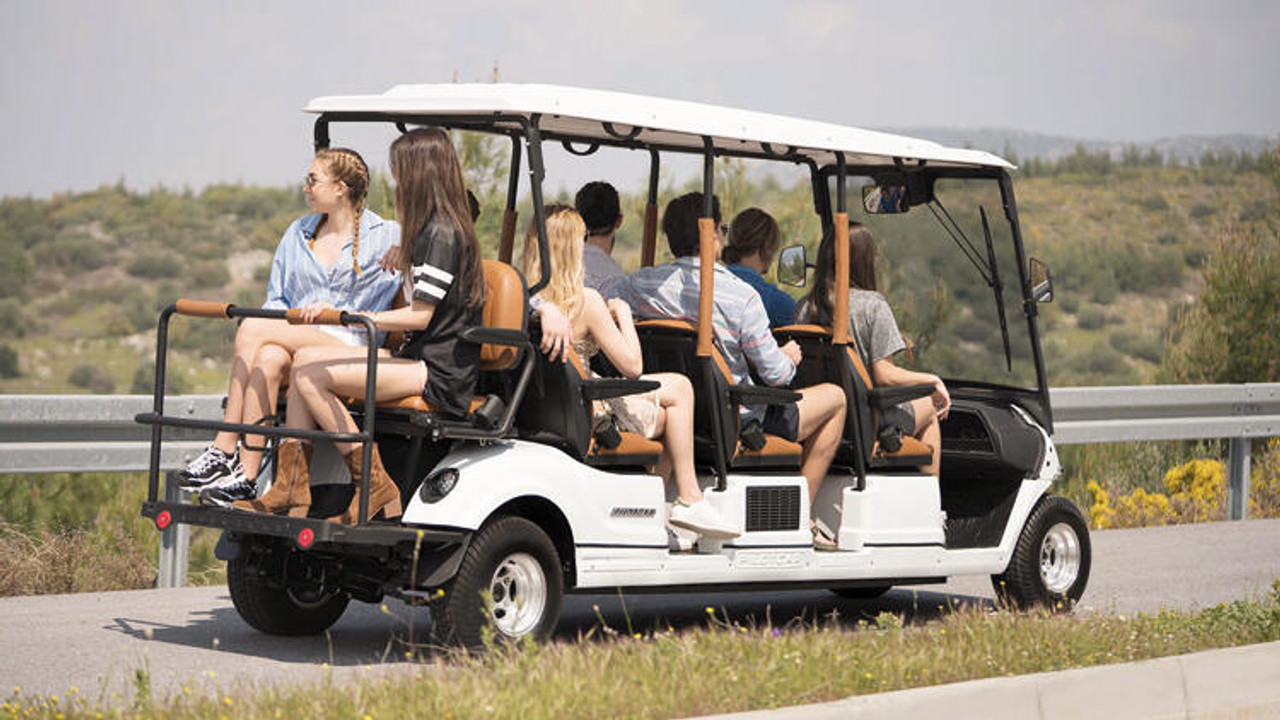 In recent years, we have finally managed to replace the horse-drawn carriages with electric vehicles. These electric carriages are designed to maintain the islands' traditional charm while ensuring a more sustainable and humane mode of transport.
Popular Islands and Attractions
Among the nine islands, four stand out as the most popular destinations, each with its unique charm and attractions.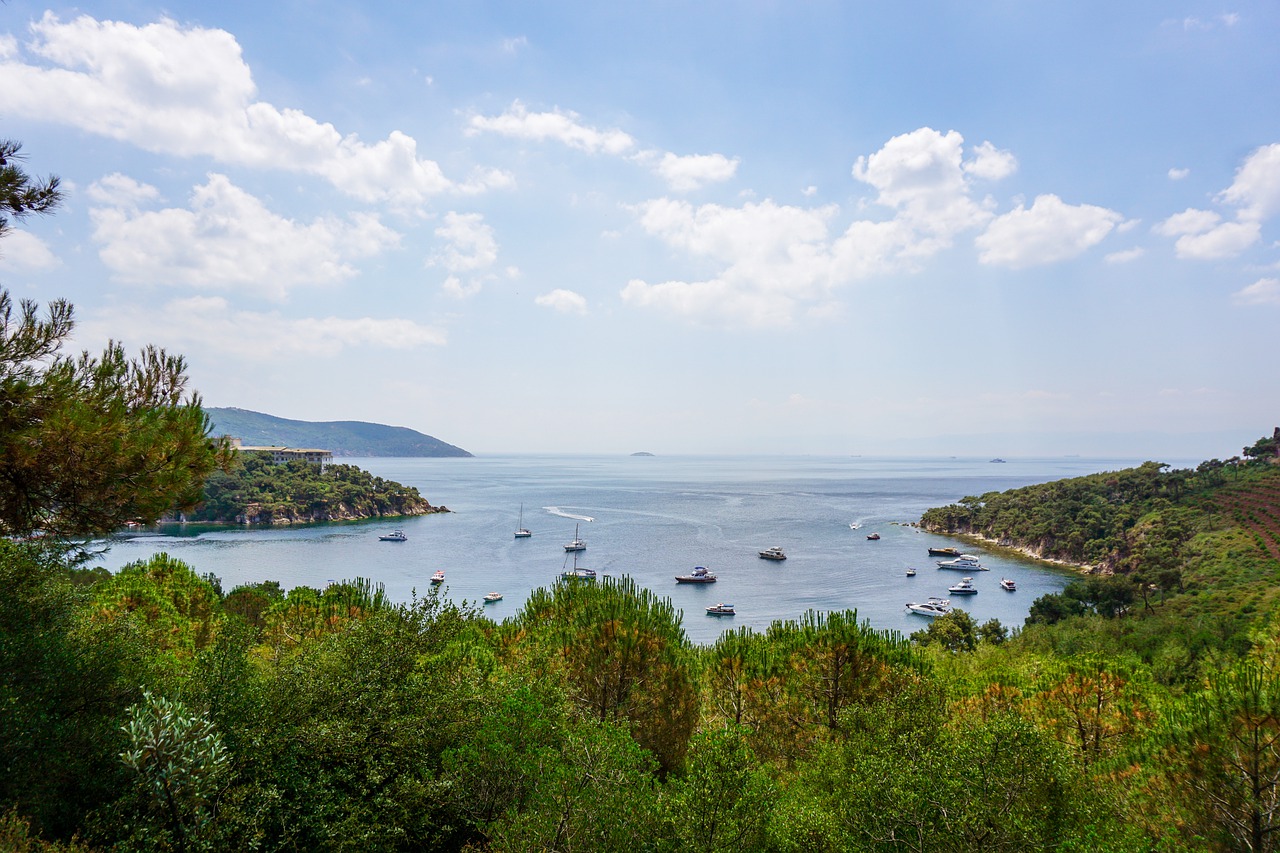 Büyükada
Büyükada is the largest and most visited island. It's known for its beautiful Ottoman-era houses, horse-drawn carriages (as motor vehicles are not allowed), and the Aya Yorgi Monastery. Hiking to the top of the island provides panoramic views of Istanbul and the Sea of Marmara.
Heybeliada
Heybeliada, the second largest island, is known for its Naval Cadet School, the 11th-century Greek Orthodox School of Theology, and its beautiful forests perfect for picnicking or hiking.
Burgazada
Burgazada is smaller and less crowded but equally charming. It's known for its Greek Orthodox Church of St. George and the Kalpazankaya Restaurant, famous for its stunning sunset views.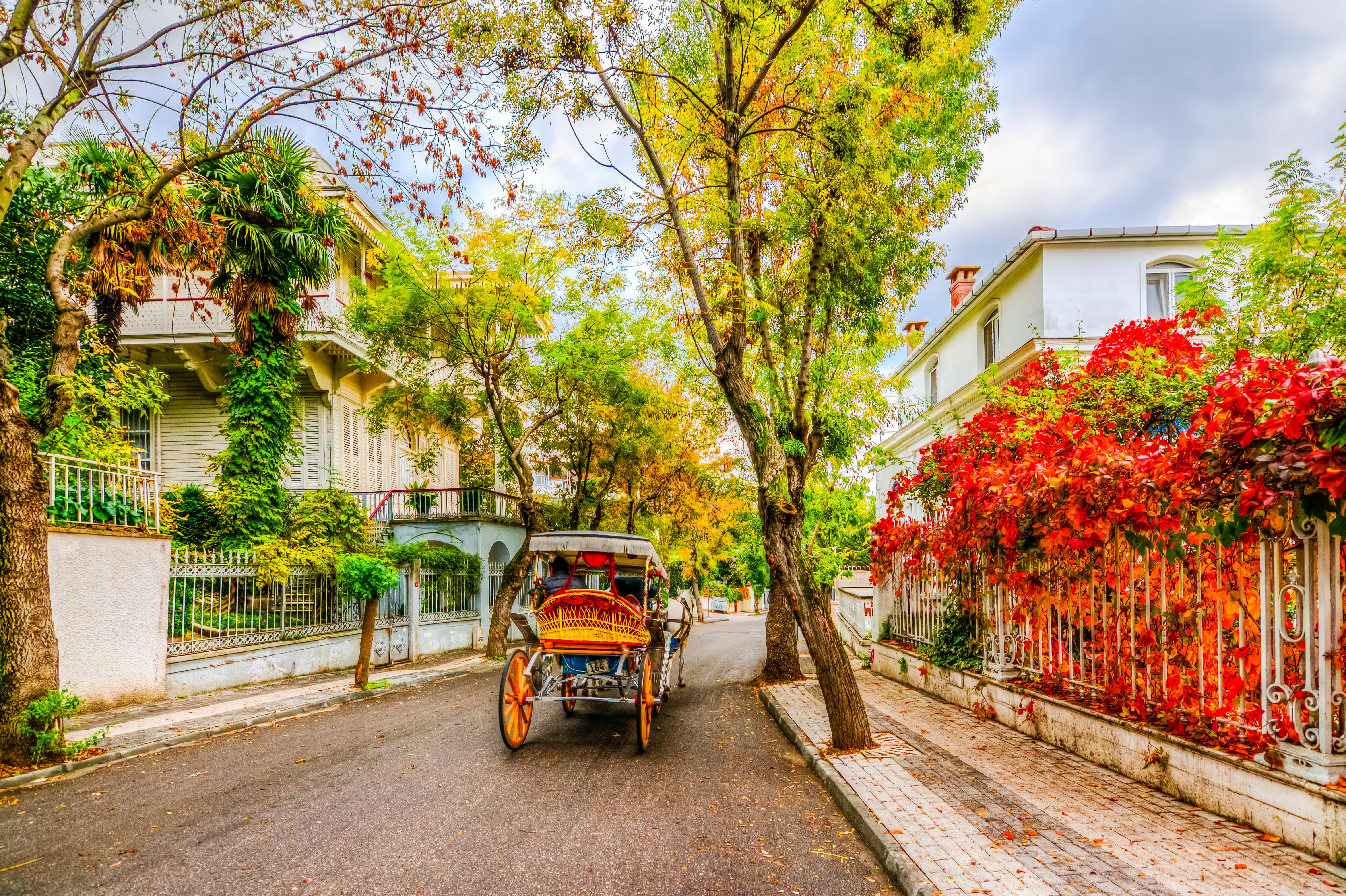 Kınalıada
Kınalıada is the smallest of the four main islands, known for its Armenian and Greek churches, sandy beaches, and a quieter atmosphere.
Answering Your Questions
Are Princes Islands worth visiting?
Absolutely! The Princes' Islands offer a unique mix of history, nature, and tranquillity that is hard to find in the bustling city of Istanbul. They provide a perfect day-trip destination for those wanting to experience a different side of Turkey.
Which is the best island in Princes' Islands?
Each island has its own unique charm, and the "best" one depends on what you are looking for. Büyükada is the most popular and offers a range of attractions, but if you prefer a quieter, more relaxed atmosphere, Kınalıada might be the best choice.
Can I swim at the Princes' Islands?
Yes, you can swim at the Princes' Islands. There are several lovely beaches on the islands, especially on Kınalıada and Büyükada, where you can enjoy a refreshing swim in the Sea of Marmara. Just remember to pack your swimsuit!
How long does it take to get to Princes' Islands?
The journey time varies depending on the island and the departure pier. It usually takes between 1 to 2 hours to reach the islands by ferry.
How do you get to Princes' Islands?
The most common way to reach the Princes' Islands is by ferry from Istanbul. Ferries depart from Kabataş, Kadıköy, and Bostancı piers regularly throughout the day.
To get to the Princes' Islands in Istanbul, you'll typically need to take a ferry. Here are some steps to follow:
Head to the ferry terminal: There are several ferry terminals in Istanbul that have regular services to the Princes' Islands, but the most commonly used are located in Kabataş, Beşiktaş on the European side and Bostanci on the Asian side.
Buy a ferry ticket: Tickets can be purchased at the terminal. As of my knowledge cut-off in September 2021, Istanbul uses a contactless card system called IstanbulKart for public transportation. You can purchase and load these cards at machines located at major transit points. The card can be used for multiple passengers, simply swipe it once for each passenger.
Board the ferry to Princes' Islands: The ferry ride usually takes about 1.5 to 2 hours, depending on which island you're going to and which terminal you're leaving from. The ferries usually stop at all four of the inhabited islands: Kınalıada, Burgazada, Heybeliada, and the largest and most popular, Büyükada.
Arrive at the Princes' Islands: Once you arrive at the islands, you can explore on foot, rent a bike, or take a horse-drawn carriage.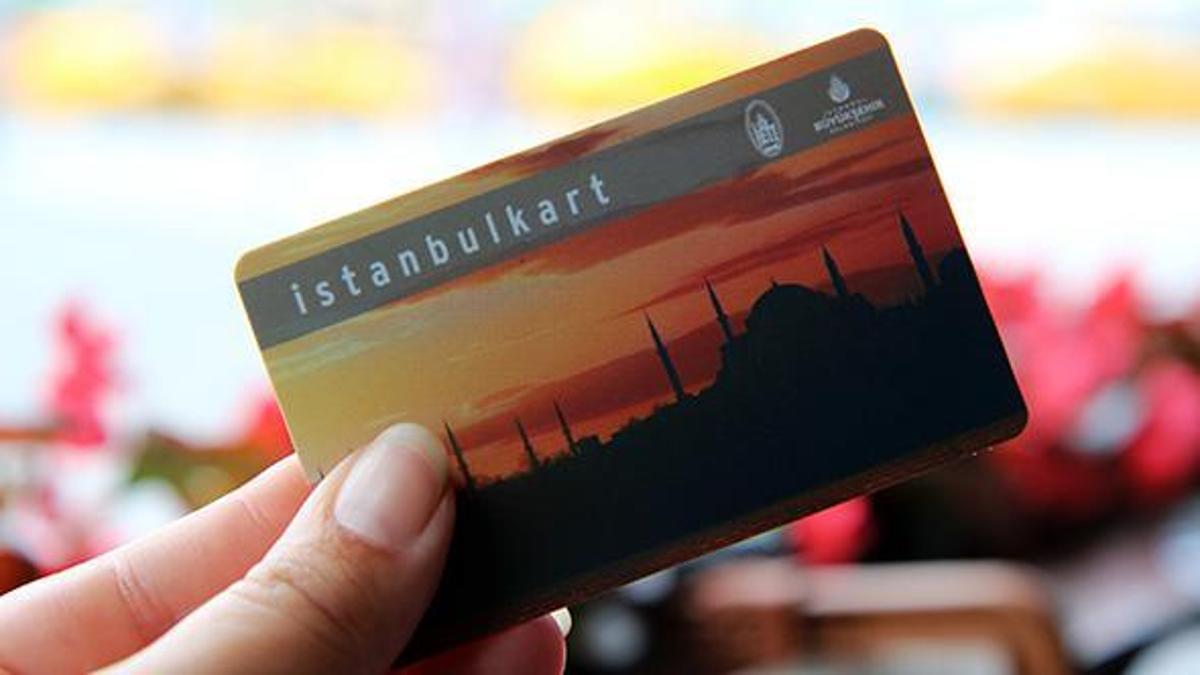 How much is the ferry to Princes' Islands?
As of 2023, a one-way ticket to the Princes' Islands costs around 30 Turkish Lira (approximately $1.5 USD). Please check the official Şehir Hatları website for the most current fares and schedules.
Whether you're in search of a peaceful retreat, a historical journey, or an adventurous exploration, the Princes' Islands offer a unique and memorable experience. So why wait? Embark on an unforgettable voyage to these serene islands that beautifully capture the essence of Turkey's enchanting past and vibrant present.
Organized Tours to Princes' Islands
Venturing to the Princes' Islands is a fascinating experience, and opting for an organized tour can enhance your visit, offering guided exploration and ensuring you make the most of your time on these enchanting islands.
Benefits of Organized Tours
Organized tours to the Princes' Islands provide several benefits:
Guided Exploration: Tour guides offer in-depth knowledge of the islands' history, culture, and key attractions. They can enrich your experience with interesting anecdotes and insights that you might not discover on your own.
Convenience: Organized tours often include round-trip transportation from Istanbul, eliminating the need to navigate ferry schedules and routes.
Time-Efficiency: A well-planned itinerary ensures that you see the major attractions without wasting time. It's especially beneficial if you're on a tight schedule.
Social Interaction: Tours provide an opportunity to meet fellow travelers, share experiences, and perhaps make new friends.
What to Expect on a Tour
Typically, an organized tour to the Princes' Islands includes a ferry ride from Istanbul, during which you can enjoy stunning views of the city and the Sea of Marmara. Once on the islands, you'll likely explore Büyükada and Heybeliada, the two largest and most popular islands, though some tours may include the smaller islands as well.
Tours often involve a mix of guided sightseeing—such as visits to historical sites like the Aya Yorgi Monastery and the Greek Orthodox School of Theology—and free time for individual activities like swimming, hiking, or simply relaxing at a beachside café.
Depending on the tour operator, lunch may be included or you may have free time to explore local dining options on your own.
Choosing a Tour
When selecting a tour, consider the itinerary, duration, group size, and what's included in the price. Reading reviews and ratings from previous participants can also be helpful.
Remember, the goal is to choose a tour that aligns with your interests, travel style, and budget. Whether you're interested in historical sites, outdoor activities, or simply soaking up the atmosphere, there's a Princes' Islands tour that's perfect for you.
If you are interested in a guided tour of Princes' Islands, you can let us know and we will recommend the best companies. Please fill in the form below and let's talk about it.
And here is a useful video about Princes' Islands. The host's English is kinda annoying but it's a good video.