The Bosphorus Strait, the shimmering vein of water bisecting the city of Istanbul, has always been a witness to history and a bridge between cultures. Its banks are adorned with regal palaces, quaint wooden 'yalis' (waterside villas), and modern architectures that narrate the tale of a city cradled between two continents.
The Bosphorus is a narrow, natural strait and an internationally significant waterway located in northwestern Turkey. It forms part of the continental boundary between Europe and Asia, and divides Turkey by separating Anatolia from Thrace. The Bosphorus connects the Black Sea with the Sea of Marmara, and, by extension via the Dardanelles, the Aegean and Mediterranean Seas.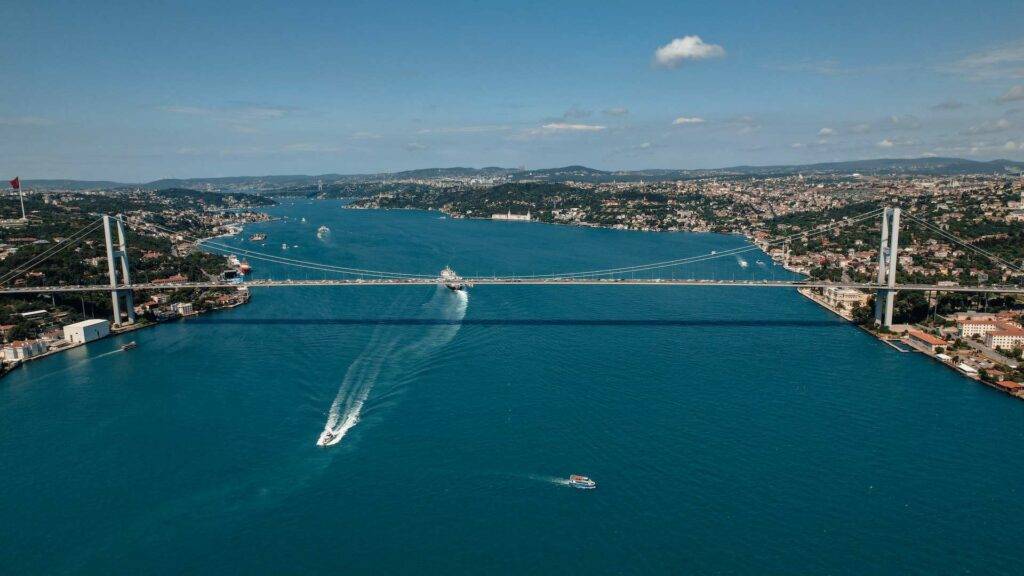 What is a Bosphorus cruise?
A Bosphorus cruise refers to a boat tour that navigates through this strait. These cruises offer a unique way to see Istanbul from a different perspective. They typically provide scenic views of the city's skyline, historic sites, palaces, and forts.
Cruises can vary in length, from short tours to longer excursions, and often include opportunities to see landmarks like the Dolmabahçe Palace, the Maiden's Tower, and the Bosphorus bridges that link Europe and Asia.
It's a popular activity for tourists and locals alike, providing a relaxing and picturesque way to experience the beauty and history of Istanbul.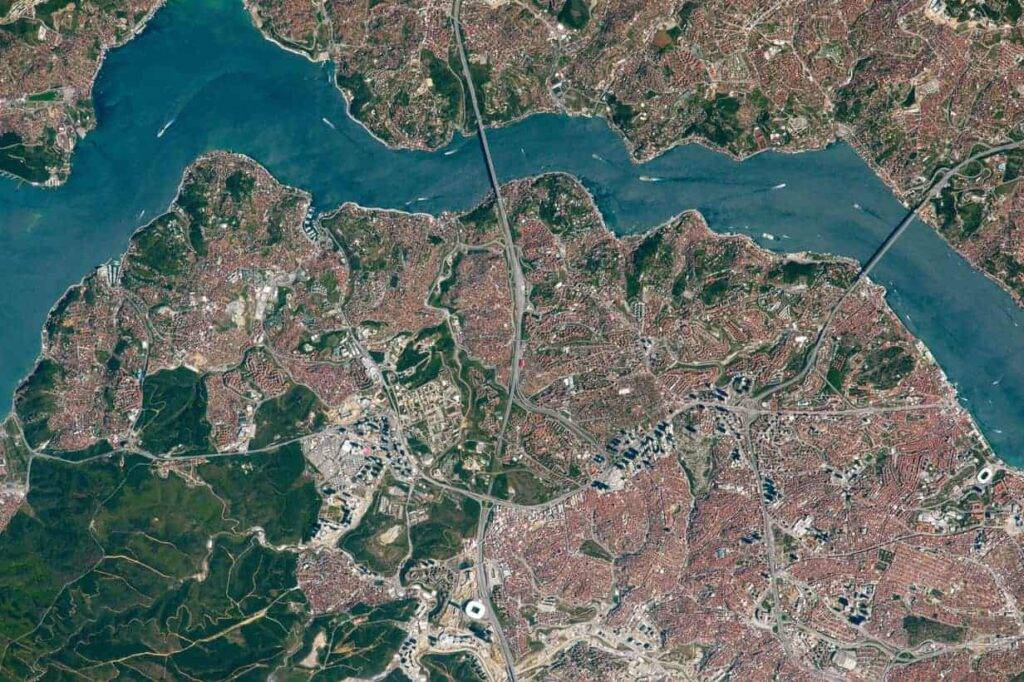 Moreover, cruising on the Bosphorus is not merely a sightseeing expedition; it's a voyage through the heart of Istanbul, where every ripple in the water tells stories of empires past and the confluence of civilizations.
There are many options to cruise on the Bosphorus, we will provide you with the entire spectrum of options.
Various modes of cruising on the Bosphorus
There are myriad ways to cruise on the Bosphorus. We will try to cover the whole spectrum of options.
One of the most economical and authentic ways to explore the Bosphorus is by hopping on a public ferry operated by "Şehir Hatları", which is the name of the public ferry company that operates in Istanbul. It means "City Lines" in Turkish.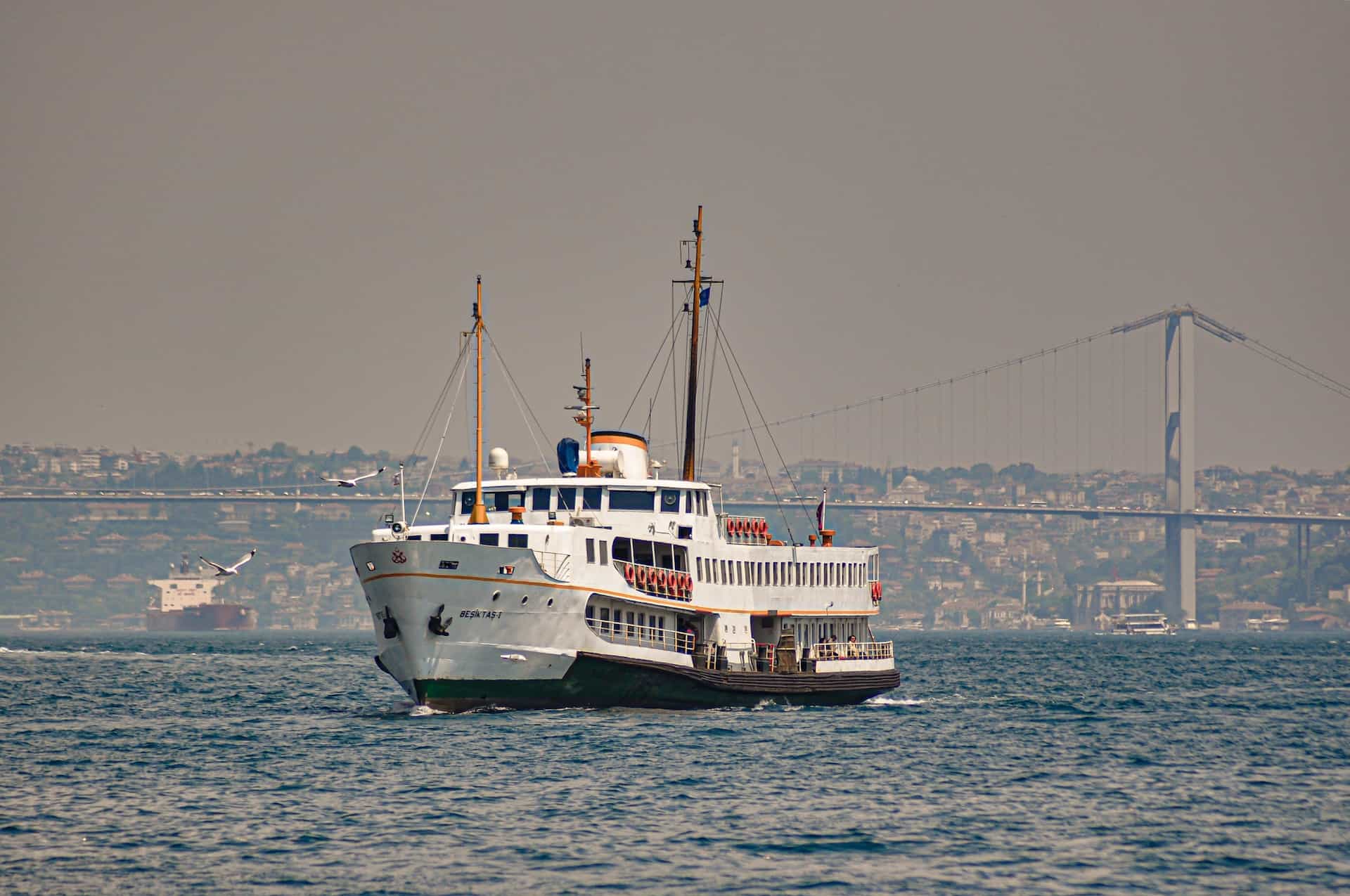 With routes stretching from Eminönü to Anadolu Kavağı, public ferries provide a laid-back cruise experience. As you glide along the water, you'll witness the grandeur of Dolmabahçe Palace, the medieval fortress of Rumeli Hisarı, and the serene beauty of Yıldız Park, among others. The fare is wallet-friendly, and the schedule runs from morning till evening, making it a flexible option for anyone wishing to behold Istanbul from a different perspective.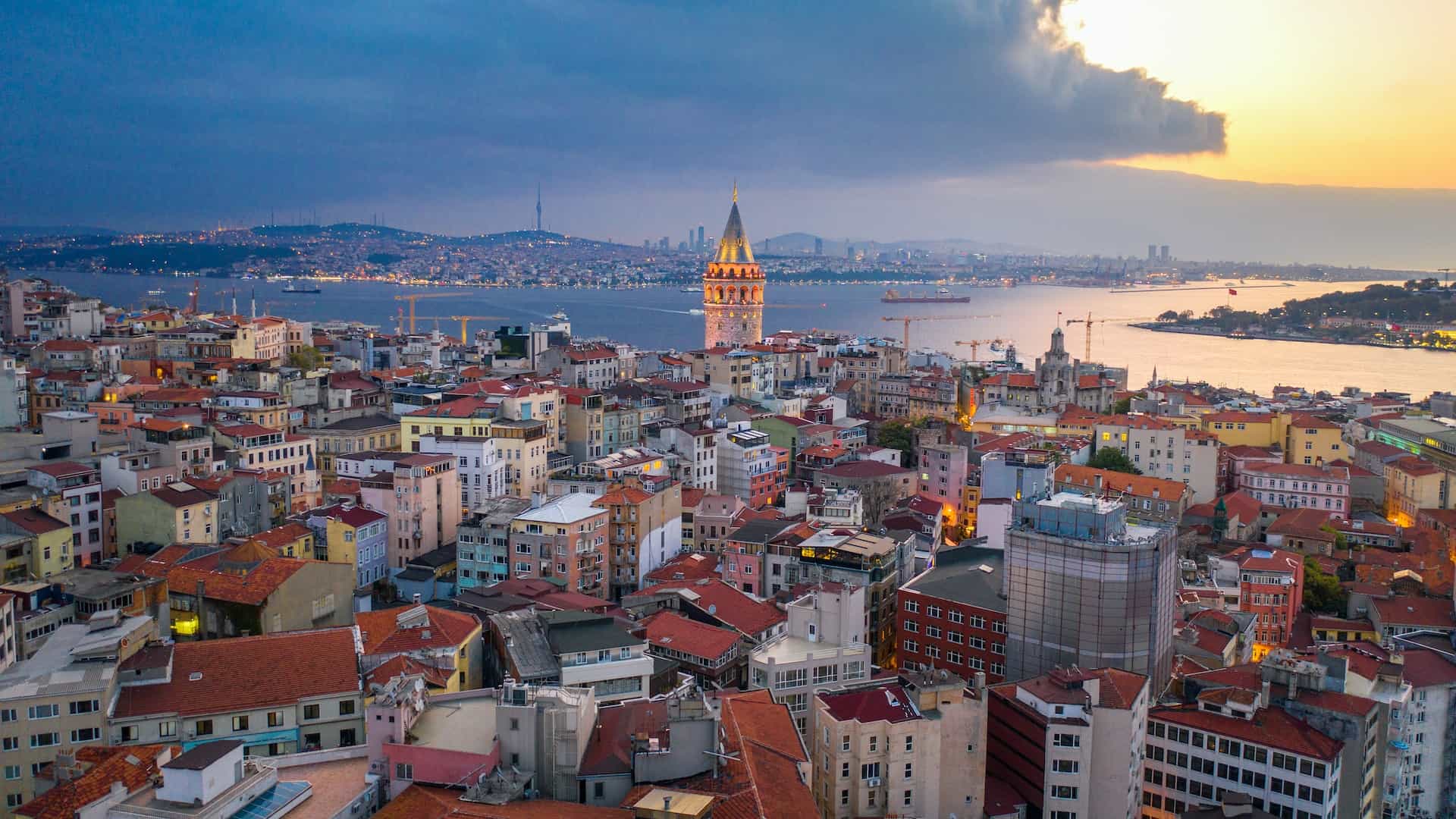 There are several public ferry lines in Istanbul that offer Bosphorus tours, among which the most economical and efficient ones are the Short Circle Bosphorus Tour and the Long Bosphorus Tour.
Short Circle Bosphorus Tour: This is a round-trip that operates every day from the Eminonu Pier at 14:40 pm, making stops at Uskudar and Ortakoy Piers before returning to Eminonu Pier at 16:35 pm. The tour is priced at 65 TL per person, providing a quick yet thorough glimpse of the Bosphorus, showcasing the palaces, mosques, and historical mansions on both the European and Asian shores.
Download the PDF for 2023-2024 winter season's timetable and all other information.
Long Bosphorus Tour: For those with more time to spare, the Long Bosphorus Tour is a full-day trip that departs from Eminonu Pier at 10:35 am daily. This tour cruises along the Bosphorus and makes stops at various piers including Besiktas, Kanlica, Yenikoy, Sariyer, Rumeli Kavagi, and Anadolu Kavagi. At Anadolu Kavagi Pier, passengers have the opportunity to disembark and explore the village for three hours before the return journey, which gets back to Eminönü Pier at 16:35 pm. The current price for adults is 120 TL for a double way trip and 72 TL for a one way trip
Rumeli Kavagi – Eminonu Line: Operated on weekdays, this line offers up to 12 voyages in each direction between Eminonu and Sarıyer, with a journey time of about one hour. The line stops at several piers on the European shore of the Bosphorus, such as Besiktas, Arnavutköy, Bebek, Emirgan, Kanlica, Yenikoy, Sariyer, and Rumeli Kavagi, with a fare of 19 TL per person. This is our personal favorite!
All these tours provide a splendid opportunity to relish the panoramic views of the city from the sea, with the backdrop of historical edifices and natural landscapes enhancing the experience.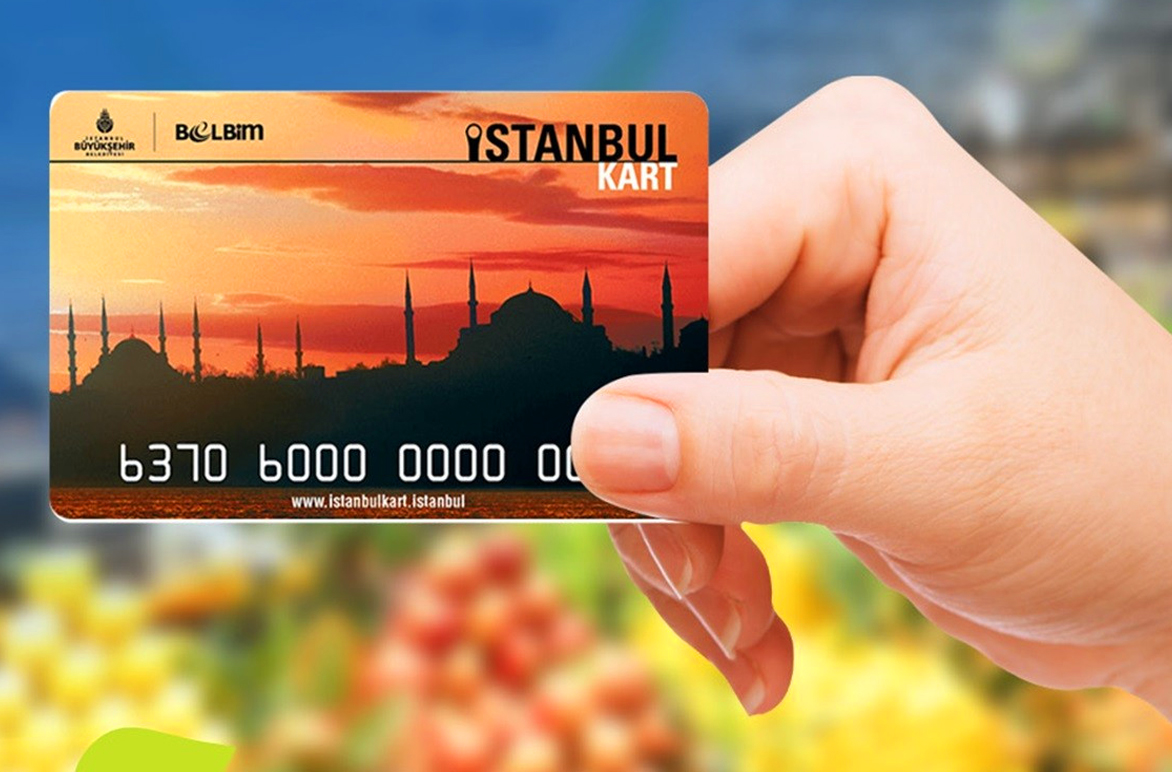 To partake in these public ferry tours, you need to have an Istanbul Kart, a smart card usable for all public transportation and shopping payments in Istanbul. Istanbul Karts can be purchased from kiosks or vending machines near ferry piers or metro stations for 70 TL (as of November 2023), which then needs to be loaded with credit for use. They can also be applied for online, easing the process for both locals and tourists alike.
For more information on schedules and departure times, the official website of Şehir Hatları is a useful resource.
Water Taxi Service
The water taxi service operated by the Istanbul Metropolitan Municipality is a more utilitarian yet equally scenic way to traverse the Bosphorus. These water taxis are a speedy and convenient mode of transport, offering a less touristic but equally captivating view of the city from the water.
Explore Istanbul's Bosphorus with ease using the İBB Deniz Taksi app, available for iOS. This user-friendly app lets you schedule sea taxi rides, offering a swift, comfortable, and unique way to navigate the city's waters.
You can view ride costs in advance, ensuring transparency in pricing. The service, which charges per mile, provides flexibility in choosing departure and arrival points, with an option for shared journeys to reduce costs. Ideal for avoiding traffic and enjoying scenic views, the İBB Deniz Taksi app transforms sea travel into a delightful and efficient experience.
Whether you're in a hurry or prefer a less crowded voyage, water taxis are a great option to consider.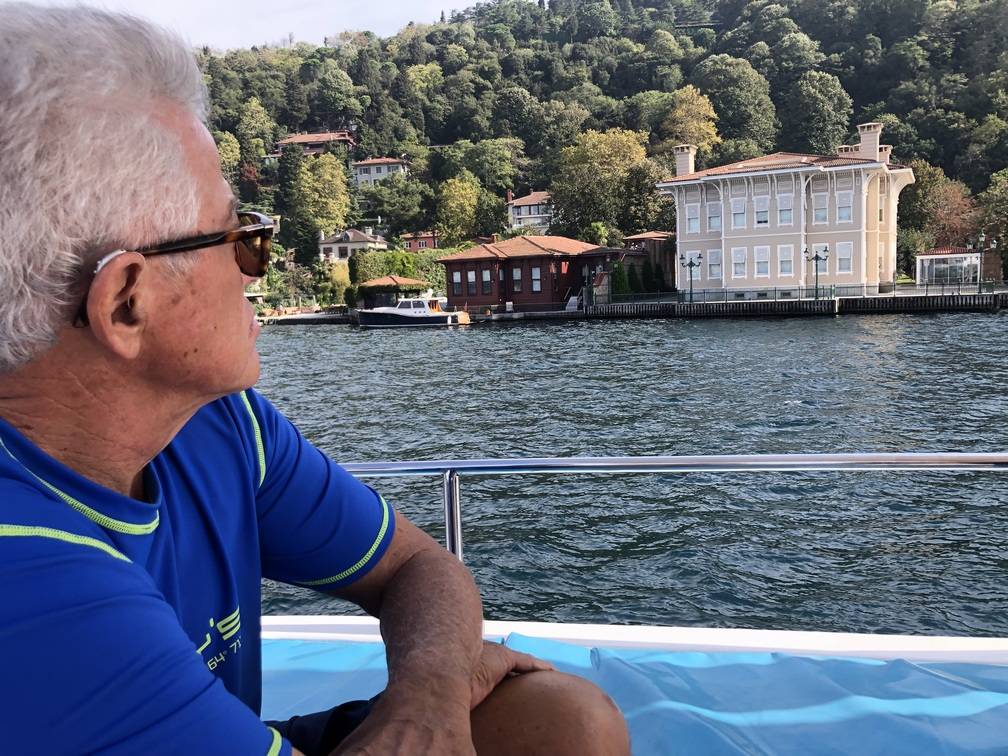 Guided Half-Day and Full-Day Tours
For those seeking a more enriched and educational journey across the Bosphorus, guided half-day or full-day tours are available. These tours often come with expert guides who unravel the historical, architectural, and cultural plethora of Istanbul as you sail past its iconic landmarks. Whether it's a brief stop at the picturesque village of Anadolu Kavağı or a guided visit to the majestic Beylerbeyi Palace, the added insights provided by a knowledgeable guide enhance the cruising experience manifold.
Bosphorus & Black Sea
Embark on an 8-hour Bosphorus and Black Sea cruise, complete with professional guidance, meals, and a rich itinerary. Dive into the enchanting neighborhoods of Istanbul, marvel at historic palaces, and unwind on scenic beaches, all while enjoying inclusive services like lunch and round-trip hotel transfers. Note that alcoholic drinks and tips are excluded. Discover the natural beauty and cultural heritage of the Bosphorus, where you can immerse in both European and Asian vibes. Relish in a swimming break at the Black Sea during your tour, which runs daily, thanks to our recommended partner, IBO Tours.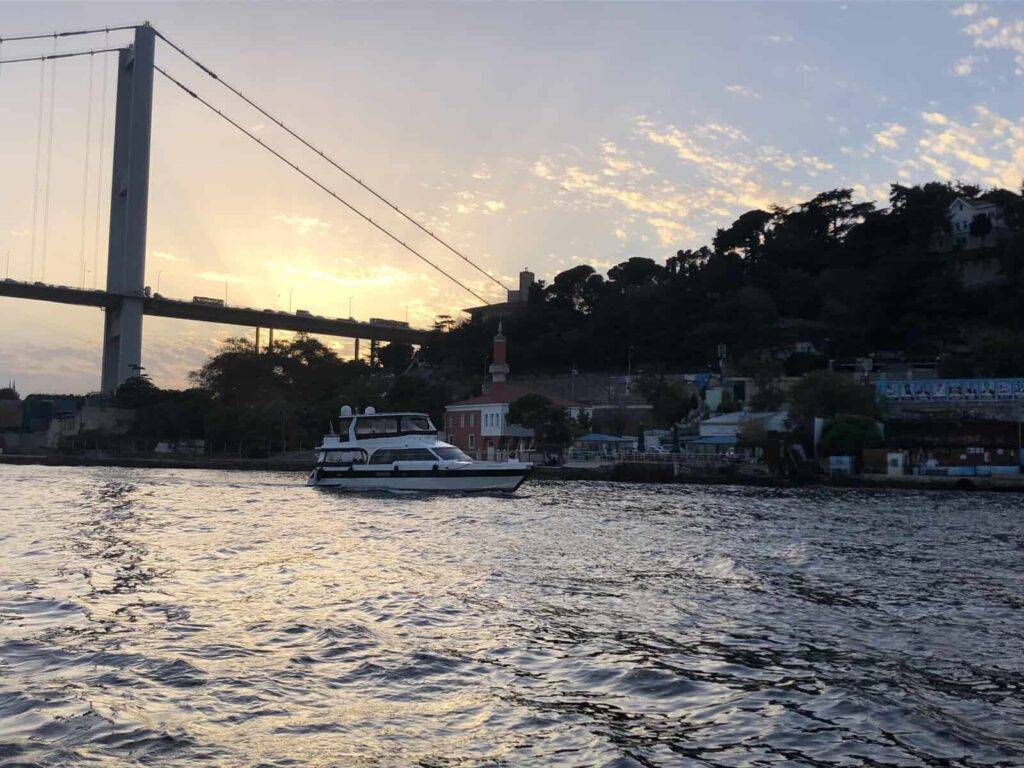 Specialized Bosphorus Cruise Companies
Aside from public and guided tours, there are dedicated Bosphorus cruise companies like bosphorustour.com or bosphoruscruise.com that offer curated cruising experiences on the strait. With their private boats, these companies provide a variety of cruises ranging from short jaunts to longer explorations, often accompanied by onboard amenities and services.
The tranquil morning cruises or the enchanting sunset cruises are popular choices among tourists and locals alike, making for a memorable voyage through the historic waters.
Private Bosphorus Cruises by The Other Tour
At The Other Tour, we take the Bosphorus cruise experience a notch higher. Our private Bosphorus cruises are tailored to offer a unique, intimate exploration of this beautiful strait. Amidst the gentle waves, we engage our guests in cultural dialogues, local interactions, and a closer look at Istanbul's heritage from the water. It's not just about sightseeing; it's about immersing oneself in the rhythm of the city, feeling the pulse of Istanbul through its waters.
You get in touch with us for a special Bosphorus cruise
Sunset Cruises on the Bosphorus
Sunset cruises on the
Bosphorus
offer an enchanting escape from the city's hustle, unveiling a serene, picturesque side of
Istanbul
. As daylight gently transitions into a canvas of warm hues, the city's skyline, adorned with historic silhouettes like
Hagia Sophia
and the
Blue Mosque
, forms a captivating backdrop.
The calm waters of the Bosphorus reflect the twilight magic, creating a romantic ambiance perfect for those seeking a unique Istanbul experience. Aboard "The Other Tour's" sunset cruise, engage in delightful conversations with locals, relish the cool evening breeze, and immerse in the rich cultural milieu that defines this timeless city. Our cruise isn't just a voyage on water, but a journey through the pages of Istanbul's vibrant narrative, promising memories that resonate with the heart long after.
Dinner Cruises
A dinner cruise on the Bosphorus, like the ones offered by mirayistanbul.com, is a delightful blend of culinary and visual feast. As you sail through the illuminated cityscape under the starlit sky, savoring a spread of delectable Turkish cuisine, the experience is nothing short of magical. Dinner cruises provide a romantic or celebratory ambiance, perfect for special occasions or simply to enjoy a serene evening amidst the ancient and modern silhouettes of Istanbul.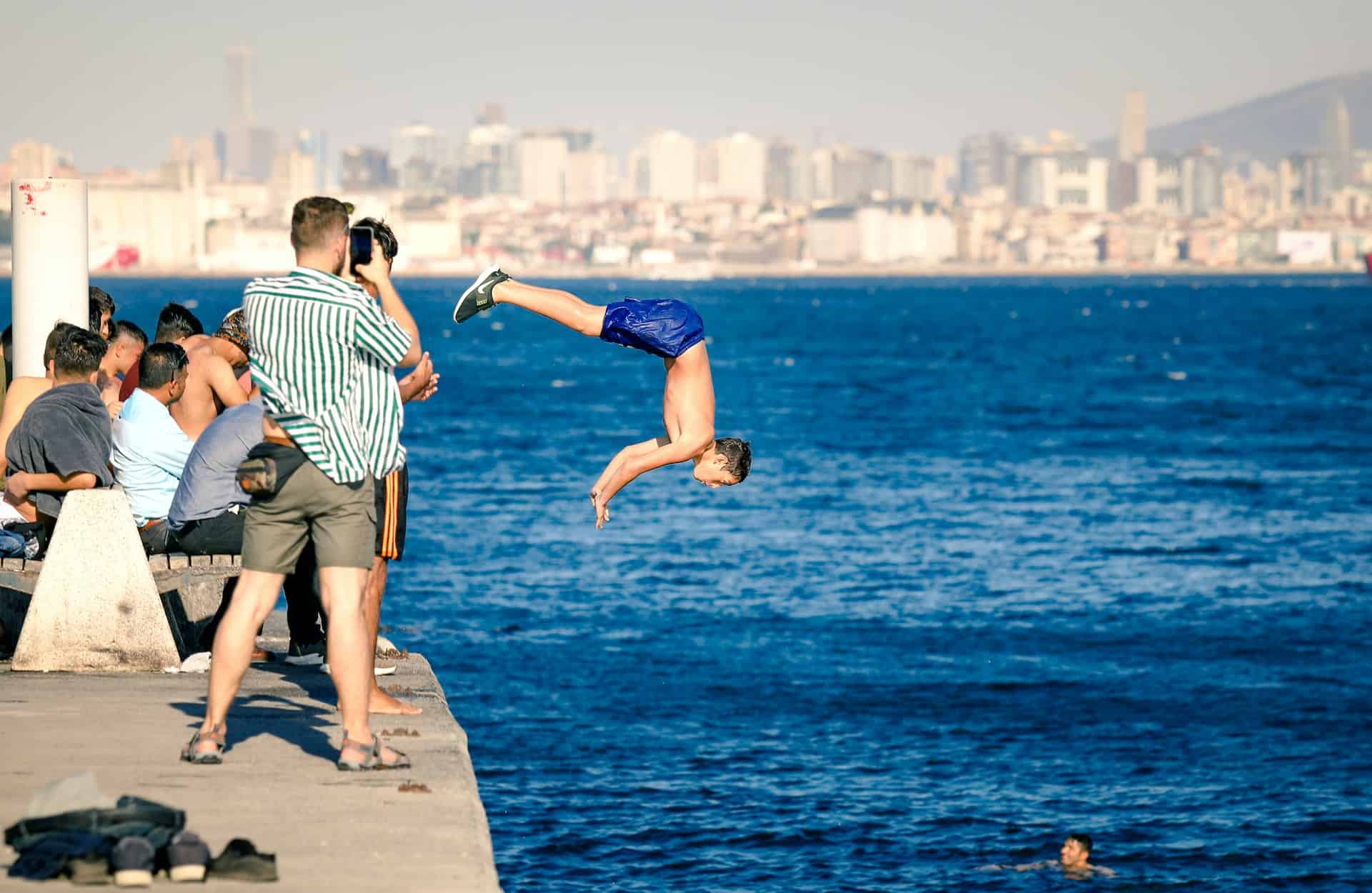 Conclusion
The Bosphorus Strait is a captivating spectacle, its waters narrating the tales of Istanbul's glorious past and dynamic present. Whether you choose a public ferry, a guided tour, a private cruise, or a dinner cruise, each journey on the Bosphorus is a unique experience. And for those seeking a more intimate and culturally enriching cruising adventure, The Other Tour awaits to take you on a voyage that transcends the ordinary.
If you can't make it there physically, maybe this will hold you over for the time being 🙂