Let's face it, vacations are a time to indulge in food, drinks, and relaxation, and put aside the demands and necessities of everyday life for a while. However, for some people, like myself, running is an essential part of their routine and they just can't let go of it, even for a few days. As they say, once a runner, always a runner. Fortunately, running in Istanbul offers a unique and exhilarating experience that cannot be matched anywhere else.
In addition to being a fantastic way to stay fit, running is an excellent way to explore a new location. Istanbul's diverse and vibrant neighborhoods, stunning architecture, and rich history make it an ideal destination for runners looking to discover the city's hidden gems. Moreover, given Istanbul's slow-moving traffic, running might just be the most efficient way to get around, allowing you to experience more of the city's sights and sounds in less time.
So, without further ado, here are our top 5 places to run in Istanbul, each offering a distinct and unforgettable experience.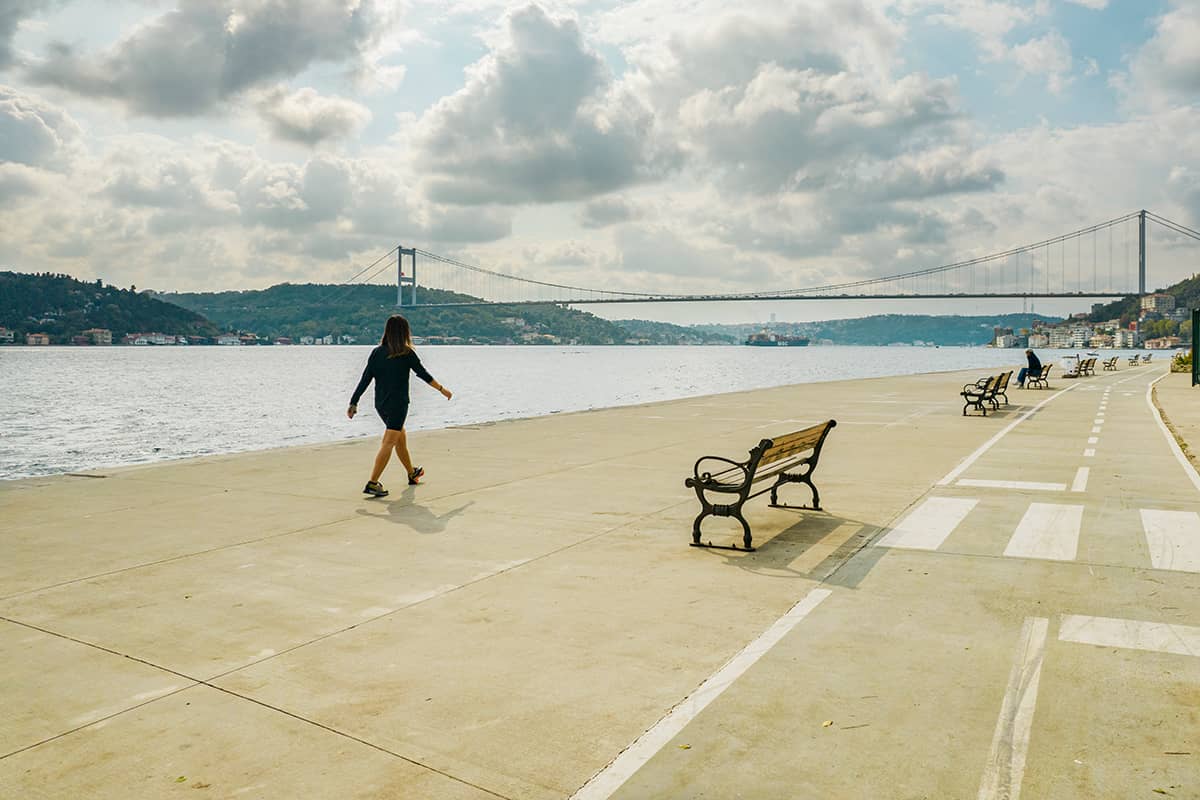 BOSPHORUS
Race the ships
Start in Kurucesme, head up to Bebek (or the second bridge crossing the Bosphorus if you have it in you) and then turn around. If you go all the way to the second bridge it will be about a 7-mile Istanbul run, otherwise we're looking at anywhere between 3-5 miles. This picturesque jaunt will put you in a good mood. However, there are quite a few fishermen lining the banks of the Bosphorus, so be ready to dodge, duck, dip, dive and dodge (yes, I meant to say dodge twice) a few backcasts along the way. We live in Arnavutköy, a neighborhood that you will pass along your run, so let us know when you're coming and we'll cheer you on and hand you shots of water – or Raki – as you pass by!
BUYUKADA ISLAND
Far far away but a worth Istanbul run
Take a trip back in time with this run around the biggest of the Prince Islands. The island is two square miles in size and maintains a population of about 7,000 people. Apparently the residents here haven't received notice that mainland Istanbul, dotted with skyscrapers and characterised by congested transport, has already made significant progress into the 21st century. The only forms of transportation in Buyukada are horse-drawn carriages and bicycles. It is one of the few places to run in the city where you won't have to constantly be on the lookout for cars about to run you over. If you run around the entirety of the island it will be about 7.2 kilometers. Great place for peace and quiet and beauty and great air!
SARAYBURNU
Dare to be different
This run begins in Tophane, heads down to Karaköy, crosses the Galata Bridge and then proceeds along the wide path that circles Sarayburnu, below Topkapı Sarayı. After about 1 kilometer the road will curve right and the Bosphorus, and then the sea of Marmara, will be on your left-hand side. That's right – you will pass 3 different bodies of water on this run. If you want to keep it simple, you can run along this path for a few miles before turning around and going back the same way. Go as far as the radar tower or Ataturk Bulvari. If you are one of those people who insists on going back a different route, head up to Aksaray, pass under the Aqueduct of Valens and cross the Ataturk Bridge to get back to Beyoglu. You won't find many other runners here, so people might think that you're a bit crazy. But you don't care. The entire circle is about 6 miles long; perfect for an unforgettable Istanbul run.
MACKA PARK
A soft surface sounds like a nice idea…
With it's unpaved running path, Maçka Park is a nice option for those runners seeking to avoid hard surfaces. Beginning in Taksim, head down past Gümüşsuyu to İnönü Stadium. As you climb the hill leading to Nisantasi, you will pass the Swissôtel on your right. From here you are presented with a couple of options: either enter the lower end of Maçka Park (across the street from the Swissôtel), or for a more rigorous uphill workout, follow the road to the top of the hill and enter the upper end of the park at Harbiye. Once you enter the park, we grant you the freedom to do whatever you want. Run in circles, do cartwheels, walk on your hands, sprint past people screaming that the Ottomans are coming, tuck into a ball and tumble down the hill, tap people on their backs when they're not looking and then hide behind trees, wear a shirt that says "Life" and hand out lemons, give a speech. Or just run back. Whatever! An Istanbul run is never boring…
BELGRADE FOREST
Far away, far away, I want to run far away
Belgrade Forest, located about 15 km outside the city itself, can be a bit of a challenge to get to if you don't have a car. It is a very popular weekend destination for Istanbuli (Istanbulites) and a great place for a nature workout. It is one of the most visited recreational areas in Istanbul with over 5,500 hectars of forest. There is a 7km running track around a lake, but don't feel like you have to constrict yourself to that. Be adventurous and become one with nature by heading into the heart of the forest (there are a few mountain bike paths around that you will inevitably stumble across). Enjoy the plants, fauna and awe-inspiring beauty that is the ultimate contrast to a city of over 16 million people, concrete buildings and untold hundreds of rug salesmen. Which reminds me, we guarantee you that you won't find a rug salesman here. If you do, just keep running.
---
Ok, I've gotta go, I've put myself in the running mood!