Istanbul is one of the most enchanting cities in the world, straddling Europe and Asia and offering an eclectic mix of history, culture, and natural beauty. The city is a true melting pot of civilizations and has a lot to offer to travelers of all kinds. If you're planning a trip to Istanbul, you'll be glad to know that there are several group tours available to help you explore the city and its surroundings.
In this article, we'll provide you with a quick guide to Istanbul group tours, including recommendations for the top 5 companies. and we will answer some of internet's burning questions on the topic.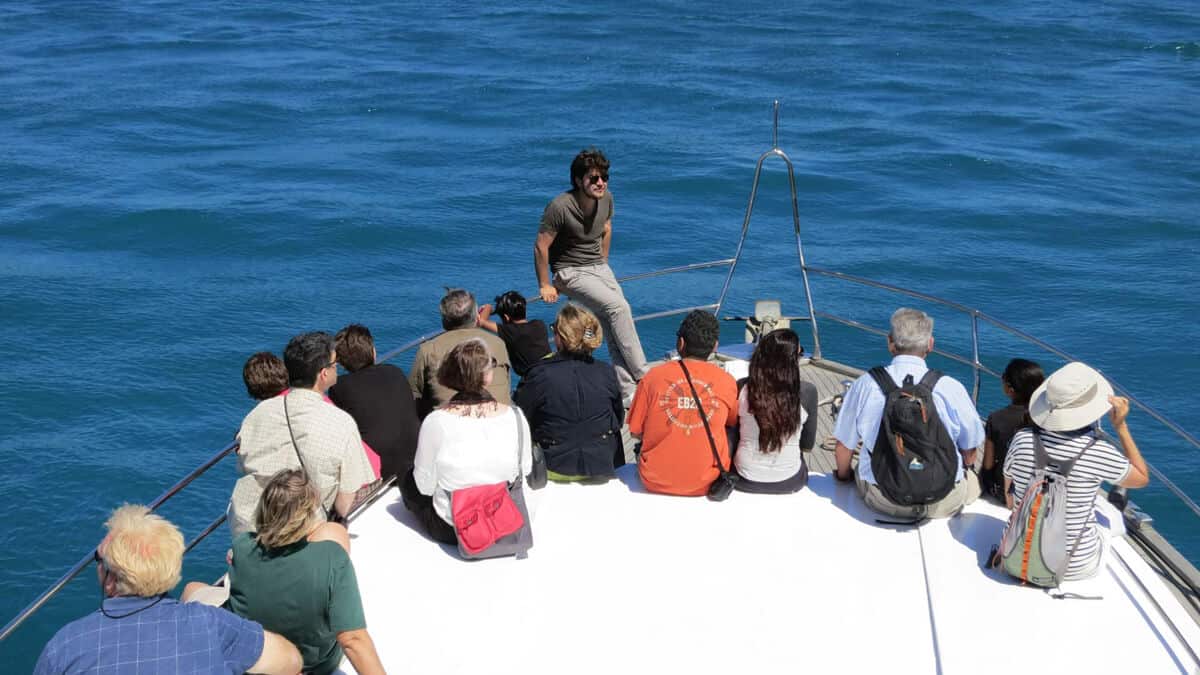 What are group tours?
Group tours are organized tours in which a group of people, typically strangers, are led by a tour guide to explore a destination together. In the context of a city tour in Istanbul, a group tour would typically involve a group of tourists exploring the city's attractions, such as the Hagia Sophia, Blue Mosque, and Grand Bazaar, with a licensed tour guide. Alternatively, group tours can offer any kind of itinerary that brings together travelers from different countries to explore a city or neighborhood.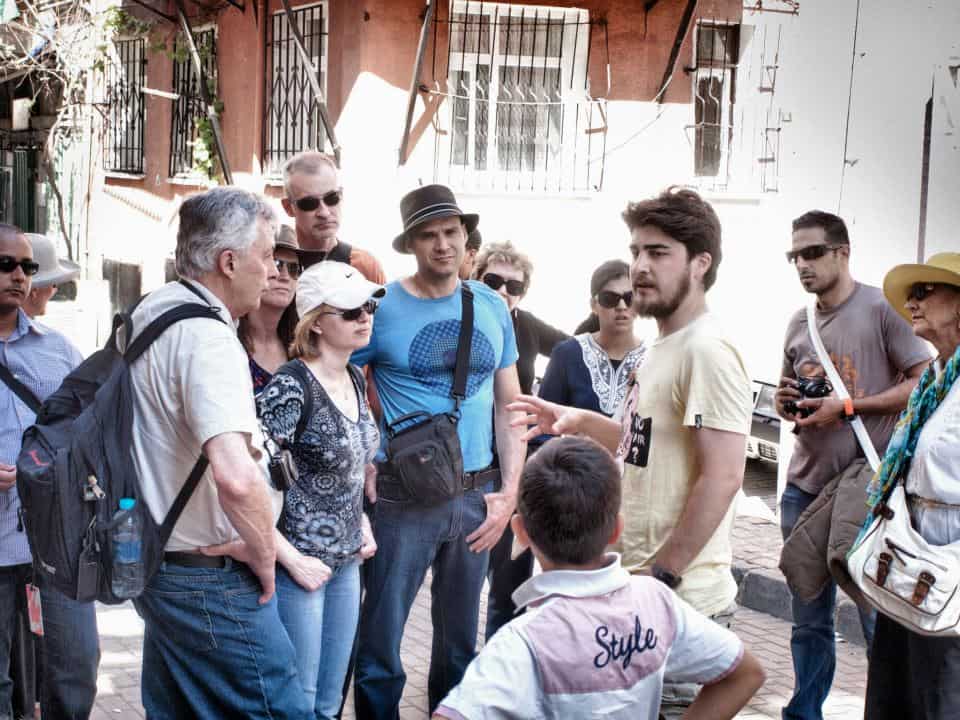 Group tours in Istanbul can range from walking tours to food tours, and can be customized to suit the interests and preferences of the group. They offer a convenient way for tourists to see the city's highlights without the stress of planning and navigating on their own.
Moreover, our experience with The Other Tour over the years has demonstrated that group tours offer an unparalleled opportunity for travelers to forge new connections and share their unique experiences. This interaction between like-minded individuals not only fosters a much more harmonious atmosphere but also creates a sense of community that can be truly exceptional for both the tour guide and participants alike.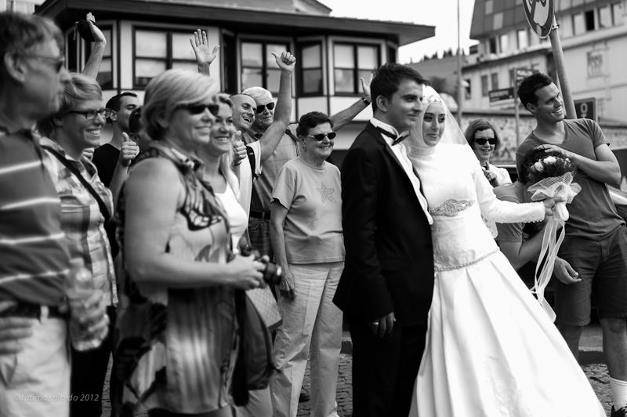 Almost all group tours include meals or transportation, while others may be focused on specific interests such as history, architecture, or food. Prices for group tours can vary depending on the tour company, length of the tour, and the number of attractions included.
What kind of tours are available in Istanbul?
There are several types of tours available in Istanbul, catering to a variety of interests and preferences. Some popular options include:
Historical tours: These tours focus on the city's rich history and take you to some of its most iconic landmarks, such as the Hagia Sophia, Topkapi Palace, and the Blue Mosque.
Cultural tours: These tours provide insights into the local culture and traditions and may include visits to art galleries, museums, and neighborhoods known for their artisanal crafts.
Check out our article ISTANBUL CULTURE TOURS: TOP 5 EXPERIENCES
Food tours: These tours are perfect for foodies and offer a chance to sample some of Istanbul's most delicious and authentic dishes, as well as learn about the city's culinary heritage.
Check out our article ISTANBUL FOOD TOURS
Night tours: These tours are a great way to experience Istanbul after dark, with visits to vibrant neighborhoods, bars, and clubs.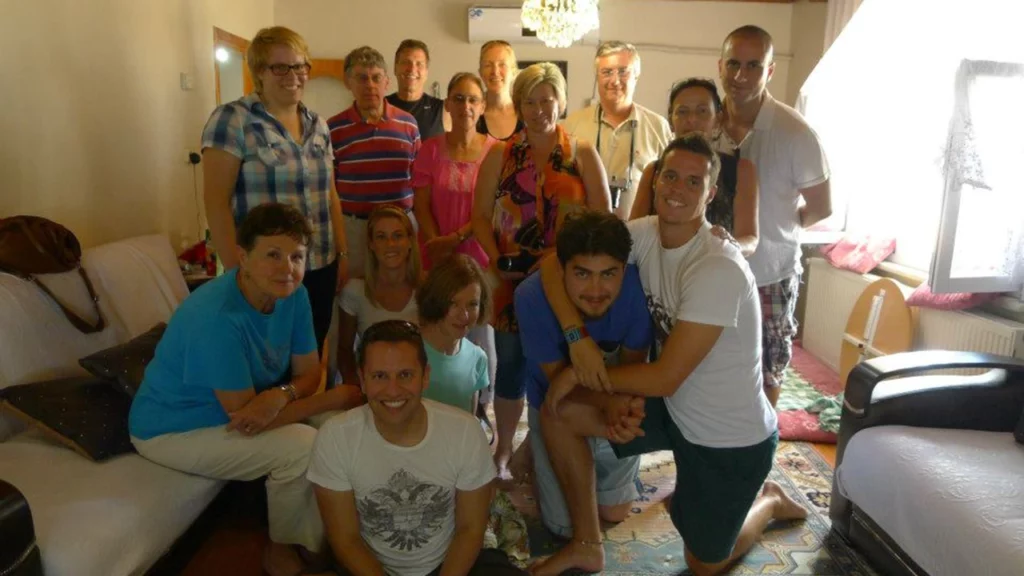 Which languages are available for professional guidance?
Most tour companies in Istanbul offer professional guidance in several languages, including English, Spanish, French, German, Italian, and Turkish. However, regular group tours are almost exclusively offered in English due to obvious feasibility issues. Some may also offer guides who speak other languages upon request but it's quite rare.
Do you need professional guidance in Istanbul?
While it's possible to explore Istanbul on your own, having a professional guide can greatly enhance your experience. Guides can provide you with insider knowledge and take you to places you may not have discovered otherwise. They can also help you navigate the city and avoid tourist traps.

How much are group tours in Istanbul?
The cost of group tours in Istanbul varies depending on the company and the type of tour. Prices typically range from $30 to $150 per person, with some tours offering discounts for larger groups or early bookings.
How much is a private tour in Istanbul?
Private tours in Istanbul are generally more expensive than group tours, but they offer more flexibility and personalized attention. Prices for private tours can range from $150 to $500 or more, depending on the duration and itinerary.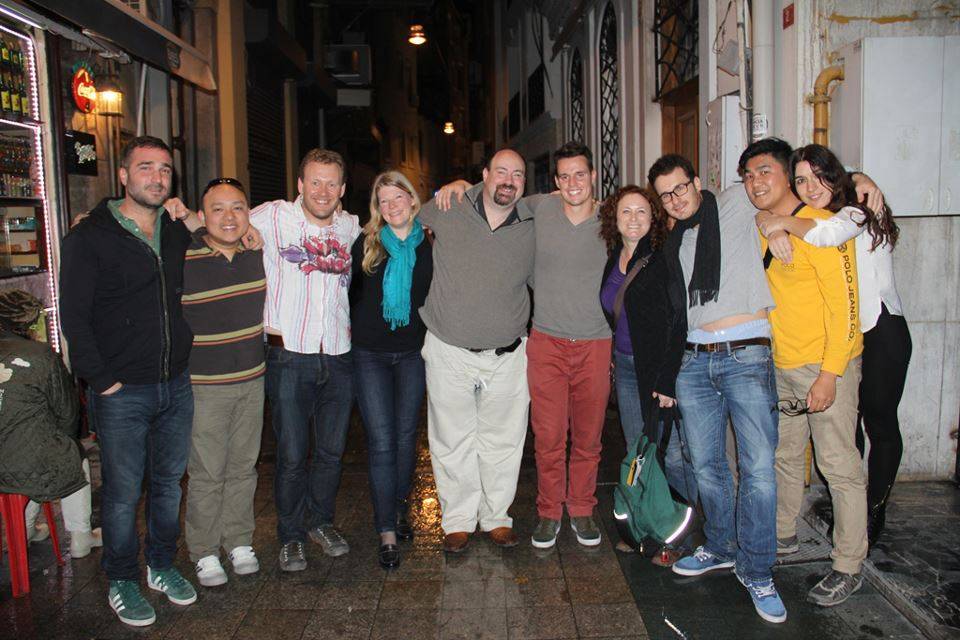 Group vs Private?
Group tours can be a more affordable option than private tours, as the cost is shared among several people. They also offer the opportunity to meet other travelers and make new friends. However, it's important to keep in mind that group tours may be more structured and less flexible than private tours.
Group Size
Finding a high-quality group tour can be challenging, especially one that has a well-suited group size. Ideally, a group size of around 10 people is ideal for a personalized and engaging experience. However, many tour companies that are popular enough to bring together 10 or more people usually won't put a cap on it and may end up with much larger group sizes that can affect the quality of the tour. Therefore, it's crucial to choose a tour company that not only offers a great itinerary but also ensures that the group size is well-managed and doesn't exceed the optimal number of participants.
TOP 5 GROUP TOURS IN ISTANBUL
The following Istanbul Group Tours regular tours that are bookable all year around. And we will naturally skip the large group tours offered by massive city tour operators such as Plan Tours, She Tours, Senkron Travel, etc. – those guys offer cheap daily tours with extremely large groups and low quality service that is mainly focused on taking tourists into carpet shops – you get the idea. We will explore the lovely small group tours that are offered by boutique agencies.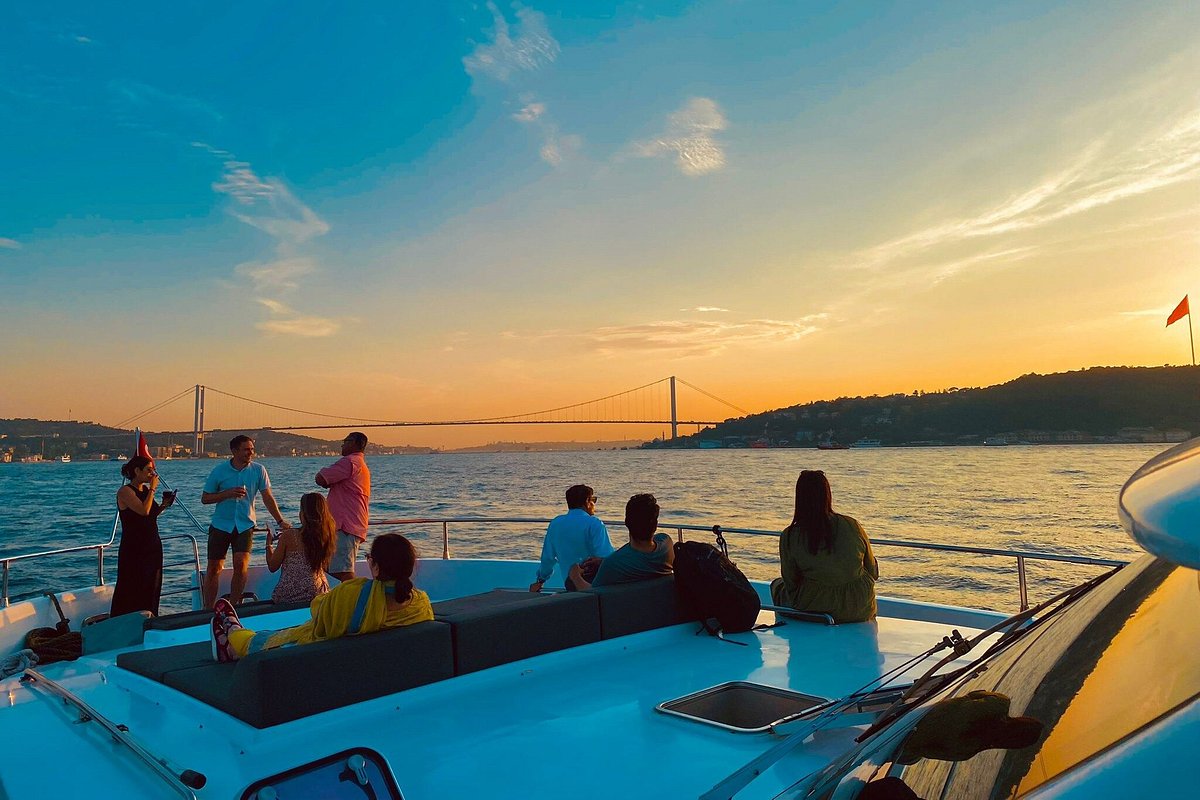 Experience the beauty of Istanbul from the water with the Bosphorus Sunset Cruise on Luxury Yacht by Bosphorus Tour Istanbul. This tour takes you on a relaxing 2-hour cruise along the Bosphorus, the strait that divides Istanbul between Asia and Europe. You will see some of Istanbul's most famous landmarks from a new perspective, including the Dolmabahce Palace, Ortakoy Mosque, and the Bosphorus Bridge. Plus, you get to enjoy an onboard drinks while watching the sunset over the city.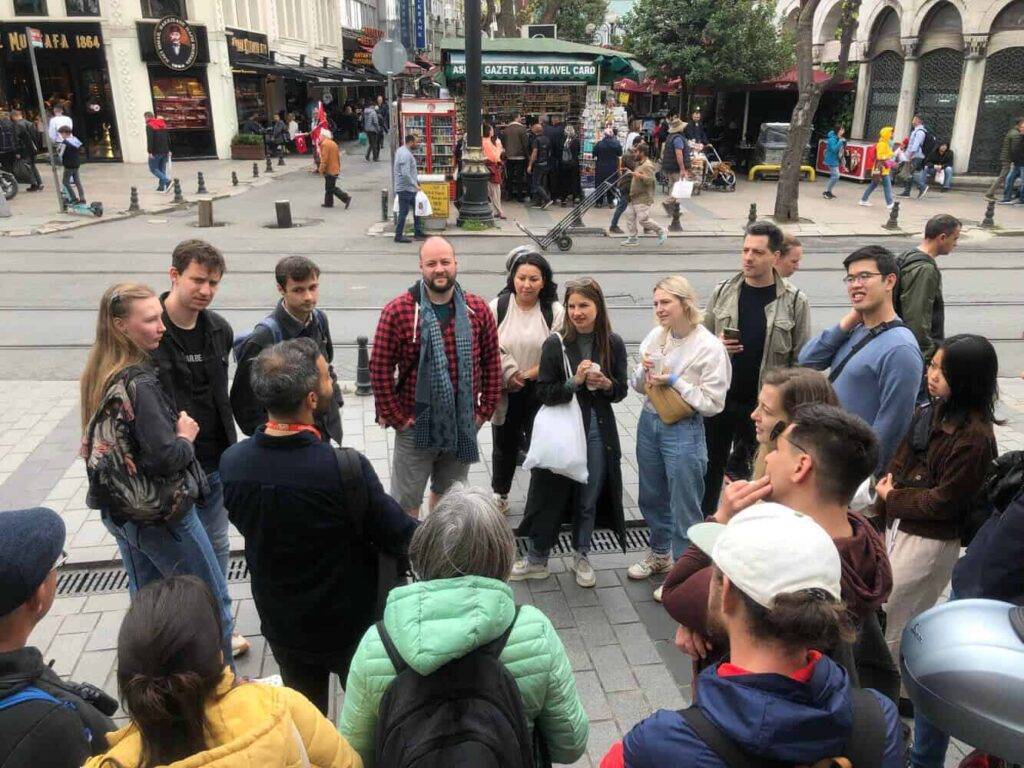 Free Istanbul Tours on GuruWalk
Certainly, here's a more condensed summary:
Here's an "alternative" tour (as they describe it) that unearths the city's hidden gems over 2 hours and 15 minutes. Guided by local friends passionate about their city, this tour offers an in-depth exploration of Turkish culture, visiting sites like Beyazit Mosque, Suleymaniye Mosque and the Ancient Book Market.
Although described as "free," attendees are expected to tip the guide, typically between €10 to $50, at the tour's conclusion. The experience is immersive but takes place in a larger group setting of 20-25 attendees, demanding a certain level of adaptability as you listen to the guide's constant, detailed narration amidst the crowd. The tour concludes at the garden of Suleymaniye Mosque with an optional, self-funded kebab tasting and sampling of Turkish delights​.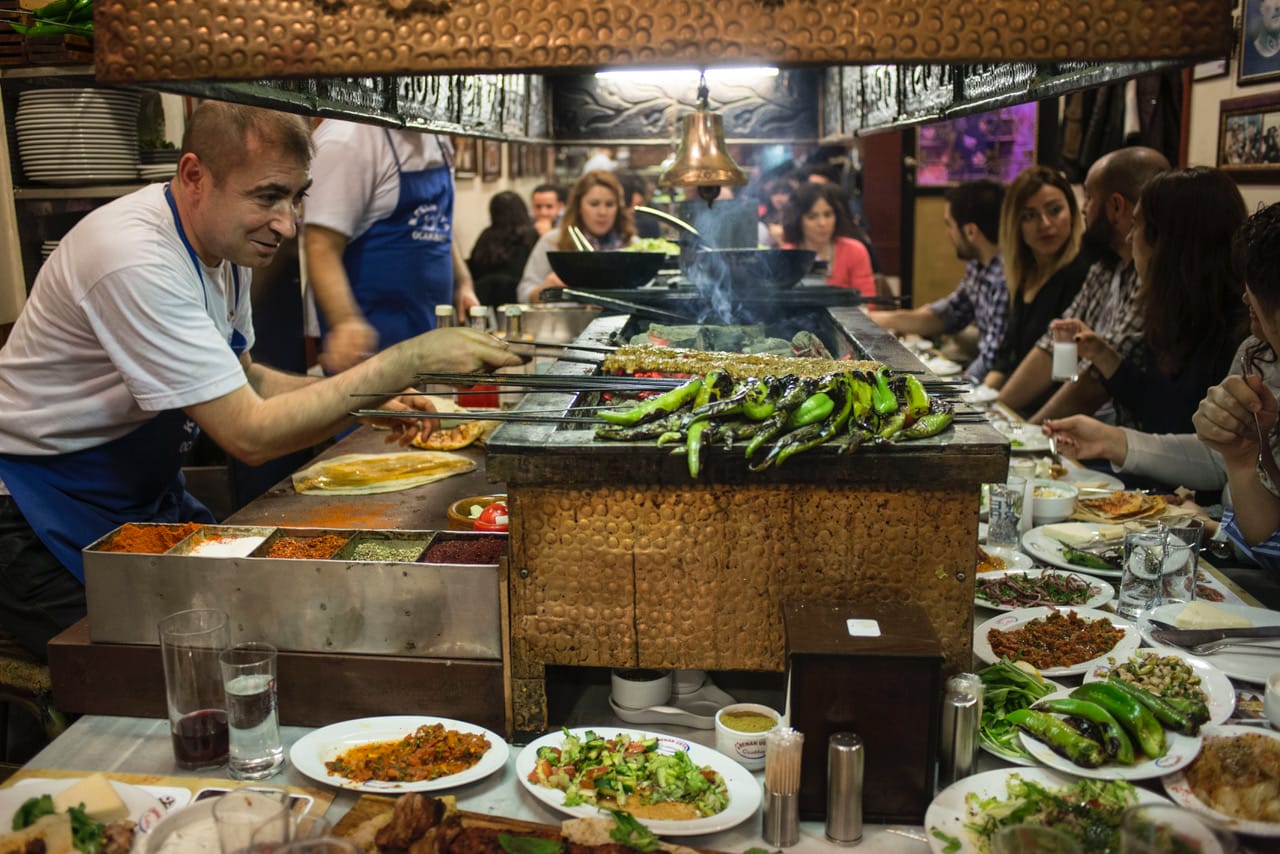 Are you a foodie looking to discover Istanbul's culinary delights? If so, the Two Markets, Two Continents by Culinary Backstreets -Tours is the tour for you. This food tour takes you to Istanbul's Asian side to visit the vibrant Kadikoy market and the historic Uskudar neighborhood. You will taste local delicacies like pide, lahmacun, and baklava while learning about Istanbul's diverse food culture.
This exclusive full-day tour, priced at $125 per person, promises a personalized experience with a maximum group size of just 10 participants. The adventure begins at the German Fountain and culminates at the Grand Bazaar, encompassing a span of 7 hours. A professional tour guide will accompany you as you explore the top highlights of the city, tracing the vestiges of the Ottoman and Eastern Roman periods.
Key attractions include the awe-inspiring Hagia Sophia, the iconic Blue Mosque, the historic Hippodrome, and the opulent Topkapı Palace, with entrance tickets included in the tour price. The tour also provides a lunch, however, please note that drinks and transportation are not included, and tips to the guide and driver are recommended but not mandatory
Istanbul Walks is a popular tour company that offers a range of group tours in Istanbul, including walking tours, food tours, and sightseeing tours. The company's knowledgeable guides provide insights into the city's history and culture, and their tours include visits to popular sites such as the Topkapi Museum and the Basilica Cistern.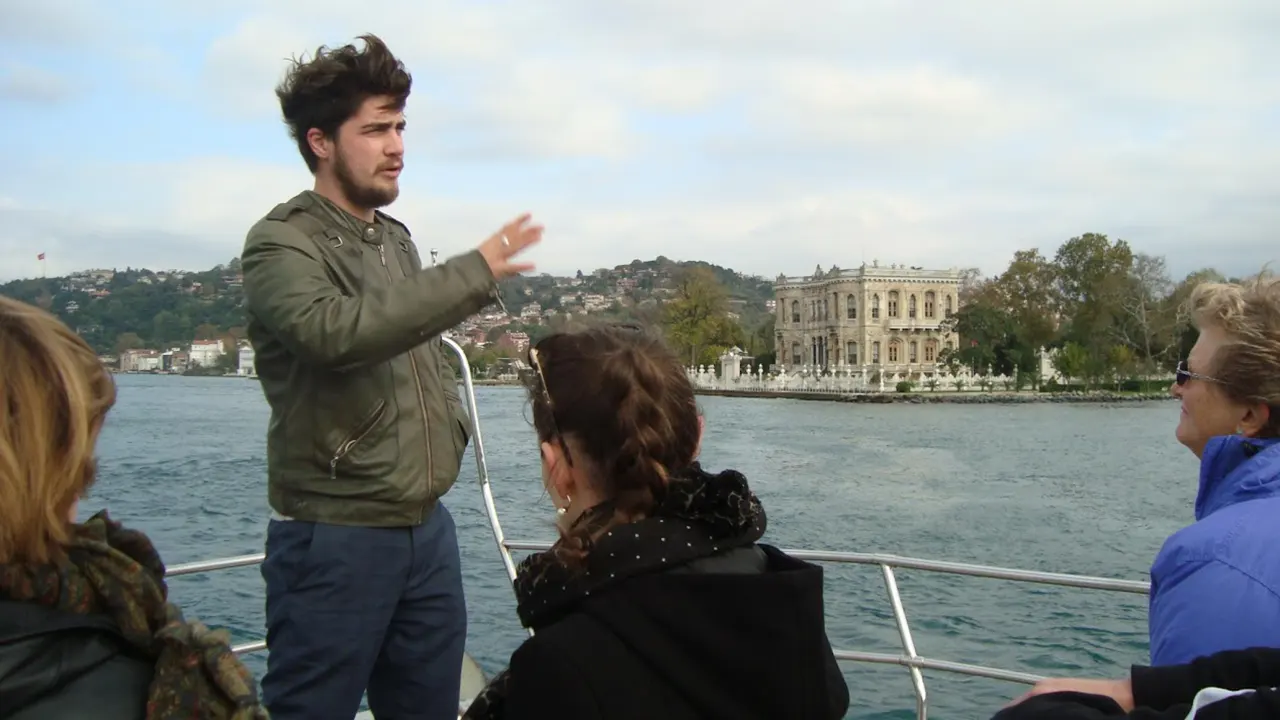 Last but not least, let's not forget The Other Tour. We only provide unique one-day itinerary that takes you off-the-beaten-path in Istanbul and hopefully gives you a day you'll always remember.
Although The Other Tour used to be a group tour, it has now shifted to a private tour model. It offers a unique and immersive experience of Istanbul, with a focus on local culture, art, and community. Our private tours are tailored to the interests and preferences of each group, allowing visitors to discover the city in a personalized and authentic way.
Here is a TripAdvisor review about The Other Tour that emphasizes the unique value of having a wonderful group atmosphere:
I've been all over the world multiple times, and this tour was by far the best day I've ever had abroad. Yes it's expensive, but after going through it, I now would've paid double for the experience. On the agenda: a cruise on the Bosphorous, stops for traditional Turkish coffee and yogurt, playing traditional games at a cafe, touring different neighborhoods and schools, a Turkish bath experience, a wonderful and crazy dinner (so much fun!) and the best part – lunch with Fethi's mom at their house. My only regret is that we did this in the middle of our trip; no where else could hold a candle.

The tour itself is very professionally run. Fethi and his crew were extremely attentive, always making sure everyone was doing okay and having a good time. Everything (food, water, bathrooms, etc) were provided before I even knew I wanted or needed them.

The tour is clearly successful because of Fethi – intelligent, funny, and thought-provoking. No topic was off limits. The focus of the tour is on the group, rather than the sights. He strives to develop an atmosphere where good friends get together, discuss and share opinions, all while having Istanbul as a beautiful backdrop.
Fethi told us he wanted this tour to be for travelers, not tourists. I think he's completely held up his end of the bargain. Try the tour – won't regret it – promise!
And for those, who really wanna let the dogs out:
Looking for a fun night out in Istanbul? Join the Istanbul Party Pub Crawl which takes you to the city's hottest bars and clubs, where you can dance, drink, and socialize with locals and other travelers. The tour includes free shots, VIP club entry, and a professional guide who will ensure you have a safe and unforgettable night.
In conclusion
Group tours are an excellent way to explore Istanbul's attractions and learn about the city's rich history and culture. Whether you're interested in sightseeing, food, or local experiences, there's a group tour company in Istanbul that's right for you.
---
And here's a video made by The Other Tour participants, a couple who were professional travelers, from a decade ago when it was one of the most popular Istanbul Group Tours.