Istanbul is a city that is unlike any other in the world. It straddles the border between Europe and Asia, and is a melting pot of cultures, religions, and history. From the Byzantine and Ottoman Empires to the modern-day Turkish Republic, Istanbul has been at the center of many important events throughout history.
With a population of over 15 million people, Istanbul is a bustling and vibrant metropolis. It's no wonder that it's one of the top tourist destinations in the world. Every year, millions of visitors flock to the city to experience its rich history, stunning architecture, delicious cuisine, and warm hospitality.
But with so much to see and do, planning a trip to Istanbul can be overwhelming, especially for first-time visitors. That's why it's important to do your research and prepare well in advance. In this guide, we'll cover everything you need to know before visiting Istanbul, including the best way to tour the city, how many days you should spend there, what to expect in terms of safety and dress code, where to stay, and what to eat.
What You Need to Know Before Visiting Istanbul
Before visiting Istanbul, there are a few things you should know. First of all, the city is massive, so plan your itinerary accordingly. Don't try to cram everything into one day; give yourself time to explore each neighborhood and soak in the culture. Also, be sure to dress modestly when visiting religious sites, like the Blue Mosque or the Suleymaniye Mosque. Oh, and one more thing – be prepared to eat! Istanbul is a foodie's paradise, and you won't want to miss out on all the delicious Turkish cuisine.
History of the Turkish Language – The Other Tour 2023
Currency – The official currency in Turkey is the Turkish Lira (TRY). You can exchange money at exchange offices, banks, or ATMs throughout the city. It's always a good idea to have some cash on hand as some small shops and restaurants may not accept credit cards.
Weather – Istanbul has a Mediterranean climate, with hot summers and mild winters. The best time to visit is during the spring (April to May) and autumn (September to November) when the weather is pleasant and the crowds are thinner.
Culture and Customs – Istanbul is a diverse city with a rich history and culture. It's important to be respectful of local customs, such as removing your shoes before entering a mosque and dressing modestly in certain areas. It's also common to haggle over prices at markets and street vendors, so don't be afraid to negotiate.
Transportation – Istanbul has a well-developed transportation system, including buses, trams, metros, ferries, and taxis. You can buy an Istanbulkart to use on public transportation, which can save you money and time. However, be prepared for traffic jams and crowded public transportation during peak hours.
Food and Drink – Istanbul is a foodie's paradise, with a diverse range of culinary delights from street food to fine dining. Don't miss out on trying traditional Turkish dishes like kebabs, meze, and baklava. Istanbul is also famous for its tea and coffee culture, so be sure to indulge in some Turkish tea or coffee during your visit.
Check out WithLocals's Istanbul Food Tours for some mouth-watering recommendations.
Preparing for a Trip to Istanbul
To prepare for your trip to Istanbul, make sure you have a valid passport and any necessary visas. Also, be sure to exchange some money for Turkish Lira before you arrive. You can find currency exchange offices all over the city, but it's always a good idea to have some cash on hand. As for what to pack, I recommend comfortable shoes (you'll be doing a lot of walking!), sunscreen, and a water bottle to stay hydrated. And don't worry about bringing a guidebook – The Other Tour has got you covered with our knowledgeable and friendly guides.
Tourist-Friendliness of Istanbul
Istanbul is a friendly and welcoming city, so don't be afraid to strike up a conversation with the locals. We love meeting new people from all over the world and sharing our culture and traditions. That being said, it's always a good idea to be mindful of your surroundings and take basic safety precautions, like not flashing your valuables and avoiding dark alleys at night.
The Other Tour is committed to providing a safe and enjoyable experience for all our guests, so you can rest easy knowing you're in good hands.
Best Way to Tour Istanbul
If you want to make the most of your time in Istanbul, I highly recommend taking a private tour. Why? Well, not only will you get a personalized experience tailored to your interests and preferences, but you'll also have the opportunity to skip the lines at popular landmarks like the Hagia Sophia and the Topkapi Palace.
The Other Tour offers a range of Istanbul Private Tours that will take you off the beaten path and show you the city's hidden gems. Trust me, you won't regret it.
Is it Safe to Walk at Night in Istanbul?
Istanbul is generally a safe city, but like any big city, it's important to be aware of your surroundings. That being said, walking around at night in well-lit areas is perfectly safe. Just be sure to stay away from dark alleys and quiet side streets, and you should be good to go.
How Many Days in Istanbul is Enough?
Istanbul has so much to see and do that you could easily spend a week here and not see everything. However, if you're short on time, I recommend spending at least three to four days to get a taste of the city's highlights. That will give you enough time to visit landmarks like the Blue Mosque and the Basilica Cistern, explore neighborhoods like Sultanahmet and Beyoglu, and sample some delicious Turkish cuisine.
If you instead choose to spend about a week in Istanbul, you can explore more alternative neighborhoods such as Arnavutköy by the Bosphorus, or Balat and Fener areas by the Golden Horn (Haliç in Turkish).
What Money Should I Take to Istanbul?
The local currency in Istanbul is the Turkish Lira (₺), so it's a good idea to have some cash on hand for things like street food, souvenirs, and public transportation. You can exchange your currency at the airport or at exchange offices throughout the city, but be aware of the exchange rates and fees. Credit cards are widely accepted, especially at tourist sites, restaurants, and shops, but it's always a good idea to have some cash just in case.
Dress Code for Tourists in Istanbul
When visiting religious sites in Istanbul, like mosques and churches, it's important to dress modestly out of respect for the local culture and traditions. For women, this means covering your shoulders, arms, and legs, and wearing a headscarf if required. For men, shorts and sleeveless shirts are generally not allowed. However, for other places like restaurants and cafes, you can wear what you feel comfortable in.
Best Area to Stay in Istanbul
There are many great neighborhoods to stay in Istanbul, but it all depends on your interests and preferences. If you want to be close to the major tourist sites, I recommend staying in Sultanahmet or Sirkeci. For a more hip and trendy vibe, check out Beyoglu or Karakoy. And if you want to experience local life, head to Kadikoy or Moda on the Asian side of Istanbul. FlatsinIstanbul offers some great Istanbul accommodation options in Beyoglu, so be sure to check them out.
Best Food to Eat in Istanbul
Istanbul, a vibrant and culturally rich city, has a diverse cuisine that blends traditional Turkish dishes with influences from its historical past and modern fusion cuisine. Some of the best foods to eat in Istanbul include:
Kebabs: Istanbul is famous for its delicious kebabs, which are made with grilled or roasted meat served with fresh vegetables and bread. Doner kebab, Adana kebab, and Iskender kebab are some popular varieties.
Meze: Meze is a selection of small dishes, similar to Spanish tapas. It is typically served as an appetizer or as a light meal. Some popular meze dishes include hummus, stuffed vine leaves, and muhammara.
Baklava: Baklava is a sweet pastry made of layers of filo dough filled with nuts and honey syrup. It is a popular dessert in Istanbul and is often served with Turkish tea.
Lahmacun: Lahmacun is a thin, crispy Turkish flatbread topped with minced meat, vegetables, and herbs. It is commonly eaten as a snack or as a light meal.
Turkish breakfast: Turkish breakfast is a hearty meal consisting of a variety of items, such as olives, cheese, bread, honey, and jams. Menemen, a traditional Turkish scrambled eggs dish, is also commonly served as part of a Turkish breakfast.
Börek: Börek is a savory pastry made of thin layers of filo dough filled with cheese, spinach, or meat. It is a popular snack or breakfast food in Istanbul.
Simit: Simit is a circular bread coated with sesame seeds. It is a popular street food in Istanbul and is often eaten for breakfast or as a snack.
Fish: Istanbul is a coastal city, so it's no surprise that fresh seafood is a staple of the local cuisine. Grilled fish, fried mussels, and fish sandwiches are popular dishes.
These are just a few of the many delicious foods to try in Istanbul. Be sure to also sample traditional Turkish sweets, like lokum (Turkish delight) and künefe, a pastry made of shredded dough and cheese soaked in syrup.
Days When Things are Closed in Istanbul
In Istanbul, many museums and historical sites are closed on certain days of the week. For example, the Topkapi Palace is closed on Tuesdays, and the Hagia Sophia is closed on Mondays. It's always a good idea to check the opening hours and days in advance to avoid disappointment.
Opening Hours of Istanbul Sightseeing Spots and Attractions – by TheIstanbulInsider
ONLINE RESOURCES
Are you planning a trip to Istanbul in 2023 to celebrate its 100th anniversary as the capital of the Republic of Turkey? There are plenty of online resources available to help you make the most of your trip. Here are some of our top recommendations:
Istanbul Tourism Website – Start your research on the official tourism website of Istanbul. Here, you can find information on everything from tourist attractions to accommodation options, transportation, maps, and itineraries. They even have a blog where you can stay up to date on the latest events and activities happening in Istanbul. Check it out at visit.istanbul.com
Istanbul Tourist Pass – The Istanbul Tourist Pass is a must-have for anyone visiting Istanbul. With the pass, you can enjoy free access to over 35 museums, attractions, and tours, as well as a guidebook and a mobile app. This pass saves you time and money on your visit. You can purchase the pass online and have it delivered to your hotel. Check it out at istanbultouristpass.com
The Istanbul Insider – If you're looking for a more personalized experience, The Istanbul Insider is the perfect resource as it provides information on all the basics and up-to-date practical details."Formerly known as Witt Magazine, TheIstanbulInsider shows you the inside track on how to tackle the best sightseeing spots and venues in Istanbul — often off the beaten tourist track. They also provide you with the latest tips & tricks to assure you'll make the most out of your city trip". Check it out at theistanbulinsider.com.
Time Out Istanbul – Time Out Istanbul is a popular guidebook series that provides information on the best things to see and do in Istanbul. The website provides information on restaurants, bars, nightlife, and shopping. You can also find information on cultural events and festivals happening in Istanbul. Check it out at timeout.com/istanbul.
Turkey Travel Planner – If you're looking for inspiration and ideas for your trip to Istanbul, check out

turkeytravelplanner.com

. This website has loads of tips and recommendations for visiting Turkey, including Istanbul. You can find information on the best places to visit, how to get around, and even suggested itineraries.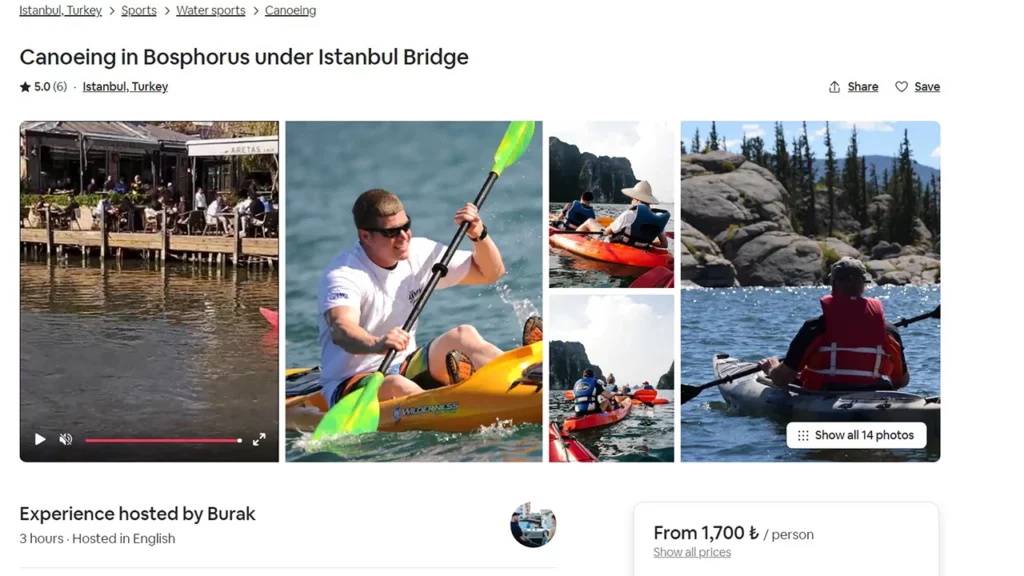 AirBnb Experiences – For unique and authentic experiences in Istanbul, check out AirBnb Experiences. You can find a variety of experiences offered by locals, from cooking classes to street art tours. It's a great way to get a taste of local life in Istanbul. Check it out at airbnb.com/experiences.
We hope these resources will help you plan an amazing trip to Istanbul in 2023. Don't forget to start your research early and use these resources to create an itinerary that meets your interests and budget. Happy travels!